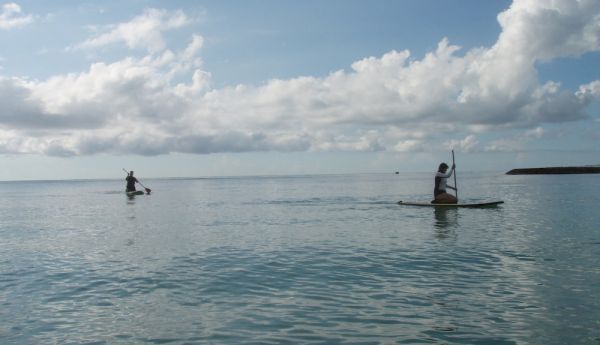 CONTRIBUTED BY MELANIE HAMMONS

SUP Logo
Snorkeling? SCUBA diving? Surfing? What about Stand Up Paddle boarding? The water activities on Okinawa are pretty much endless.
My husband and I had our mind set to try Stand-Up Paddle board (SUP) before leaving Okinawa.
I did some research and ended up coming across Okinawa Surf & Stand Up Paddle.
Kazu is an Okinawan local, but speaks great English. He founded the company back in 2005, and Tyler joined on board earlier this year, and is the "English speaker" of their small team. Both can help you with setting up lessons, purchasing boards/paddles.
They also offer surf lessons/guides and guided nature tours. So I decided it had to be the way to start things up. They just started a weekly meeting at the Kadena Marina, where you can rent a board, share a board, share some tips but mostly have fun SUP together!

SUP Sunset
The first contact with Tyler was great, very accommodating as far as day/time and all others questions. They are open for lessons pretty much every day from sunrise to sunset.
We had to cancel our first meeting, but a few weeks went by and we were able to schedule again! Success! Baba park on Tuesday at 4pm, time and day were set.  They usually offer their lessons at the Kadena Marina but the marina is closed on Tuesday so they had to find an alternate location.  The weather was beautiful and the sea was as calm as possible.

SUP Van
Tyler and Kazu (the owner) met us there. They had everything ready for us (board and paddle). A quick brief was given, and here we go! First we tried it on our knees, paddling out, U turn,…

SUP Kneeling
Then came the challenge do it all, standing UP on a floating board. Well, I am known to not have much balance on solid ground, so this was promising.

SUP Standing
Once we got a good grip on everything we were out in the open water!
We paddle all the way to the Kadena Marina, flat water, small waves, and a fall here and there! But this was all part of the fun! Tyler and Kazoo stayed by us the entire time but without being overbearing. The experience was awesome. The lesson lasted 2 hours. I could have stayed on the board forever, feeling so free floating on the water. I tried myself to take on some small waves but that didn't work out very well for me. It didn't take away my fun though. It was an amazing experience and can't wait to get back on it as soon as possible.
For once I did better than my husband! Give it a try it's well worth it! You never know, you may find yourself a new addiction — I know I did!
Their office is a mobile one so be on the lookout for the van —
Phone: Kazu: 090-8201-9313(jpn) or Tyler: 080-4619-2973(engl.)
Facebook: https://www.facebook.com/#!/okinawa.surf
Website: https://natural-surf.com/
This post was featured in Stripes Okinawa!