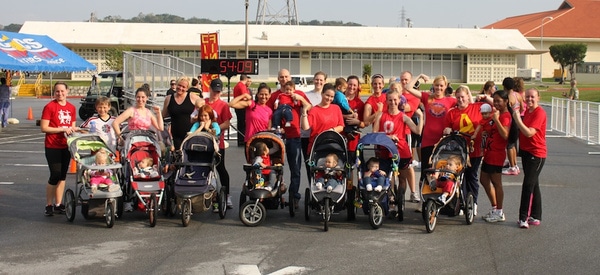 Editor's Note: Stroller Warriors was originally reviewed on Okinawa Hai on April 3, 2012; you can read a PDF copy of that original review HERE. The post below is an updated take on this attraction, published September 23, 2016.
CONTRIBUTED BY TIFFANY COLLAZO
OKI FRIENDS, men and women, those with babies, big kids, teens and those with none, if you have a desire to run, ready to run again after a long break, looking for a supportive group of spouses who share a common goal, or are looking to surround yourself with like-minded supportive, determined, and encouraging people, Stroller Warriors® Okinawa Running Club.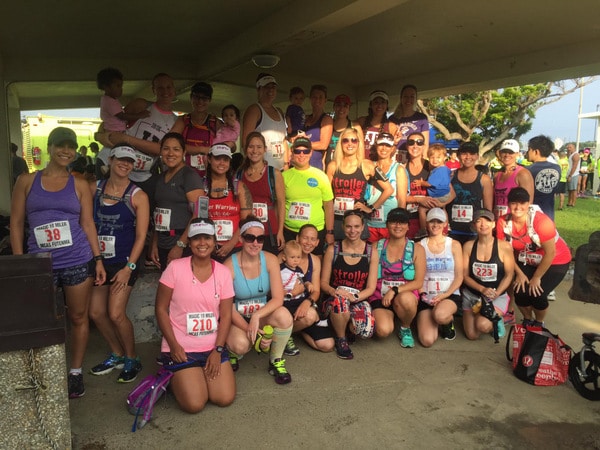 On a Monday evening in September 2015, I took the plunge. After joining the Stroller Warriors Okinawa Facebook Page more than a year prior and watching from behind my iPhone screen all the sweaty, yet smiley, workout pictures or posts of members' running accomplishments, I finally showed up to my very first run. I remember being overly anxious as I drove to Baba park that night.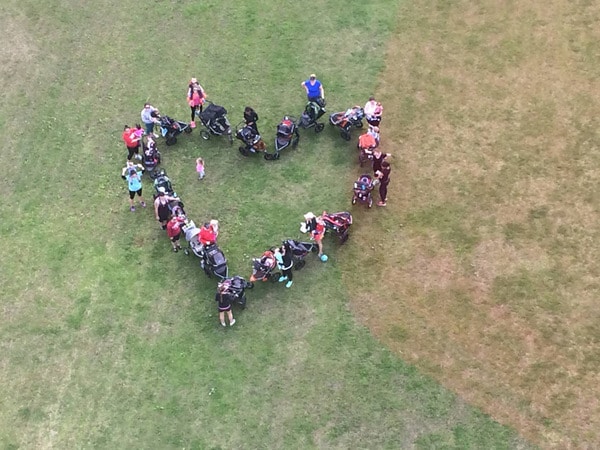 I was no runner, I was actually the furthest thing from a runner. I equated running to misery, an unnecessary form of torture, something only to be done when being chased by a masked ax-wielding lunatic, not something done by choice, or even crazier, for fun. A flood of thoughts raced through my mind during that 15-minute drive. Would I know anyone? If not, would anyone talk to me? What if these women expected me to run 5 miles? Or more? What if I couldn't keep up with them? What was I doing? Suddenly I realized, NOPE-I CANNOT DO THIS! I desperately tried to find a place to turn around but being that it was 5:00 pm, traffic was heavy and there was nowhere for me to make a U-turn or pull over so I was forced to keep driving to the designated location.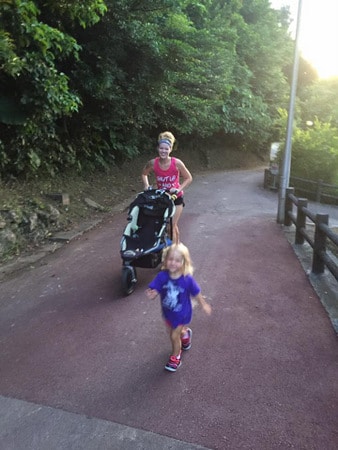 That was one year ago!
It is crazy to think back to that memory. All my fears, everything that kept me from showing up sooner, seem so foreign and senseless now. Prior to joining in on an actual meetup, I had so many questions about Stroller Warriors but I was too shy or intimidated to ask anyone, therefore I have put together some information that will hopefully help anyone considering joining us get to a meeting a lot faster than I did.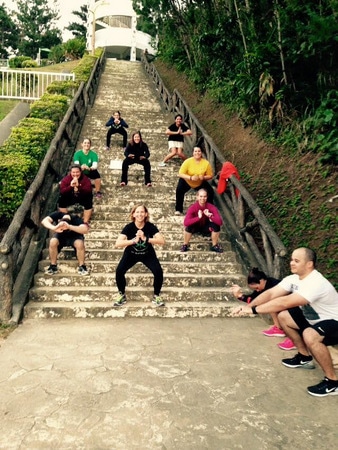 Stroller Warriors Running Club® Okinawa is a FREE running club open to ALL military/civilian/contractor spouses and their family members. The club was first established at Camp Lejeune, NC in 2010 by Stephanie Geraghty. It has now grown to 34 chapters worldwide allowing seamless transitions between chapters and welcoming friends when moving from one location to another. The mission of Stroller Warriors has always been to help military families around the world live happier, healthier lives through fitness, friendship, leadership, goal-setting, networking, fundraising, and community service.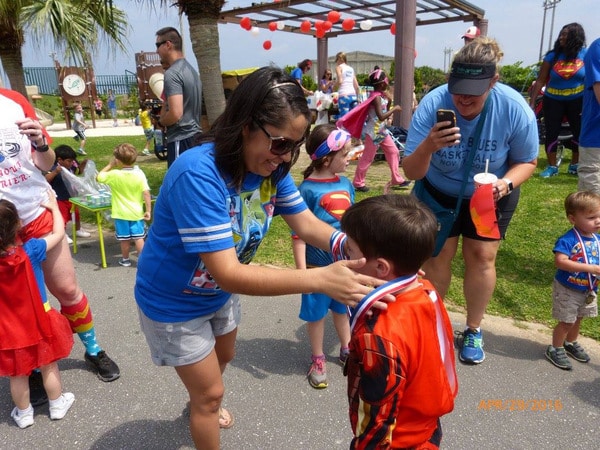 This club does not demand a standard. Runners of ALL ability levels, beginner or marathoner are welcome. Stroller Warriors-Okinawa promotes a positive, comfortable environment for ALL runners of ALL ability levels to run together. Stroller Warriors is designed so that spouses can run with their children, however, a child or a stroller is not a requirement to participate in Stroller Warriors. There are members from all walks of life, some with no children, others with many children and some with children/teenagers who have long outgrown the stroller and now bicycle or run alongside their parent when they're not in school. The only requirement for this club is a positive attitude and a willingness to support and encourage other members.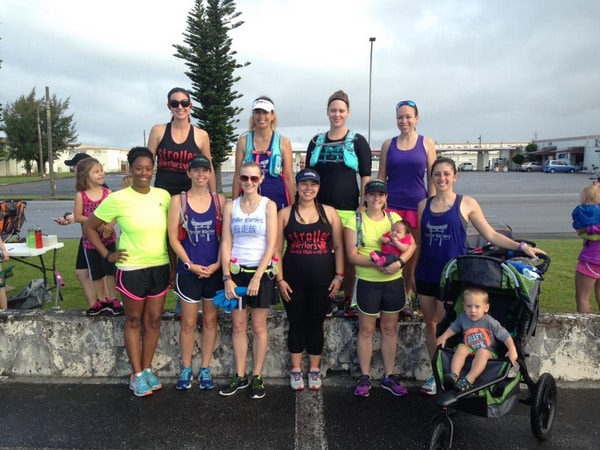 While titled a running club, there is so much more to this group than just running. First off, the friendships built within the club are invaluable, which are especially vital living overseas and being so far away from family, friends or supportive networks. The club checks in with each other and helps out where they can, such as putting together meal-trains for mothers who have just given birth or spouses who are in the midst of trying times due to illness or other life events. The club hosts "Warriors Nights Out", beach days, and trips to the zoo at various times during the year. Everyone is friends, so it is very common to have coffee meetups or lunch and playdates during the week. If you are missing the feeling of family, this club definitely helps fill that void.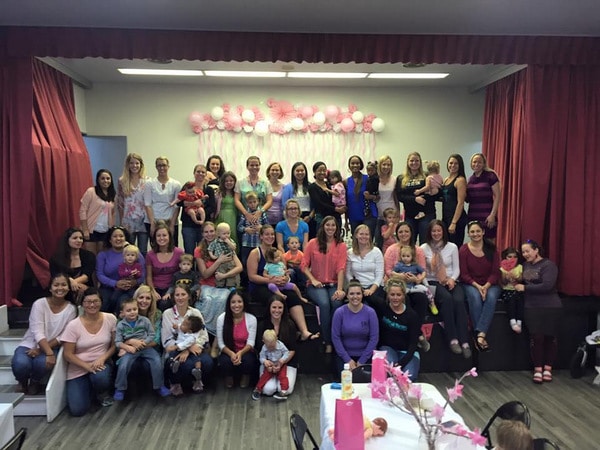 Stroller Warriors-Okinawa plays a large role in the community as well. Just in 2016 alone, the club had the opportunity to share some of our American holiday traditions with one of the local Japanese community centers. SWO has also participated in numerous fundraisers, one of which provided a scholarship for a fellow military spouse in the spring. Additionally, a recent fundraiser generated enough revenue to allow the club the opportunity to "gift a BOB" (buy a jogging stroller) for a member, as well as pay for a race entry to one of the upcoming running events in the fall.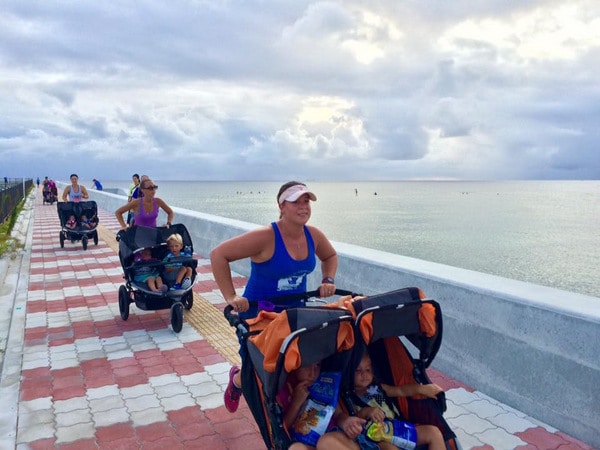 The club takes into account the safety of all members, therefore meeting times for the summer months, when the heat is intense even at daybreak, are Monday and Wednesday evenings at 6:30 pm. As of September 9th, the club will adjust the meetup schedule to accommodate the start of school and temperature changes. These meetups will be Monday at 5:30 pm and Wednesday/Friday at 9:30 am. Wednesday workouts are geared towards the Kinser, Foster and Lester area. Friday workouts are geared towards the Kadena/Courtney area. Holding workouts at varying locations allows everyone the chance to attend a meetup and gives those interested in it the privilege to explore this beautiful island more than they may have previously. Our running workout varies but is usually between 30-45 minutes, followed by an optional short workout and/or stretch.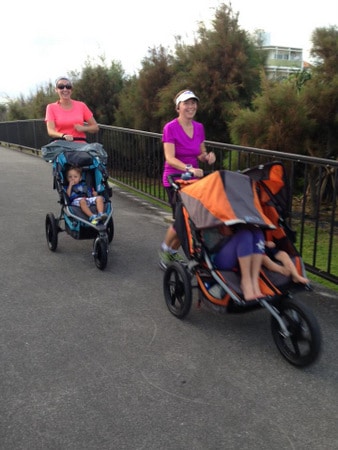 Since Stroller Warriors is a kid-friendly organization, all meetup locations have a park or an area for the children to run around and play before and after runs. The children often look forward to Stroller Warrior's meetups just as much as their parent(s) because they get the opportunity to see their friends and enjoy some park time. In an effort to promote a healthy, active lifestyle for the entire family, the club also encourages little ones to run with their parent(s). 1-2 times a month, the club holds "mini mile" events so that the children, aka, our mini warriors, get the chance to hit the pavement and rack up some miles of their own.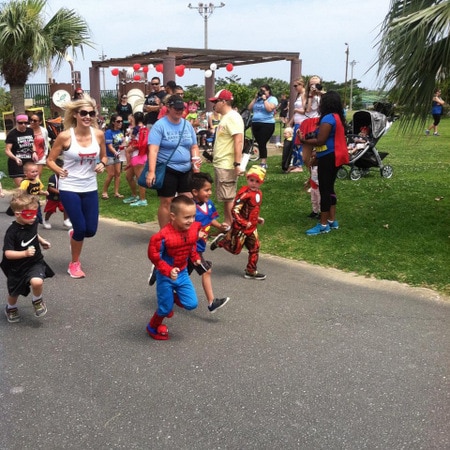 So, if you are still reading this and curious about Stroller Warriors, I encourage you to just show up to the next meetup. All of the members are genuinely so encouraging and supportive that you can't help but feed off that energy. Maybe you're a runner or maybe you wouldn't consider yourself anything resembling a runner, but I guarantee you there is something for everyone within this organization. All you have to do is show up!
Oh, and in case you hadn't guessed it already, that very first workout I attended went wonderfully. I only recognized one person from a very large group when I arrived, but by the end of the evening I had survived my run and talked with several members. The ladies were all so welcoming, friendly and reassuring that I excitedly made plans to attend the next meeting, followed by the next and so on and so on. It truly has been one of the best decisions I have ever made. So please, join us!
---
Please request to join our main page at https://www.facebook.com/groups/StrollerWarriorsOkinawa/
And our Couch to Crazy page https://www.facebook.com/groups/591975040925957/