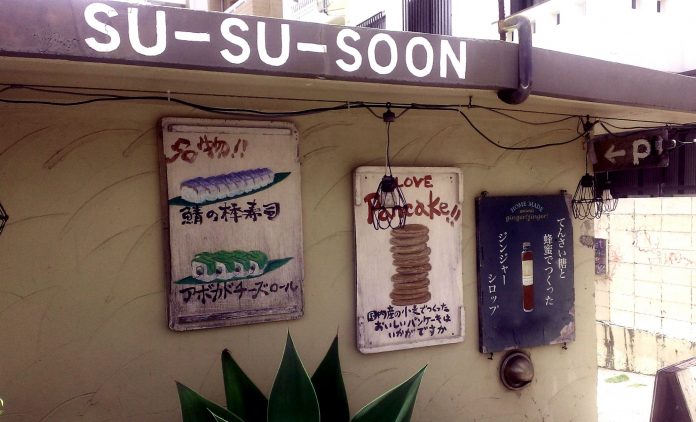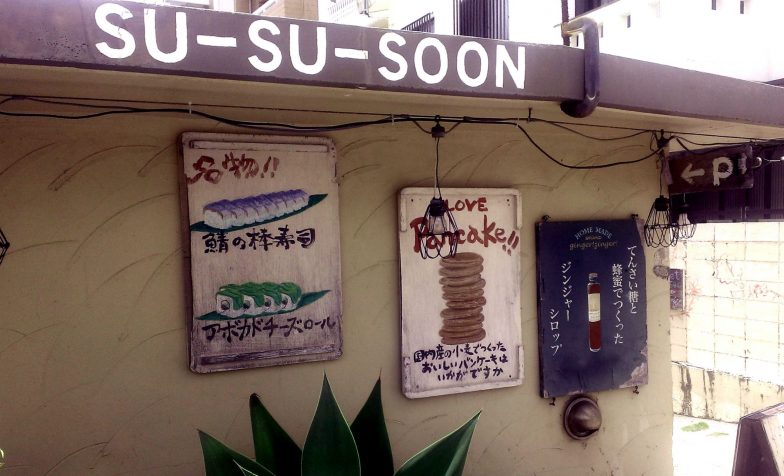 Editor's Note: Su Su Soon was originally reviewed on Okinawa Hai on October, 2 2008. It was closed for a short time, but has since be re-opened and it is re-reveiwed today for you by Kacey A. Original post is still available if you scroll down.
CONTRIBUTED BY KACEY A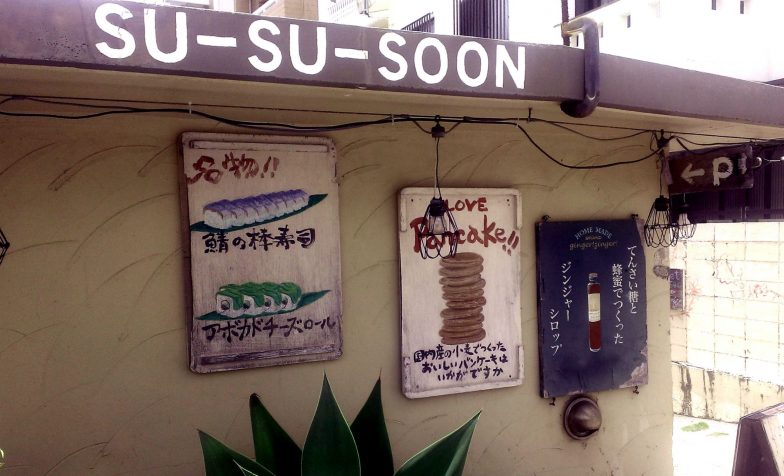 I just want to clear up a rumor publicly for you: Su Su Soon is OPEN for business and has been actively and successfully satisfying my taste buds for a while now.
It's a very small place, with about 5 tables in the main room and a separate room with tatami seating (great place to sit with a small group or with kids); it feels cozy, not cramped. The staff is friendly and cooks up an amazing variety of food.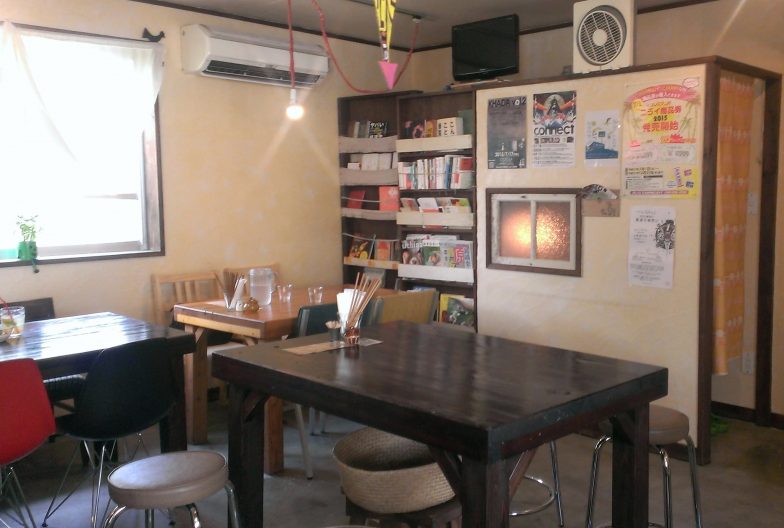 During the week, they offer a buffet that comes with both a soup and a noodle dish cooked to order. The menu includes 20+ affordably priced sushi rolls, rice bowls, pork and steak dishes; and 5+ pancake dishes. They offer a few alcoholic beverages, teas, coffees, juices and homemade ginger ale.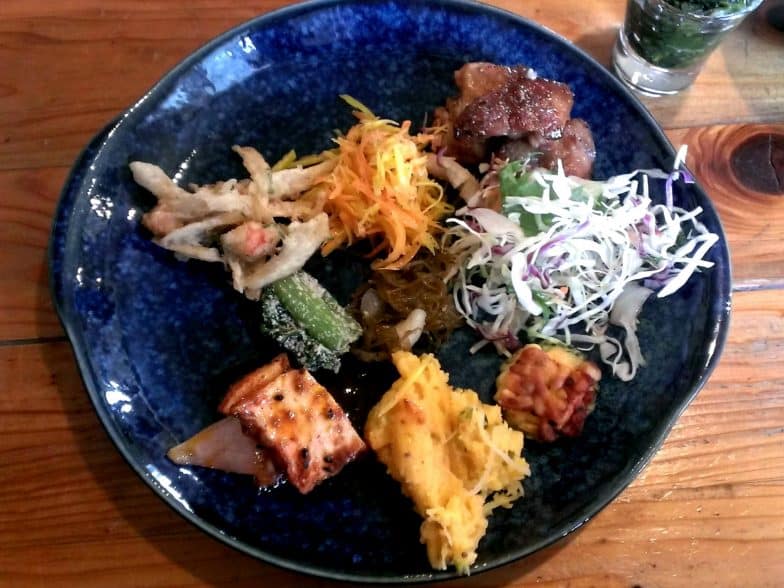 I personally recommend any of their sushi rolls, the eel & avocado don (rice bowl), or the buffet. You'll be happy with whatever you order.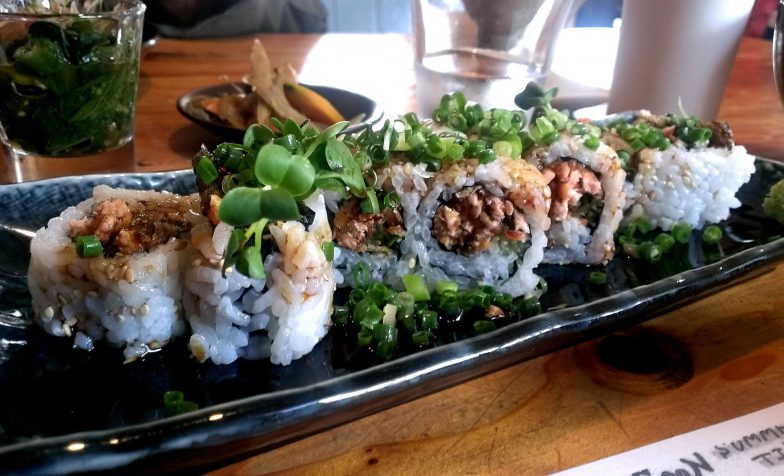 Hours: Weekdays 11:30 – 5pm, Closed Tuesdays. Fri, Sat, Sun, Holidays 6pm – 10pm (Last Order 9pm). Weekends & Holidays: Breakfast 8am – 11:30am, Lunch 11:30am – 3pm

Payment: Yen
Address: 208-8 Hamagawa, Chatan, Nakagami District, Okinawa Prefecture 904-0112
GPS Coordinates: 26.330034, 127.748934
Parking: On site, behind building. Limited.
Facebook: https://www.facebook.com/sususoon555
Twitter: https://twitter.com/desususoon
Blog: sususoon.ti-da.net
---
Original post contributed October 2, 2008
CONTRIBUTED BY AVIVA
This little gem is located off 58 near Gate 1 Kadena. I think it's relatively new as I have only seen the sign for a month or two. I recently went to lunch there with some friends so we were able to sample several menu items. You read properly – one side of the menu has pancake meals, the other – sushi meals. I can't think of a better combo!
Upon entering the small restaurant, you're greeted (Irashaimasse!) and asked to leave your shoes behind and don some comfy leather slippers. We headed to a large table in a somewhat separate room where we could sit on the floor pillows, but there are about six regular tables inside the main room. There is a bookshelf with several magazines and books, even a couple of children's books – and a couple of English books & magazines too. There are also a few toys in the larger room, and my daughter was particular to a stuffed cat and a small box that contained buildings, trees and such to make your own village. She was completely entertained until we received our food!
Ice water with lemongrass is offered, and as you can see from the menu, you may order beer, wine, sake, hot or iced coffee (it's GOOD coffee), tea, mango shake (also excellent, very thick and not too sweet), home made ginger ale, which I'm sure is refreshing, banana milk and other juices. There's also a "passion frappe" available which I might try sometime soon – it looks delicious!
At our table a couple of girls had that day's special, a tuna & avocado bowl set, one woman had the maple gorgonzola pancakes (which was topped with apple as well) and made very short work of them – and said it was incredibly delicious, my daughter had the banana caramel cream pancakes (yum!) and I had the bara-chirashi which was also on the lunch special menu. The service was great, everyone enjoyed the homey and peaceful atmosphere (Jack Johnson was playing in the background) and I was so impressed that I took my family there on Sunday for breakfast! So now we've also had the "home made bacon and egg" which comes also with a salad and it's scrumptious!
Su Su Soon is definitely kid friendly (though I apologize, I didn't look for high chairs…) and I plan to visit again for dinner as THAT menu also looks delicious (see the photo). It's about on par with the local prices for what you get. Lunch sets are a better deal than breakfasts, in my opinion. The front counter has some trinkets and even some produce for sale if you'd like to buy something. The couple who works there is very nice, and the kitchen is right there in the main room just separated by the counter.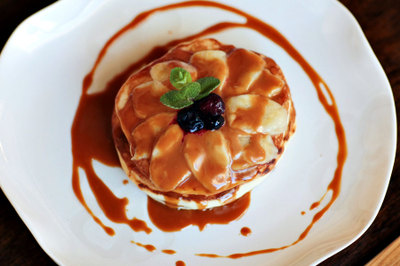 Banana Caramel Pancakes!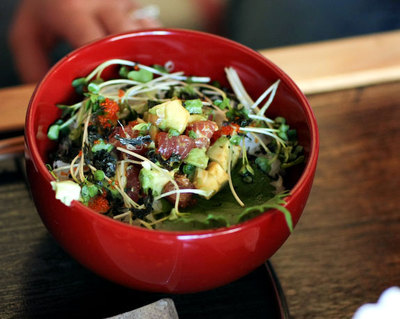 Tuna Avocado Bowl!
Hours: Closed Mondays, Tuesday through Friday open 11-2:30 and 5-8 (last seating at 9, closes at 10), weekends open 9am-9pm, closed at 10. Telephone number is 098-936-0237
Directions: From 58 northbound make a LEFT at the light where the Family Mart/Pizza Inn/GI Bill Pay shopping center is (just before Gate 1). At the first light, make a LEFT, it's on your right side immediately behind a banana yellow apartment building. The driveway to the parking lot is immediately on the right after you turn – it's small though, only holds about 4-5 cars max. When I met friends they walked from the Pizza Inn lot.