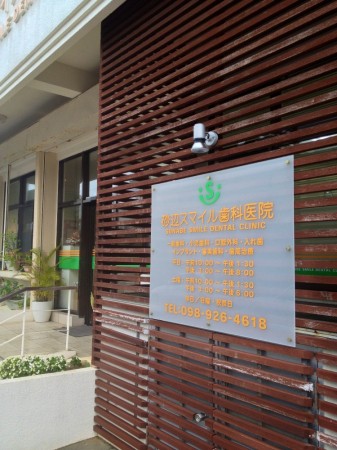 CONTRIBUTED BY LAURA SNELL
If you're looking for an exceptional dental clinic then this is definitely the place to go! I was blown away by the service, attention to detail, friendly atmosphere, I could go on forever!
It was very easy to get an appointment; most of the staff speaks English very well. The first appointment is a very thorough exam; it includes X-Rays and periodontal photos/exam. The cost is 8,000 yen, which with the current yen rate makes it close to $80.00! From there you can go a number of ways.
I didn't need anything done other than a cleaning, so I didn't pay too close attention to the prices on other services, but a cleaning is 5,000 yen (that's for two cleanings). I did see that cavity repair is also 5,000 yen.
The waiting room is very clean, organized, and quiet. As an added bonus, they have free wifi, so feel free to bring your iPad or other electronic devices. When you are moved from the waiting room into the "service area," it's one big open room with things like shoji screens dividing you from the other patients.
During the treatment a towel is placed on your face, making the process much more relaxing. I almost fell asleep (and I'm usually a ball of nerves going to the dentist, but here I was completely at ease).
There are always several people tending to you, during the hygienist exam, when the dentist comes in, and then when the man (who appears to be the head dentist) does his final check.
I could not have been more pleased with the treatment and service that I received at Sunabe Smile Dental Clinic. If you have dental needs I would highly recommend going to them. They are very kind and walk you through every step of the process.
Hours: Monday-Friday 10:00 a.m. – 8:00 p.m., Saturday 10:00 a.m. – 6:00 p.m.
Payment: Yen, Visa, and MasterCard, Diners Club, American Express, Discover (they will fill out insurance forms if you have them)
Phone: 098-926-4618
Website: Sunabe Smile Dental Clinic
Address: 1-105 Miyagi, Chatan Okinawa 904-0113
Directions: From Kadena Gate 1 – Leave gate 1 going South on 58 (get in the lane to turn down to the Sunabe Seawall), at the third light make a left, turn right at the second street, you will see a Sunabe Smile sign, Sunabe Smile Dental Clinic will be on your right (there is parking along the side of the building in designated spots)