The location and dates of the 2015 festival have changed from previous years. This year it will operate from February 28th through March 15th. 
CONTRIBUTED BY MEGAN PARKER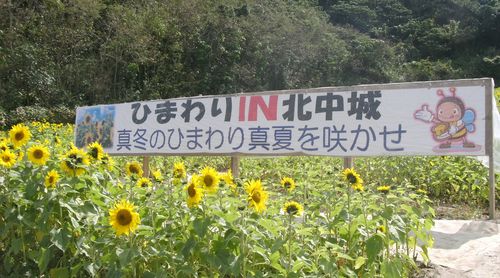 Sunflowers make the world a brighter place – and the sunflower festival is just what we needed to brighten up our February weekend!  This is a free, fun, easy-to-find gem located so close by for those of us in central Okinawa, there's really no reason not to attend!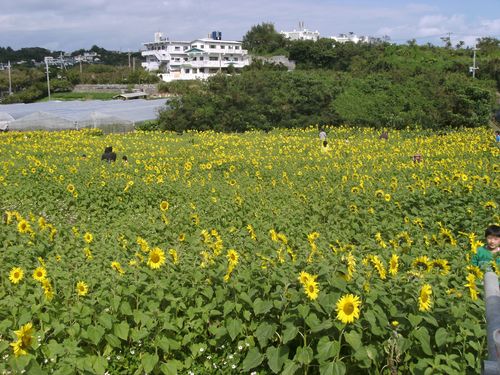 The sunflower fields are in Nakagusuku, not far from the expressway entrance and tucked neatly in between several housing areas.  As we came upon the first of the four fields, I realized just how big and beautiful the flowers really are!  The flowers stand at least 5 feet tall with paths weaving and winding throughout, creating a sort of sunflower maze effect.  Some of the paths are covered with cardboard or wood, enabling you to avoid dirt and mud, but my three-year old loved running through the bare dirt paths with the Japanese kids!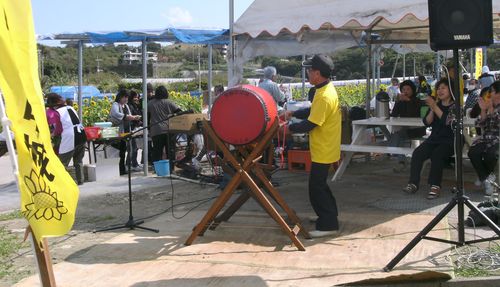 As we left the first field and walked up the path to the second field, there were a few vendors selling some produce and traditional Japanese foods.  My son scored an enormous bag of cotton candy for 500 Yen, which I promptly had him share with his new Japanese friend, and at the end of the path I purchased a large bouquet of sunflowers for only 300 Yen.  There were other vendors selling Japanese treats and a few souvenirs as well, but not so many that you were overwhelmed and the festival certainly wasn't crowded at all. There was festive Japanese music playing from a sound system, and a performer beating a drum to the music.
The second field of sunflowers has a raised platform, enabling you to take elevated pictures of the entire sunflower field.  There are tons of great photo opportunities, and being the only Americans among a sea of friendly Japanese folks, we had a lot of offers to take pictures for and with us!
I'm unsure if the vendors are set up during the week or only on the weekends, as we visited on a Sunday.  I tried to ask a nice Japanese man how long the festival continued, and in our broken English and Japanese, I believe that he indicated that the festival runs through February 27, 2011.  Hurry on over, enjoy the beautiful weather and spend an hour or so checking out the sunflowers!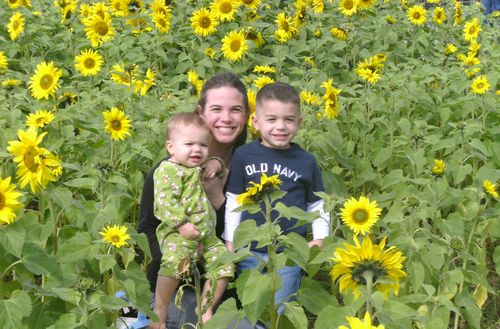 Address: 2061 Atsuta, Kitanakagusuku-son, Nakagami-gun, Okinawa-ken 901-2313
GPS Coordinates: 26.2973833, 127.8103667
Directions:  Take Highway 329 south into Kitanakagusuku Village. The field is south of the Highway 81/Highway 227/Highway 329 intersection. You will be guided by signs.  The sunflower field is walking distance to the west and across from this complex.