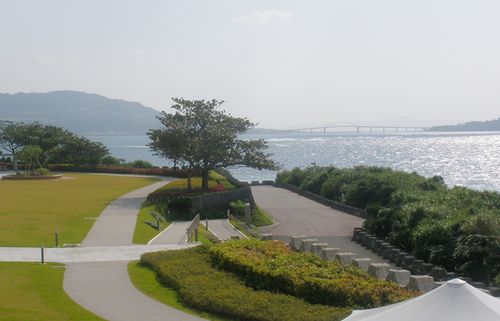 CONTRIBUTED BY MEGAN PARKER
After a rainy week of being relegated to the indoors, my family was ready for some fun and sun!  After a super-fun outing to the Tropical Dream Center at EXPO Park, my little ones were itching to burn off some energy.  We were eating a yummy taco rice lunch and perusing the EXPO Park brochure when we stumbled upon something called "Sunset Square," which boasts "43 different activities that your children can attend to and have a great time with."
And, it happened to be located directly behind (west, if you're a direction person) the Tropical Dream Center.  Say no more!  Off we went.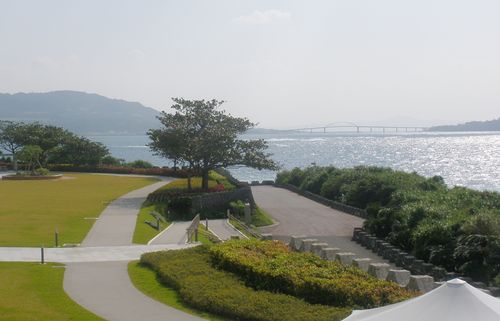 Sunset Square is basically a two-story outdoor playground that just so happens to overlook the East China Sea.  It is clean, brightly colored, imaginative, fun for kids of all ages, and has the cutest little bathrooms I have ever seen!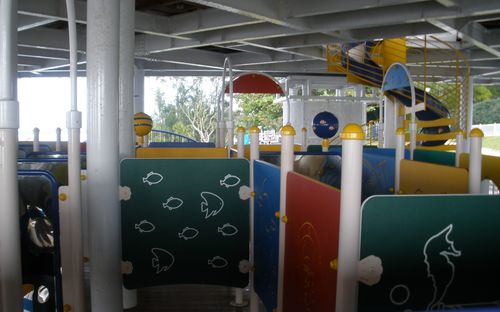 While my pictures do not do it justice, (turns out it is rather difficult to take pictures while chasing two kids around a playground!) trust me when I say that your kids will love it.  There is something for everyone here – two-story cargo nets and slides of many shapes and sizes, spiral roller slides, a wooden bridge, and a super fun maze!  While my 10-month old loved the small slide and the crawling and climbing activities, my 3-year old ran up and down the two-story structure so many times I lost track.  He climbed, slid, crawled, and when all else failed, walked up the spiral stairs.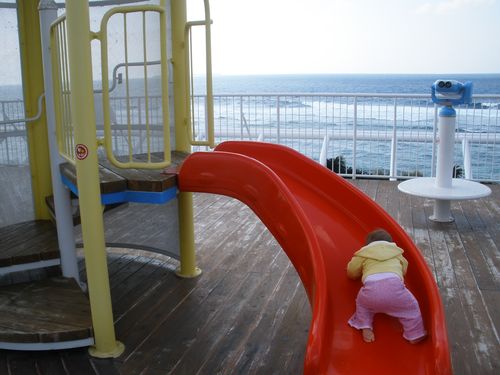 The structure looks fairly new and is very well-maintained.  I didn't see any areas that were in need of attention and it was very sturdy and safe, even for my infant.  And while I don't have older kids, I do think there is enough variety to the structure that they wouldn't get bored.  The brochure says that the structure is for children ages 3 – 12.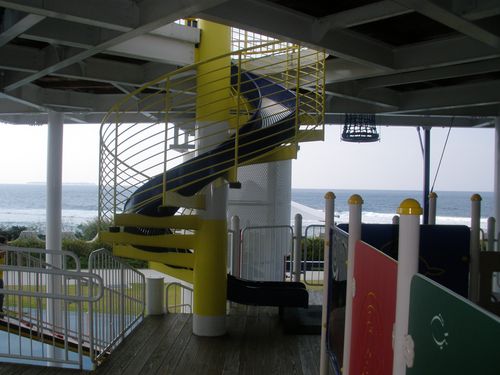 While I wouldn't make a special trip up North just for this, combine it with another awesome activity at EXPO Park and you've got an awesome day.  It's the perfect hidden gem because it is tucked away neatly behind Tropical Dream Center where there is much less foot traffic than at the extensive playground equipment near the Aquarium.  This makes it an ideal place to relax, unwind, and let the kids blow off some steam.  And have I mentioned the unbeatable view?  For one shining moment this week, I relaxed, put my feet up on a cargo net, felt the sun on my face, and looked out over the sea.  Bliss!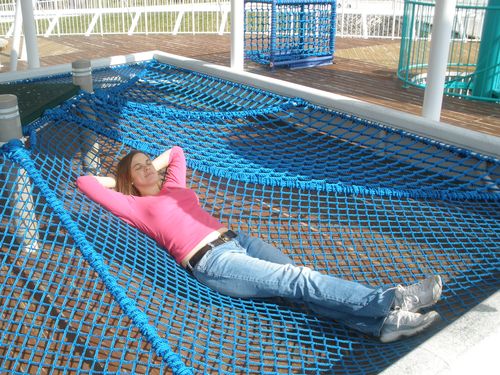 Also, I would be remiss if I did not mention how unbelievably cute the bathrooms are!  My husband took our son there and made a special point of telling me to go check them out!  They have teeny tiny little squatty potties and super cute animals on each of the four stall doors.  Everything, including the toilet paper and hand soap and sinks, is at child level.  My 3-year old loved it!
Best of all, this playground is just one of the many free activities at EXPO park – yet another reason why I love, love, love Okinawa!
Hours: The Ocean Expo Park brochure says the "Park" is open from 8:00 a.m. – 6:00 p.m. from October – February and 8:00 a.m. – 7:30 p.m. from March – September.
Directions:  Take the Expressway north all the way to the end.  Once you get off, it eventually merges with Highway 58. Keep driving north on Highway 58. Take the Route 449 north. You should see the sign for the Ocean Expo Park along with the Route 449. You'll drive on the Route 449 for a long time. You'll come to a junction with the Route 114 and a Family Mart convenience store on the left hand corner. Turn left onto the Route 114 to the Ocean Expo Park and look for the signs for Tropical Dream Center parking.  Park there and head East, toward the water to find the play structure!  It takes about 1.5 hours from Okinawa Minami Expressway (Exit #4) near Kadena Air Base.