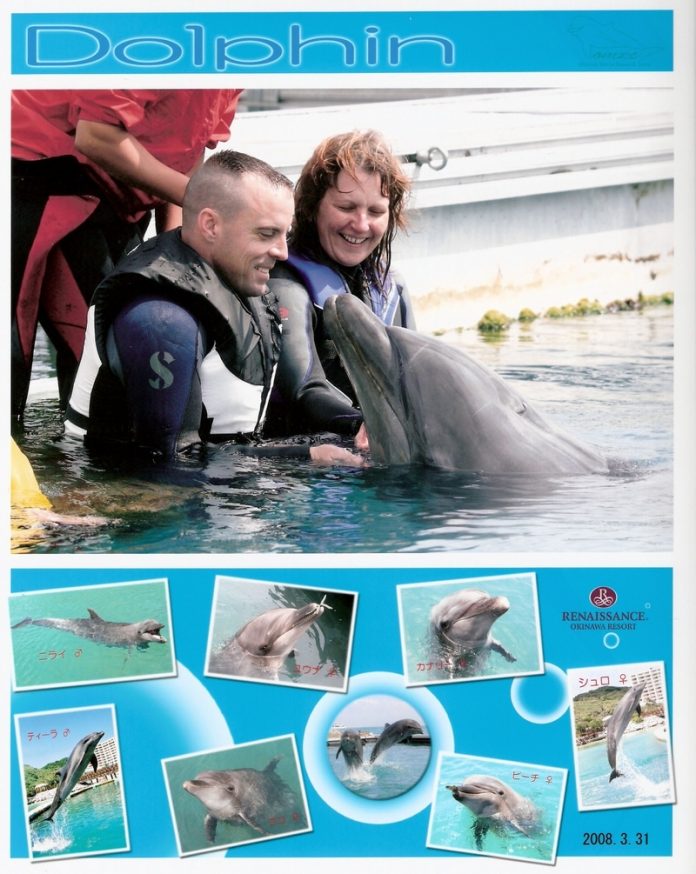 CONTRIBUTED BY DANIELA WELBORN
Alright, we did it!  We gave in and paid the money…and….it was totally worth it!!!!  Today was our anniversary and since we been together for some time now we don't do the jewelry/flowers/chocolate/dinner thing. Well, we still do the dinner thing, but not today.
So, here is the deal.
OMRC Dolphin program has different programs throughout the day. If you are not a guest of the hotel you can not make a reservation ahead of time. You have to come on the day you want to do the program you chose and hope for the best.
Today was our lucky day. We picked the "Into the Blue" program.  You get wet suits, booties, mask, and snorkel. We chose to bring our own wet suit and booties.  If you don't speak Japanese it's okay. Everybody will try to do their best to translate. We had a lady in our group that did most of that.  Then you get a lecture on dolphins, you practice snorkeling, and off you go.
The trainer will teach you commands and then you execute them and the dolphin will do as you say. This is very much fun as you get to interact real close with it.  This takes about 30-45 minutes. All the while people are taking pictures that you can purchase later. The "finale" is when you snorkel across the lagoon and the dolphin is swimming with you.
I was just a tiny bit disappointed, because I thought we were going to do the "holding on to the fin swim", but come to find out it is a different program. This program states for "Japanese speakers only", but I inquired and even if you don't speak it you can still do it. You will just miss out on a big part of the lectures.
All in all it was very fun.
All this is happening at the Renaissance Hotel north of Yomitan. We paid 10.000 yen per person. The real shocker came when we bought 4 pictures and paid 52,-. Note to self, a set in Japanese means 1 picture not 2!  There are different programs that accommodate different age groups. So, even if your kids are small there is still a program for them to have fun with a dolphin.
Then there is the issue of "should a dolphin be in captivity…." Well, as far as I understood it "our" dolphin was rescued after she was bitten by a shark. The scars were visible when we were petting her and that is how I found out. Then they have a breeding program for spotted dolphins which is the only one in Japan. I have mixed feelings about it, but the atmosphere was great and the dolphin seemed to have fun.  Kind of like my dog when I walk her, if that makes sense.
Phone:  098-965-5629.  To email for help in English:  nirai@omrc.jp