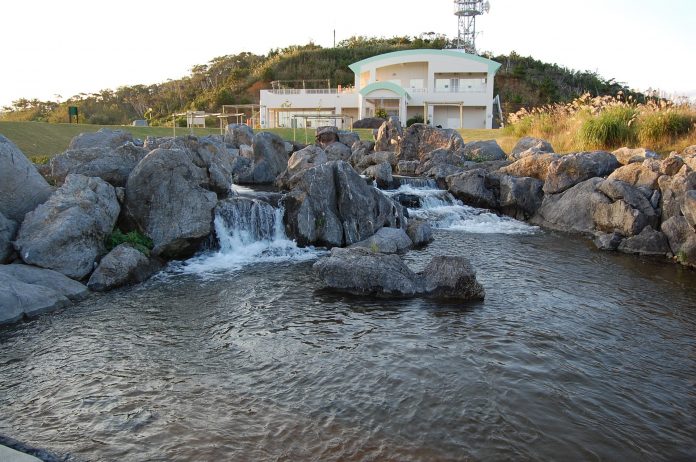 CONTRIBUTED BY MICHELLE CAMINA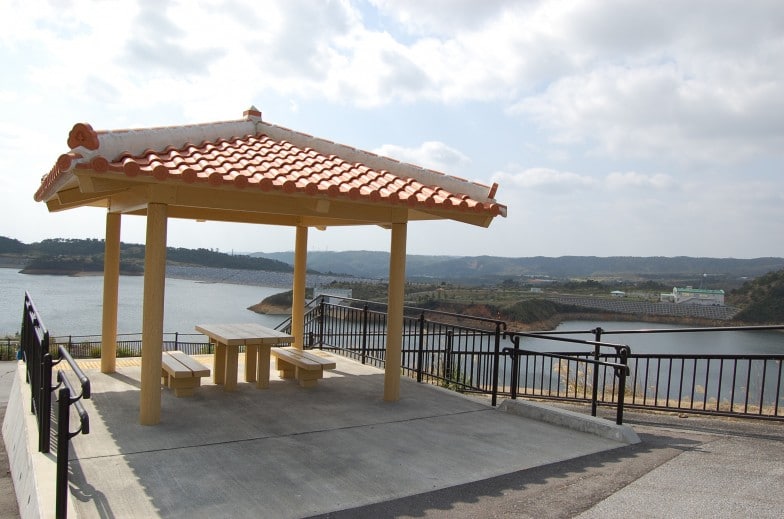 Some of the best advice I can give to those that love finding free activities to do and who enjoy the great outdoors, is to be on the lookout for signs posted around the island indicating a dam in the vicinity. Nine times out of ten, these dams have incorporated parks within their areas for the public to enjoy. These parks are usually well maintained and some of the most spacious you can find on island. In fact, you may already be familiar with Kanna Dam, Kin Dam, Kurashiki Dam, Haneji Dam, Fukuji Dam, and Kinjo Dam.
Taiho Dam happens to not only be one of the newest additions to Okinawa's extensive dam and reservoir system, but it is also the second tallest dam on island (second only to Higashi's Fukuji Dam). And yeah—you guessed it, Taiho Dam has a park!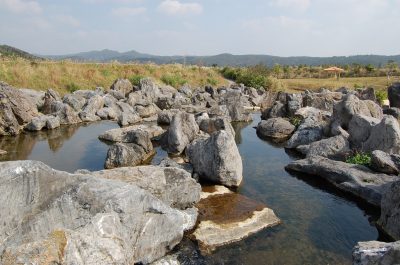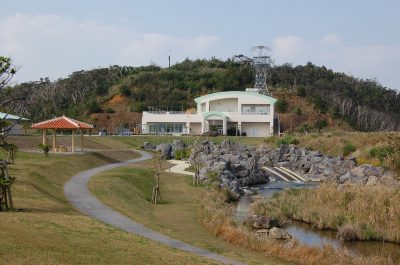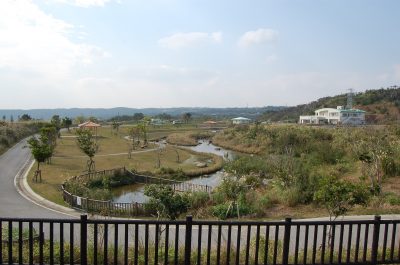 The park area is riddled with walking trails, picnic areas and scenic lookout points throughout. However, its most impressive feature is a charming pond in front of the Bunagaya House, complete with mini waterfalls, stepping stones and soft rubberized steps leading down to the water's edge. Like the recreational water areas of Kurashiki and Haneji dams, Taiho Dam's pond seems to allow for wading in certain spots. But as tempting as you may find the thought of sliding down the pond's two double slide-like structures, I would caution visitors not to do so. Apart from signs posted near the slides marking them as dangerous (abunai!), slick rust-colored algae grows on their surfaces as well. This biofilm is what makes the slides precarious, and is generally not something you would want on you or your clothing. Therefore, I would advise sticking to the wading areas directly above and below these two structures.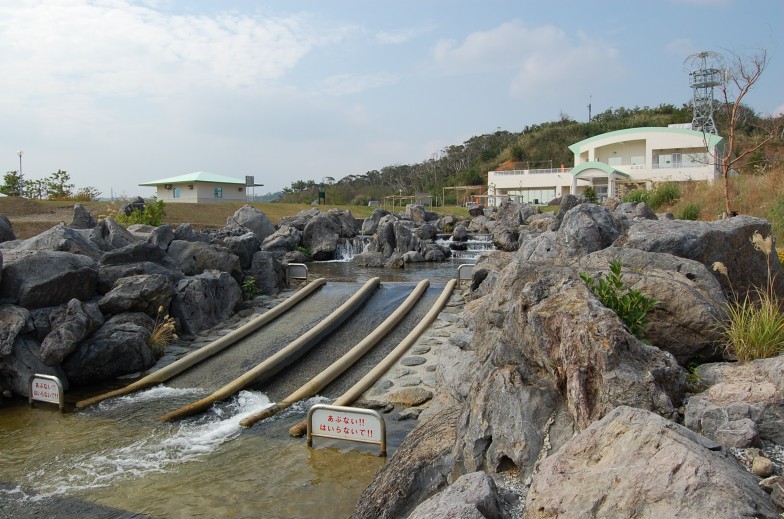 Inside the Bunagaya House is a mini museum to enjoy. Visitors swap their shoes out for slippers just inside the entrance of this building and enter the museum from the first door on the left. The museum showcases mini exhibits regarding local wildlife, native trees and even includes a small scale model of Ogimi-son. Though the museum's staff is non-English speaking, they do their best to answer your questions via a translation app on their smartphones. To say their customer service goes above and beyond almost anything our family has so far experienced on island (and that says a lot!) is probably an understatement if there ever was.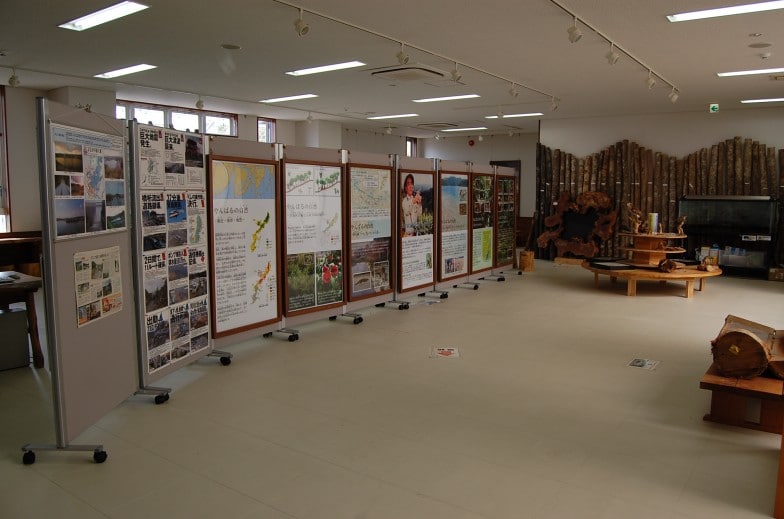 During our visit we asked questions about Ogimi's abandoned Shah Bay Resort Hotel (we spied it on the museum's small scale model map.) and Motoko-san, one of the tour guides, offered to have us jump in her car and drove us to the Shah Bay Mutabaru Observatory herself. She answered our questions as best as she could and even gave us a mini tour of Oshikawa (an area of Ogimi famous for its shikuwasa and kugani orchards). It was amazing! Though I can't vouch that giving visitors free tours of Ogimi is the norm, I want to reassure anyone who visits Taiho Dam that the Bunagaya House staff are extraordinarily helpful.
I encourage you to stop off at the 100¥ store to purchase bug nets and a shiiku case (the vented plastic container Japanese children keep pet stag beetles and hermit crabs in); pack a picnic; bring yen for ice-cold Dydo machine drinks; and toss a few beach towels in the trunk of the car for a memorable day at Taiho Dam Park.
Admission: Free
Hours: 9 A.M. to 5 P.M.
Where: 1357-18 Taiho, Ogimi-son, Okinawa-ken, Japan
Map Coordinates: 26.6496012, 128.1254619
Directions:
Take the Okinawa Expressway north and get off on the 10 Toll Exit. Continue to travel north through and past Nago along Route 58.
You should eventually see a blue billboard for Taiho Dam directing you to turn right
Turn right onto Highway 9 towards Higashi and follow this road through two tunnels.
Be on the lookout for a Gazebo rest area on the left and make a left immediately after this. The road you come upon is Route 331.
Turn right and follow the signs along the way directing you to the dam. Eventually you will come to a white billboard prominently pointing towards Taiho Dam.
Turn left. The Taiho Dam Branch entrance takes you to the Bunagaya House museum, pond, and main picnic areas. The Taiho Main Dam entrance takes you across the dam's spillway wall and up towards another gazebo picnic spot. Sunsets are absolutely spectacular from this particular observation point.
Additional Notes: Ishiyama Observatory, Shah Bay Mutabaru Observatory, Yamashishigaki Mutabaru Trail, and Igimihakinzo Park are within the general area of the dam if you bother to pay attention to the road signs along the way. You may choose to stop off for a late afternoon lunch at nearby Canaan Slow Farm in Higashi-son where Fukuji Dam and the Higashi Village Museum may be found just up the road as well.