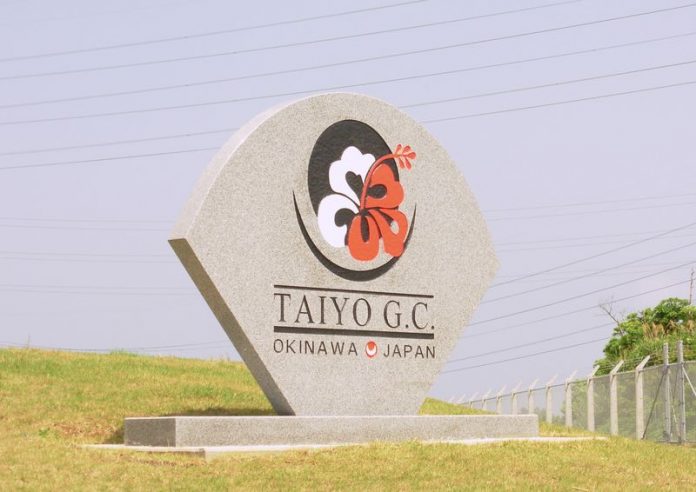 CONTRIBUTED BY LARISSA TRAQUAIR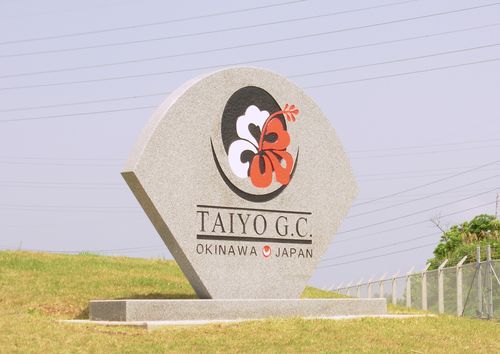 Tee it up at Taiyo
"Never leave a birdie putt short" is the tagline on my Marine's e-mail signature. Obviously, he is a golfer and he was on the new course at Taiyo as soon as they opened up tee times.  I, on the other hand, do not golf, but am happy to share his experience with our Okinawa Hai readers.
From this golfer's experience, the new Marine Corps golf course on Okinawa is a challenging, well laid out course.  And one of the better military courses he has played on.  Since it's a brand new course it still has some growing pains to work through and as the course grows in, the greens will be more receptive and easier to hold.  Either way this course is well worth your Saturday mornings or any other day of the week.
The course plays 6,645 yards from the back tees.  It is a par 72 layout with both the first and 10th holes being par fives – par 36 on each nine.
The par threes are visually challenging but length-wise are very reasonable. Three of the four par threes have a waste area carry that can be intimidating to a novice golfer.  But they really don't come into play at all.
The course is tight and puts a strong emphasis on accuracy off the tee.  Like most of the Japanese courses, off-base, you're either in play or you've lost the ball.  The length of the course is not so long that you have to use a driver on every hole.  You could easily hit a 3 or a 4 iron and keep it in play rather than hitting a driver astray and taking a drop.  There are several par fours that offer a risk versus reward decision — a chance at birdie or triple bogey.
The greens are large, but roll very true in comparison to Awase, where the greens were about 75% smaller.  There are plenty of chances to three putt a hole.  Unlike Awase, the course drains well after a heavy rain so you won't find yourself sloshing through the mud.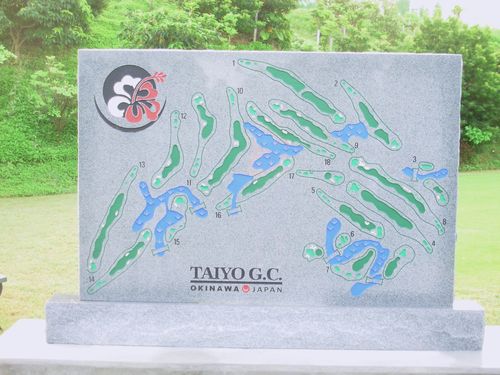 "90% of short putts don't go in." Yogi Berra
As you play each hole you are tucked away and feel like you are the only one on the course.  You don't have to worry about errant shots from the next fairway over.  You only see the foursome ahead of you, on the green, or the group behind you, on the tee box.
For those who prefer to walk, like my golfer, the course is about 5 ½ miles long.  If you're a walker, the new pushcarts are very nice and available for a small fee.  The distance between the greens and the next tee box can be rather long and the course has several elevation changes but it's not too difficult to walk.  If you prefer to ride there are also carts available.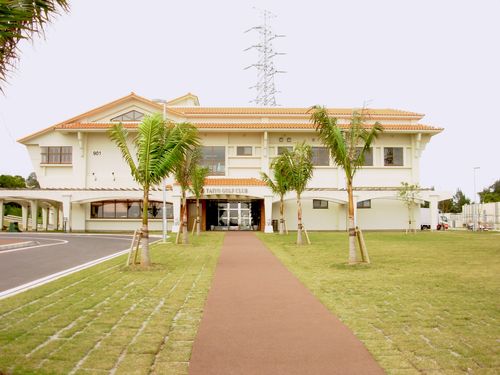 Mark Twain said, "Golf is a good walk spoiled."
The pro shop is spacious and carries a wide variety of apparel and golf accessories.  The Taiyo logo ball makes a great addition to your golf ball collection.  Both male and female locker rooms are available and the clubhouse restaurant delivers great service and some new menu items.  Taiyo's staff has been great to work with both on and off the course – they are dedicated to making your golfing experience enjoyable.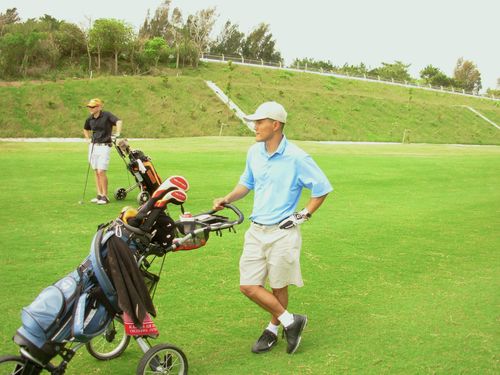 "The reason most people play golf is to wear clothes they would not be caught dead in otherwise."  Roger Simon
There have not been any holes-in-one, yet, and the course record has not been established.  Grab your foursome and take a swing at Taiyo!
---
Taiyo Golf Course
Website: https://www.mccsokinawa.com/golf/
Phone: 098-954-2004
Address: Enobi, Uruma, Okinawa Prefecture 904-2205, Japan
GPS Coordinates: 26.391491, 127.83318199999997