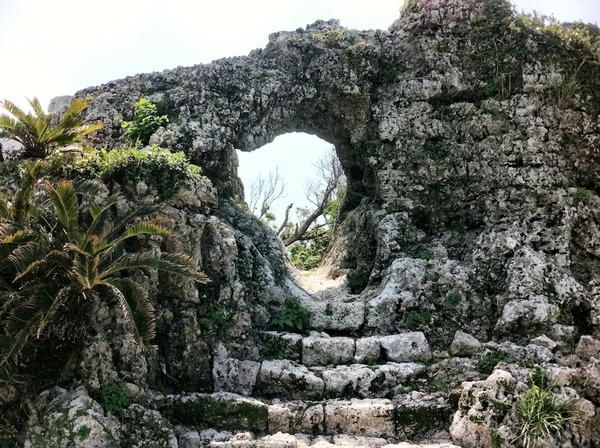 CONTRIBUTED BY QUENTIN RICHARDSON

Tamagusuku Arch
I found this place driving north from Peace Memorial Park. It's a bit off the beaten path, but a simple visit for sightseeing. It rests atop a hill and has a unique arch entrance that is a bit run down. This castle, and others in the area are not like Shuri or Katsuren, since most of the site is being restored.
What's so cool about this place? The view!

Tamagusuku View
From the entrance, you can see the Philipine Sea as seen from Nanjo, Ojima Island & the nearby golf course. On the clearest of days, you can see Cape Chinen & Komaka Island as well. There are are wooden steps that take you inside the ruins, which have a few prayer sites inside.

Tamagasuku Sign

Tamagusuku GPS
Directions:  To get here, you will need to access Highway 331. If you are coming from the North, the Airport Expressway is your best route. Use the Haebaru-Kita exit and turn left on Highway 329 (it eventually turns into 331 in Yonabaru). Follow Highway 331 until you see the intersection for Pref. Highway 137 towards Tamagusuku. Follow 137 by veering left. Follow every sign that points to 137 leading to Tamagusuku.
After meeting and separating from Pref. Highway 86, you will reach a white overhead sign that says "Tamagusuku Children's Center", turn right immediately. Go past the Children's Center and a tiny tan and brown sign will appear on the left pointing to the area where to park for the ruins. The stairs begin after the small trail through the woods opposite to the Children's Center.