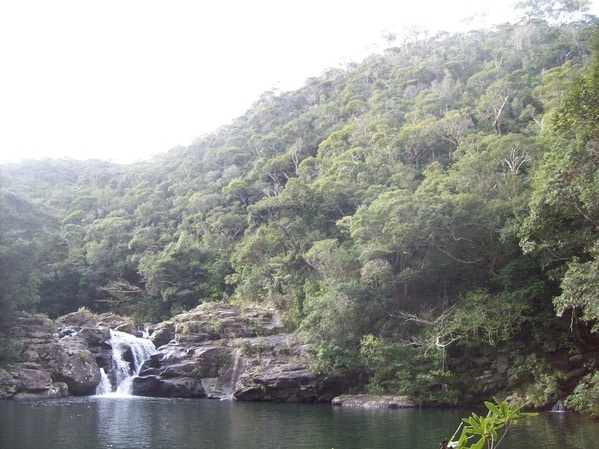 CONTRIBUTED BY CASSANDRA ABEL

Tanaga View

Tanaga Hike
On a trip up to Cape Hedo we found another small wonder of Okinawa called Tanaga-gumui (also called Aha Falls). If you are up that way and want to see more than just Cape Hedo, make a stop at Tanaga-gumui.
Tanaga-gumui is out of the way a bit and you will miss it if you're not looking. Be prepared for a pretty intense hike as well! I didn't know that it was going to be so far off the path and muddy and we were wearing uggs and flip flops; so it was much harder than it should have been.
You hike down a tiny trail on the side of the mountain, there is rope some of the way but mostly not, so be prepared to get dirty and slip a little bit. Once you finally make it all the way down to the bottom the view is breathtaking.

Tanaga Pool
The first thing you will see is a beautiful waterfall in an enormous pool. There are little paths that lead to either side, one a little more rugged climbing over roots and rocks to get to a small waterfall and pool. The other way will lead you to the big waterfall but being that we weren't wearing right footwear for this pit stop we didn't climb that part.
Apparently Tanaga-gumui is a very deep pool that it's a popular place for divers — although I couldn't imagine hiking down with all that gear! There was also a rope hanging from a tree that it looks like people use often to swing into the pool. I can't wait to venture back when the weather (and water!) warms up some.
If you decide to go, be prepared! Hiking shoes/sturdy sneakers are a must! Possibly a change of clothes and wet wipes for the ride home would be a smart idea. My 3 year old trekked down the mountain, so it is do-able for kids as long as they are willing to walk a bit. I don't think carrying a small child would be a safe idea.

Tanaga Rope Falls
---
Tanaga-gumui (Aha Falls)
GPS Coordinates: 26.7255278, 128.2879167
Directions:  Take the expressway up to nago. Follow 58 through Nago past the entrance to Okuma Resort. About 5.5 kilometers past Okuma Resort will be a sign for Route 2. Turn right onto route 2 and continue through the mountains until you reach route 70. Turn right onto route 70 and go about 3.5 kilometers until you see a sign for Tanaga-gumui. You can turn at the sign but we found that if you make your next right (after the sign) it's closer to the trail.
If you decide to make a stop after Cape Hedo turn left on 58 and follow the road until it turns into 70. You will pass a route 2 sign don't mind it, follow the road until you see another route 2 sign and it will be 3.5 kilometers on your right.