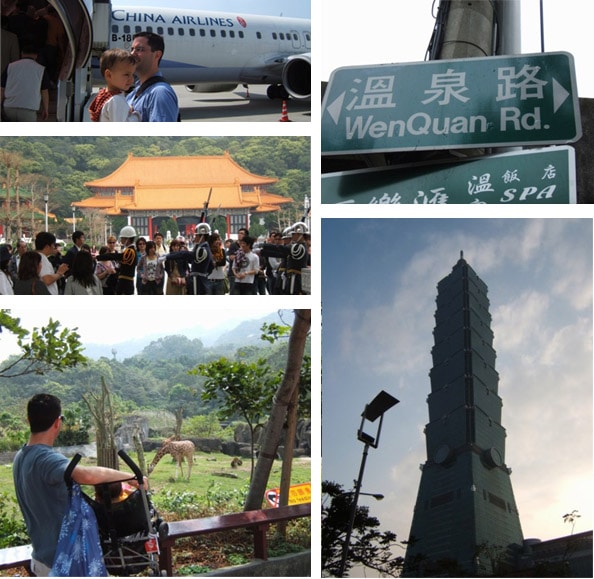 CONTRIBUTED BY JEN PRESTON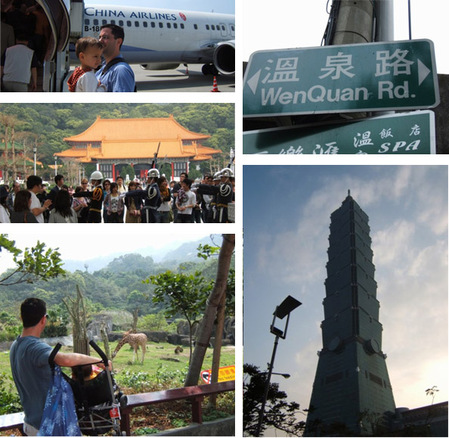 This job is tickling my jealousy bone. My neighbor Staci took what sounds to have been a fantastic trip to Taiwan a month or so ago, and was sweet enough to share the details with us. She even let us see a photo of her husband in a shower cap.  Oh, the goofy things husbands do when they think no one is looking….
How did you get travel info on Taiwan? I couldn't find any good info on Taiwan…so looked at The New York Times travel section before we departed. Proved to be right on! I attached what their website had to say… NY Times below:
"the vibrant capital of Taiwan, distills the best of what Asian cities have to offer — great street food, crackling night life, arguably the world's best collection of Chinese art, and hot springs and hiking trails reachable by public transport. With interest in mainland China surging, Taipei — one of the most underrated tourist destinations in Asia — offers a look at a different side of China, one that escaped the deprivations of early Communist rule and the Cultural Revolution. Here is a Chinese culture (some contend that it is uniquely Taiwanese) that practices bare-knuckled democracy and has preserved traditions thousands of years old in a way that was impossible to do on the mainland."
How did you book your travel? We flew to Taipei, Taiwain on China Airlines. We booked the tickets and the hotel through the travel agency on Kadena. I tried researching information myself- but it's difficult to get information. The flight is quick- 45 minutes. We took a four day trip. Perfect amount of time.
Where did you stay? What was approximate cost? (around 100.00 per night) We stayed at The Landis Hotel in Taipei. The accommodations were great. Breakfast buffet was included each morning- and easy to get a cab from the front of the hotel. My son cracked his head open (in the hotel) and they had us take someone from the hotel to help translate. They were great.
Did you travel with children, and if so, were there any particularly accommodating or not accommodating parts of the trip? (see above).
What is something you recommend doing while there? The night markets are fun, the zoo was great, Taipei 101 – one of the seven modern wonders of the world.  Some good details from the NYTimes:
"But enough of ancient culture, at least for now. Immerse yourself in modern Taipei by going deep into the belly of the tallest building in the world, the 1,670-foot Taipei 101 (7 Xinyi Road, Section 5; www.taipei-101.com.tw/index_en.htm). The first five floors, with stores like Armani, Louis Vuitton and Sogo, should satisfy any shopping urge. Take a high-speed elevator to the indoor and outdoor observation decks, starting on the 89th floor, for unparalleled views of Taipei and its environs. In every direction lie city blocks and avenues winding among concrete-and-glass towers, with verdant hills rising in the distance. Wisps of cloud float past the windows. Beware of vertigo."
The national museum was worth checking out:
"The National Palace Museum (221 Chih-shan Road, Section 2; 886-2-2881-2021; www.npm.gov.tw/en/home.htm) is considered by many to be the finest repository of Chinese art in the world; it houses artifacts dating back to the earliest days of Chinese civilization. The collection includes oracle bones, which have the first known written Chinese ideograms, as well as ritual bronze vessels, Ming Dynasty pottery and jade sculptured into the shapes of cabbage and fatty pork."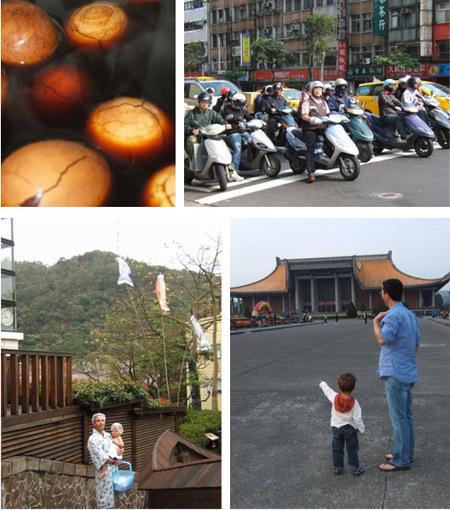 My favorite day was when we headed up to the "onsen" district  Beitou (known for their japanese style hot springs- Wen Quan Road). Very cool to walk around, take a spa, have a beer…neat little area
"..starting now…After a quick breakfast at one of Taipei's many corner bakeries, hop on the subway, called the MRT, to the New Beitou stop, about 40 minutes from downtown. The northern town of Beitou is renowned for its hot springs resorts, some modeled after those in Japan. Walk up the hill to take a soak at one of the newest of the spas, Villa 32 (32 Zhongshan Road; 886-2-6611-8888; www.villa32.com). It has all the atmosphere of a luxury spa in a uniquely Taiwanese setting, with outdoor pools of different temperatures shielded by wooden awnings and the shade of leafy trees. Rent a room for several hours or spend the morning with other bathers in the outdoor pools, separated by gender…and just walking the streets is interesting."
I felt very safe and transportation was super easy. Cabs are CHEAP- and the MRT train is immaculate and easy to get around. Overall, an easy and inexpensive trip compared with traveling to China.
Anything you think readers would be interested in that I have not mentioned? You can get your ears picked and have some tea eggs… (um….exsqueeze me? that's an interesting visual)
Thank you Staci!