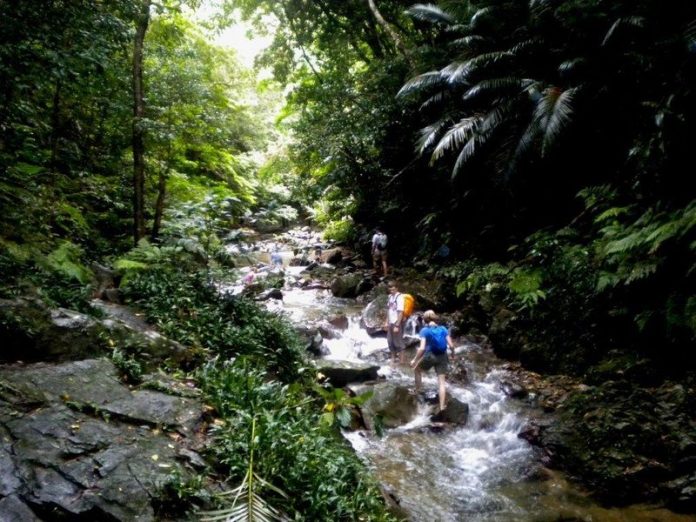 CONTRIBUTED BY CHRISTY SUTTON
{Editor's Note: This post was originally published as Tadake Falls, but we have since learned that is a different set of waterfalls in the Nago area. We have changed the name of this post to its correct name: Ta-taki Falls. Thanks!}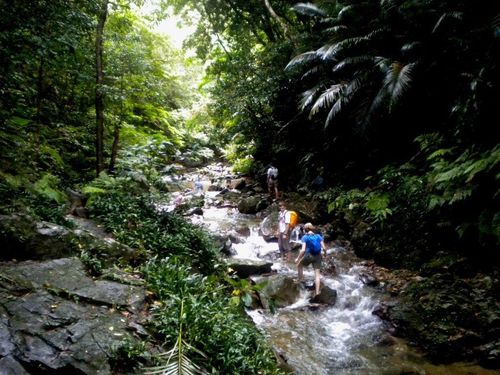 Get ready for one amazing Okinawa adventure! Ta-taki Falls is a combination of hiking, river trekking, water sliding, jungle swinging, hide and seek, rope climbing and rock collecting in the midst of a breath-taking tropical wonderland.  Rarely will you see another American on this adventure unless it is someone in your group.  This remote waterfall is an escape for the daring and definitely worth the effort put in to find it.  Are you ready to go?
COST:   Absolutely FREE!  The only cost is your time and energy (and whatever it takes to purchase Motrin on your way home).

WHAT TO EXPECT:  The trail is a river. Yes, a river!  So be prepared to get wet. This is a wonderful welcome in July, but maybe not so much in January. Water shoes are a must, no flip flops unless you are prepared to barefoot it in the end.  At an average pace it will take around 30 minutes to reach the base of the waterfall.  Along the way your feet will traverse pebbles, sand bars, boulders, trees, rock walls and dirt.  The current is slow and steady and at no point did we feel in danger of being swept away.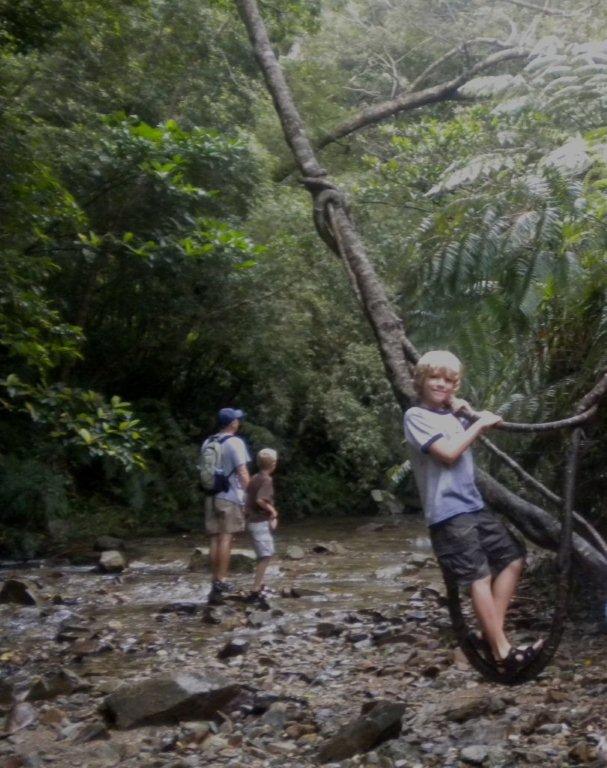 The widest portion of the river may reach 15 feet and did not go deeper than waist deep (unless it was at the base of a waterfall).
At different points along the trail you will find ropes in place to either help you cross a difficult area in the river (keeping balance) or help you around a cliff-like area. There are also many Tarzan-like vines to play/swing on, but be careful, it's not always like the movies and you could end up under water quickly! There are multiple small waterfalls along the way that may distract you, but keep going for the main attraction, it will be worth it.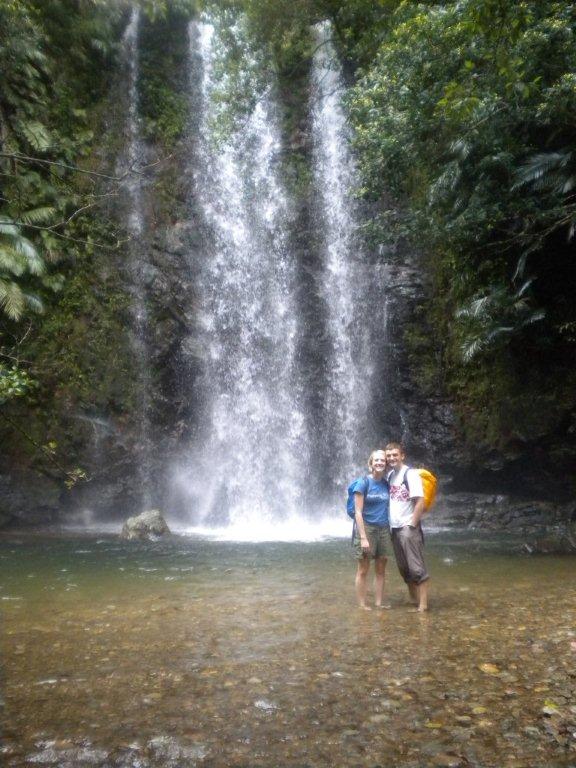 When you are just about to the base of Ta-taki Falls it will become eerily silent.  You'll walk on a pebble-ish sand bar which turns to the right and …TA DA, there is the magnificent waterfall! Fifty feet up and emitting power that you couldn't imagine existed.
There is a nice area for a picnic if you don't mind sitting on rocks, reading lips for conversation and taking in the gorgeous view. A ledge goes behind the waterfall allowing you to disappear (and scare your mother silly if you're 9!) into the unknown for a moment or two.  The pond at the base of the waterfall makes a fine swimming hole and/or allows for hours of rock-skipping.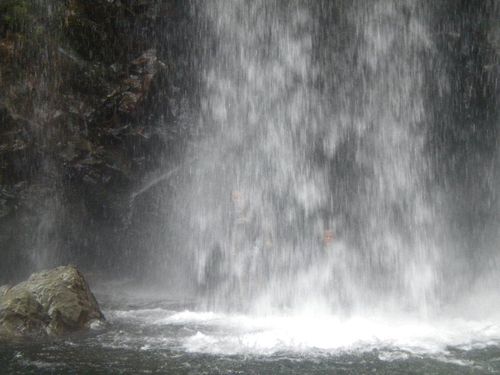 Along the way, we saw neon green and black dragon fly-looking creatures—BEAUTIFUL!!  Vegetation consisted of Bamboo shoots, Ferns and an umbrella canopy of tall, "jungle" trees. There were also thousands of shiny, opalescent rocks of all colors and sizes to admire.
EXTRA: If you'd like the adventure to continue, there is a trail that takes you to the top of the falls. It is straight up (then down) with ropes strategically placed to allow you to climb or repel.  At one point there is a complete drop off, but the good thing is that all brush would catch your fall if you were that unlucky. There are multiple large trees on top on which you can fix ropes to repel down the side of the falls. AMAZING!!  This extra trip will take another 15 minutes one way.
FINAL REMARKS:  I would NOT suggest this for anyone with children under age 10 and/or who has not had experience hiking.  It is strenuous in regards to cardio and strength, so make sure you are in good physical condition.  We have heard warnings about not swimming in fresh water here in Okinawa, but other than a few bug bites, we had no ill effects—just be forewarned for yourself.  It was a "Natural" adventure in which I will list as one of my top 5 hikes of all time.  I hope you get to enjoy it as well.  Be smart and be safe.
---
Ta-taki Falls
Address: 1636 Tsuha, Ogimi, Kunigami District, Okinawa, Japan
GPS Coordinates: 26.634079, 128.09470899999997

Directions:  HWY 58 north past Nago (or at the end of the Expressway), when you pass the Family Mart on your left at the corner intersection to Yagachi Island, start counting your "clicks" (kilometers). Go 6.9 Km to reach Henan Bridge.  You'll see light blue pillars approx. 6 feet tall with the red, heart shapes/hat thingy circling the tops on each side of each end of the bridge.  Immediately after crossing this bridge, take a right. 

Follow the road for 2.7 Km and do not turn right or left, keep on the main road that leads you down into a valley.  About 1 Km in you'll pass a fish hatchery on your right, keep going.  The road will curve left and then right again.  Look for a home on your left with a gray, concrete wall.  This will be the indicator that you have reached the parking area.  Directly across from the home you will see an open space in which to park. 

  There is a sign posted on a tree which reads Tadake Falls in Kanji.  The river/trailhead is just down a slope to the right.