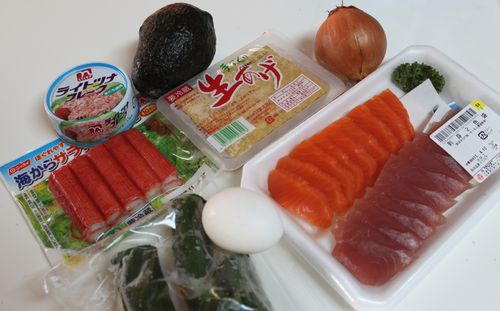 CONTRIBUTED BY JULIE WOOLERY
One of the greatest things about living in Japan is that you don't have to go to an expensive restaurant to eat good sushi… you can easily eat it at home!  Years ago some Japanese friends introduced us to temaki-zushi or hand-rolled sushi.   I could never remember the name; I just always referred to it as "make-your-own-sushi."  Thankfully my favorite Japanese cooking blog www.justhungry.com helped me put the correct name with this wonderful meal.
One of the things I love about this meal is how simple and easy it is to make… because you don't really have to make anything, you just slice.   Of course you must have cooked rice.  Prepare sushi rice if you can, but any Japanese rice is fine (a.k.a. not long grain rice).  Buy nori (seaweed) and cut it into squares about the size of your palm.  
Then just prepare whatever you want to go inside your sushi.  Some of my family's favorites are tuna and salmon sashimi, cucumber, avocado, onion, egg, fried tofu, crab, and canned tuna with mayonnaise.
But use your imagination!  I'm always trying to think of new things we can put in our temaki-zushi.   Then simply place everything on the table, kind of like a buffet, and have fun eating!  That's really what it is for our family – fun and delicious.  Everybody gets to make his or her own and you can make a different combination every time.
Just put a piece of nori in your hand.  Add a little rice and pat it down.
Select 2-3 toppings and roll it together so it fits in your mouth… oishi!  We also like to add a little Japanese mayonnaise, and it's important to have wasabe and soy sauce for dipping.
My 3 year old son can't get enough of temaki-zushi… every time we have this we lose track of how many he eats.  This has become our new family Friday night tradition.
So don't think that sushi is only for restaurants; have a little fun and don't be afraid to try something new.
What's your favorite topping for temaki-zushi?