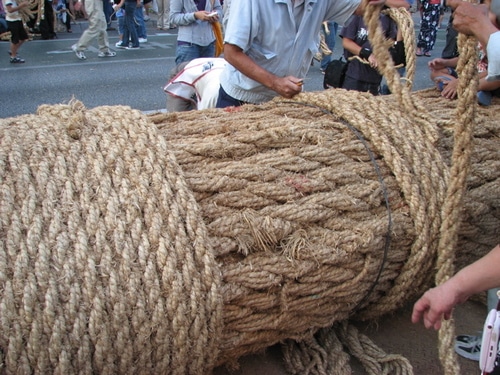 This post was originally published on February 3, 2008. We're pulling it out of the archives for you to enjoy.  The Naha Tug Of War event will take place on October 9th, 2016 at 3pm; the grand parade kicks off the event at 11:00am. If you go, let us know what you think!
CONTRIBUTED BY HEATHER NORDELL
I want you to close your eyes and imagine the world's largest tug of war. Imagine a rope so large that they have close down route 58 to have enough room to lay it down. Picture hundreds of hand ropes hanging from the massive main rope. Now imagine throngs of thousands of people on either side helping to pull this rope. Can you picture it?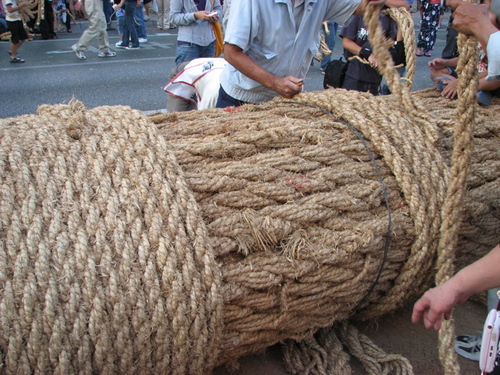 If you are struggling to imagine such an event don't worry – you can attend The Naha Tsunahiki Festival and Tug of War this coming Sunday. According to Wikipedia:
"The Naha Tug of war is an event at the annual festival held in Naha, Okinawa, Japan. Its roots may be traced back to the 1600s. Held on Route 58, it is a battle between the East and West teams. This correlates with the competition between two rulers in the Naha area in days of old.
The event draws some 25,000 attendees annually, and is preceded on the prior day with a parade celebration on Kokusai Street in Naha). In 1997 the event was first logged in the Guinness Book of World Records as being the largest tug-of-war event in the world. The rope weighs some 40 metric tons. It is a truly international event with Japanese nationals, American military, and tourists all in attendance."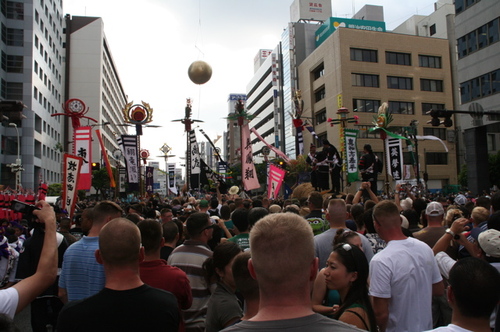 Sounds fabulous doesn't it? Well it is and Erin was kind enough to share her experience from last year with us.
"I took the tour last year to the Naha Tug of War.  I highly recommend taking the bus tour as it is extremely difficult to park.  It takes place on Kokusai Street so before and after the actual event takes place you can meander up and down Kokusai and do some eating and shopping.  I went with my toddler and 11 yr. old by myself and we really enjoyed it.
The crowd is very thick so hold on to little ones. It is easier to attend with older children, but doable with small children who are safely secured in a baby carrier. Bringing a stroller is an option although this could be taxing with the crowd. As you get closer to the rope it gets very compacted…a few men that were on the tour were actually having to coral around the children to keep them from getting pushed down.  If you hang back you can definitely get some breathing room.  My 11 yr. old managed to squeeze in and tug on the rope for a while. This is a definite must do while here on island.  It's a great cultural experience and something I enjoyed being a part of.  The whole atmosphere with the chanting, drums, ginormous rope and that Okinawan scent we have all learned to love is very surreal.  Be sure to grab a piece of the rope for good luck for the year ahead."
Check out this YouTube video on what it's like to be in on the Tug of War action:

Amanda shared a different perspective for those who do not want to take a tour but would rather attend the festival on their own. She also provided me with the beautiful pictures you see through out this post! "If you don't want to take a tour, simply park at Kinser and take a Cab down to the Tug of War.  It's really not that far or expensive.  Just remember to go early enough so that you can get down there before they close the road.
We took both our little ones the first year we were here and really enjoyed it. Our boys were 2 and 3. We took a stroller, but didn't use it much because the kids were so far down they couldn't see much and the crowds were so close.  Using the stroller did make for a little more room around us, but it was difficult to stay on the sidewalk because of all the vendors.
My husband took our 3yr old with him to tug on the rope and quickly brought him back because the crowd was too close and active.  There is a parade before the tug-o-war and it goes down the street beside the rope.  Because of the stroller we were very close to the parade.
After the tug-o-war, we went eat at a yummy restaurant. It was great because the boys could be a little more active(without the crowd) and then had a place to lay down after all the excitement wore off.  It also alleviated fighting the traffic directly after the contest was over."
It is going to be an amazing event and I hope you will take the time to enjoy this annual festival. According to a recent Stars and Stripes article the Tug of War will start around 4pm on Sunday. Please remember that Highway 58 between Kumoji and Izumizaki intersections will be closed from 3pm until 5pm. If you have been before and you have tips on parking, tasty places to eat or anything else please share them with us!
This post was featured in Stripes Okinawa!