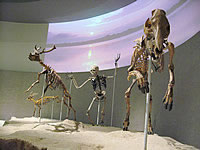 CONTRIBUTED BY KELLYERACE
On Thursday, some of my ESL students at Central Texas College shared their favorite "off the beaten path" places to eat.  Today, we've got three more places to read about:  a museum, a beach, and a great place to check out a beautiful sunrise.  Enjoy!
THE PERFECT SUNRISE
CONTRBUTED BY SEIKO
If you want to see a beautiful sunrise, I recommend going to the Ikei Big Time Resort Hotel.  They have a private beach and the view of sunrise from there is beautiful.  The island (Ikei Island) is small and the hotel is located at the southern end on the east coast.  When my husband and I went there for the first time, the huge, round, shining, golden sun rose on the horizon in the east.  It looked like a golden road had appeared on the ocean.  It was the most wonderful sunrise I've ever seen.  Since then, we sometimes go there, but have never seen it.  You need to check the weather forecast before you go because you can't see it if it there is bad weather.  But I recommend going not only for the sunrise;  if it is clear during the day there, you feel like you are standing at the end of the earth.
Address:  1286 Ikei, Yonashiro Uruma City
Phone:  (098) 977-7711
Restaurant Hours:
Restaurant Ichihashi  – 0700-0900 (Breakfast) / 1130-1400 (Lunch) / 1800-2100 (Dinner)
Restaurant BBQ Shidakaji – 1200-1400 (Lunch) / 1800-2100 (Dinner)
Directions:  (From MCCS website)  "To get to Ikei, take Route 8 toward White Beach.  Turn left on Route 31.  Follow the road to the bottom of the hill and bear left.  Cross the long bridge to Henza and wind around the island.  Remain on this road and you'll eventually come to a red bridge that leads to Ikei.  All signs to "Big Time Resort" lead to the island."
SUNAYAMA BEACH:
CONTRIBUTED BY TOMOKA
Location:  4 km north of downtown Kirara, Miyako Island — 20 minutes from Miyako Airport
Amenitites:  shower and restroom, vending machine, and stores located by the parking lot
Sunayama beach is located on Miyako Island, which is 300 km southwest of the main island of Okinawa.  One of the unique points about this beach is that you have to go up a hill to get there.  When you get to the top of the hill, there stretches a breathtaking view of the emerald green sea and white sand below.  The magnificent thing about this beach is that there is nothing artificial about it.  Everything is created by nature:  the white sand, clear water, an arch-shaped cave that was carved up by the waves, and the hill which enhances the spectacular view of the beach.  The beach is widely known both by the locals and tourists;  however, there are seldom too many people for you to enjoy yourself, like on the beaches of the main island of Okinawa.  Visiting this beach is strongly recommended if you ever get a chance to go to Miyako Island.  At sunset, you can also enjoy a different view of the beach.
CONTRIBUTED BY FUSAKO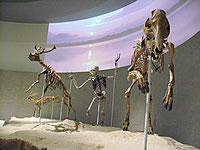 Address:  3-1-1 Omeromachi Naha City Okinawa
Phone:  098-941-8200
Hours:  0900-1800 Tuesday-Friday / 0900-2000 Saturday-Sunday / Closed Mondays
Admission:  400 Yen for General Museum, 300 Yen Art Museum / Annual passports also available.  See website above for details.
Directions:  For a map click HERE .  *Just looking at the map, it looks like you head south on 58, pass through the Rt 82 intersection, turn left at your third light after 82.  You'll see a McDonalds on your left.  Go through one light.  The museum should be about 2 blocks after the light on your left.  If you have better directions, please post them in the comments section! -Kelly
The Okinawa Prefectural Museum opened in November 2007.  The museum has three exhibitions now.  One of them is called something like, "Okinawan Life".  The exhibition shows a collection of nearly ten thousand items and is divided into seven sections.  Computers help give more detail to explain the documents.  You can also do things there like experience how to keep balance when you put a basket on your head – just like the Itoman women did who sold fish in that style.
Another exhibition is "The Great Journey of Humankind".  The exhibition takes us far back in time.  Four skeletons that are eighty thousand years old were discovered in Okinawa.  You can see them at the museum.  One of them is almost faultless.  Also, the Okinawa Prefectural Museum has the oldest Japanese fossils, two bones that are twenty-six thousand years old.  At the museum, Minatogawa-jin and Homo-Neanderthal bones are reproduced in the image of human beings.  I recommend visiting the museum because you can learn about human beings' evolution and development.