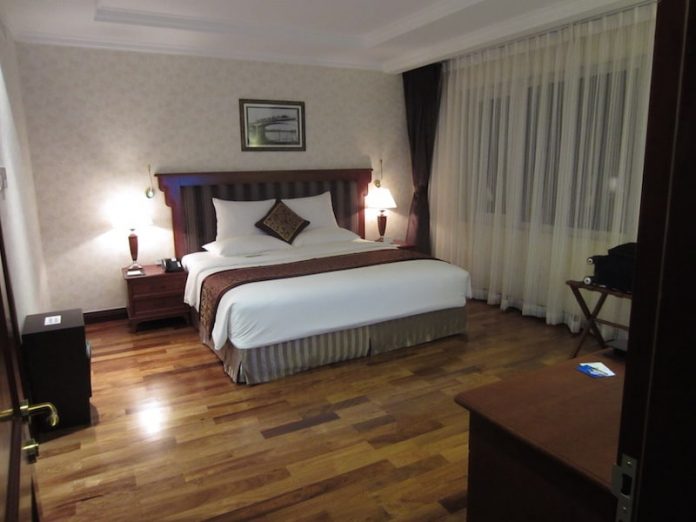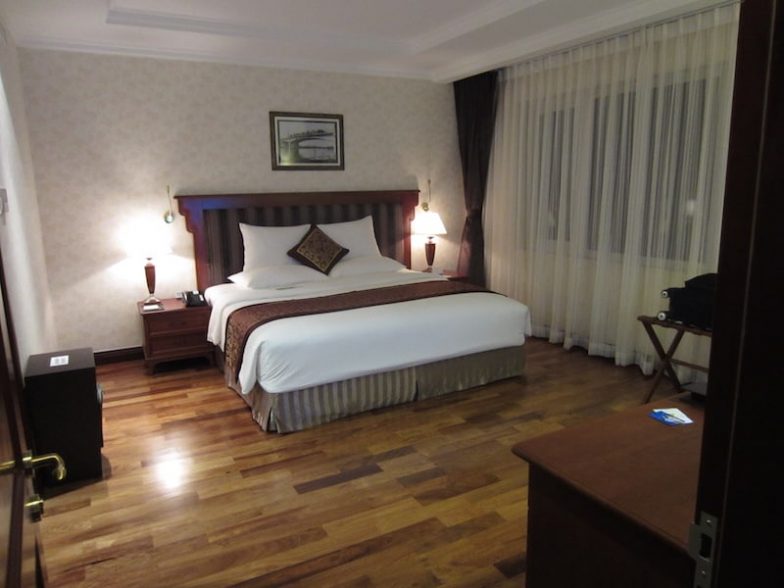 We stayed at the Rex Hotel in Ho Chi Minh City (Saigon) for the first leg of our journey through Vietnam and Cambodia. I was drawn to the Rex because of its historical significance. It was the site of the infamous Five O'Clock Follies, a name used by journalists to describe controversial military press briefings held here during the Vietnam War. The Rex's Rooftop Bar was a popular hangout for military officials and war correspondents. Photos of the property from the 1960's are on display throughout the maze-like layout of the building.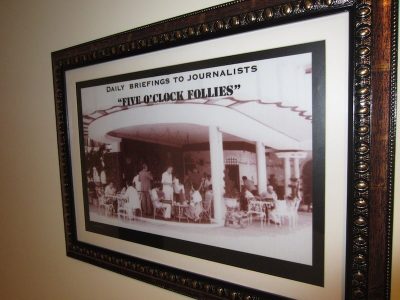 Today the Rex is a 5-star hotel in a great location for sightseeing in Saigon, at a price tag I thought was affordable ($140/night plus tax for a Premier Room). Here's what I thought of specific aspects of the hotel:
Rooms: Old-world style and gorgeous. I had read from reviewers on other websites that the decor was dated, and while I would agree with that in some of the hotel's common areas, our room was fantastic! We had booked a Premier room in the hotel's newer west wing, but upon checking in we received a free upgrade to a Governor's Suite. It had a large sitting room, bedroom, and two marble-covered bathrooms. We enjoyed TONS of space and it was incredibly comfortable and immaculate. My only minor complaint was of the traffic noise that carried up from the street below (we were on the 4th floor).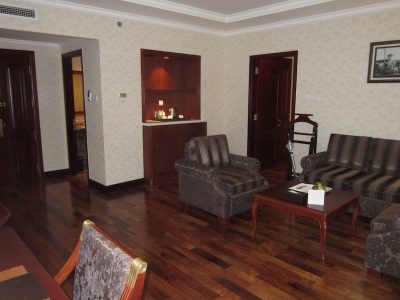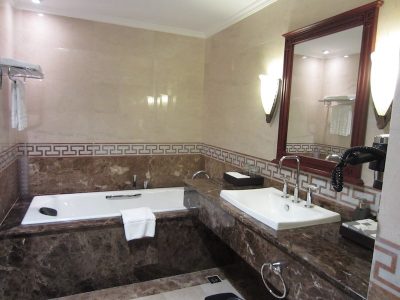 Location: There is plenty to see within walking distance, including Notre Dame Cathedral, Central Post Office, War Remnants Museum, and Reunification Palace. There is also a huge variety of high-end shopping all within walking distance (although this didn't really matter to me because I knew I wouldn't be shopping at Gucci or the like!) There is, at the time of this writing, some major construction going on outside of the Rex, which creates a bit of chaos just outside, but we didn't find it to be too inconvenient. And because of where our room was situated, we never heard any of the construction from inside.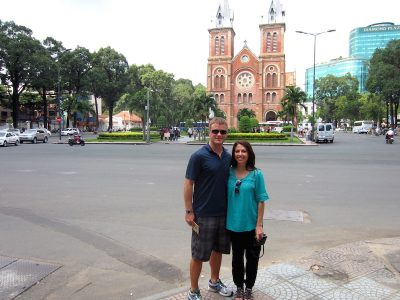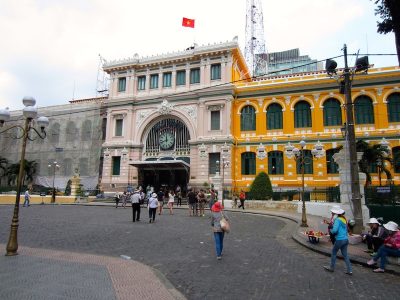 Service: Excellent! From the free upgrade we received upon check-in, to the tours the concierge desk booked for us, to arranging our transportation to our next destination upon checkout, the staff here was superb. Only one teeny tiny issue: at breakfast, the waitstaff was slow to come around with coffee re-fills; we had to ask for them most of the time (but honestly, I think if THIS is my biggest complaint, we made out pretty darn well).
Food & Drink: Let me preface this by saying the food and all the drinks were great. BUT. The drinks at the Rooftop Bar are pretty outrageously overpriced; we're talking around $15 USD for a cocktail. Yikes! That said, I think you pay so much because of the famous reputation of the place. We had a drink on the roof once, and that was enough for us. The food was more reasonable, with Western and Asian options, although we ate just as good out in town for much cheaper. The big winner here was breakfast; included in our room cost, the breakfast buffet was a massive spread of Western and Asian fare with every type of breakfast food imaginable, and then some. Breakfast was my favorite part!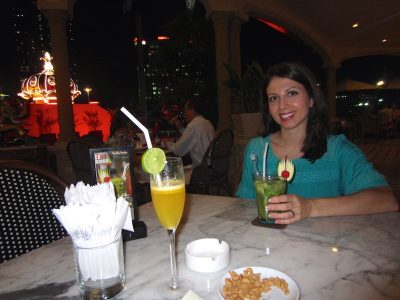 Pool: The pool was standard as hotel pools go, but refreshing and quiet. It's situated just outside the gym, and there is a bar with (reasonably priced!) beer beside it. There is also a small lap pool up some stairs to another outdoor level, although I was too busy being lazy to think about swimming laps.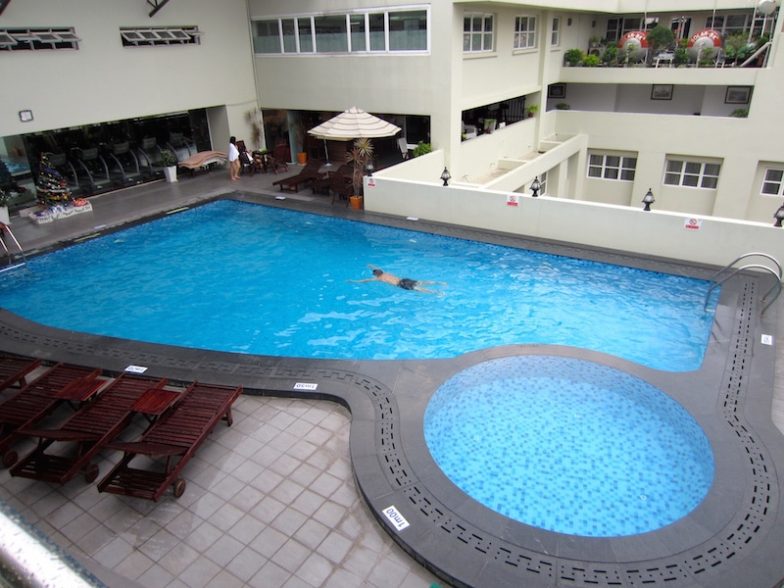 Spa: I had a great experience at the hotel spa, but there are definitely less expensive options out there. I spent about $95 USD total for a 90-minute aromatheraphy-Thai combination massage and a 60-minute facial. This is a great price compared to many places in Okinawa, but I think it was on the higher end of Vietnamese prices (and I expected it to be, given that it was inside a 5-star hotel, so no big surprise). In any case, I felt it was money well-spent because I left there feeling like a million bucks! I had never experienced Thai massage before, and I loved the way the therapist stretched out my legs. The facial consisted of all fruit-based products and yogurt. It smelled amazing and felt wonderful on my face.
Other Amenities: The gym here was pretty large as hotel gyms go, with a nice variety of equipment. I used the treadmill briefly one afternoon, until I decided that the gym was no place for a vacation and high-tailed it out of there. But seriously, the gym was very nice. There was also a really pretty outdoor lounge on the first floor with a "vertical garden," which was a unique feature.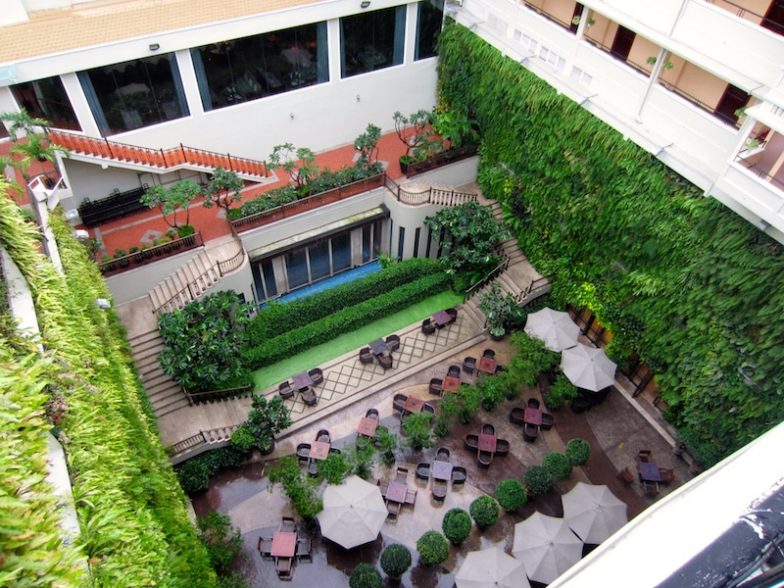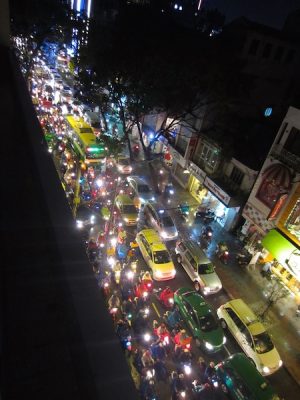 Value: With the exception of the drinks at the Rooftop Bar, I felt we had a good value for our money here. The Premier Room we booked was for $140/night plus tax, but with our free upgrade to a Governor's Suite, I'm sure our actual room's value was much higher than that. The food was good, but I recommend eating most of your meals outside the hotel if you want to get the best value for your money. Exception: don't skip the hotel breakfast! It's included in the room price and has a huge variety that is sure to please even picky eaters.
Have you stayed at the Rex? Let us know what you thought in the comments below.