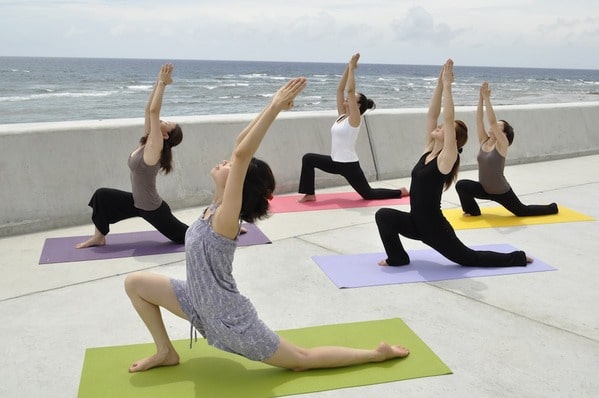 CONTRIBUTED BY MIKAYLA KING

Shanbio Yoga
After reading one of the monthly Okinawa Living magazines, I came across an advertisement for a spa and yoga studio called he Shanbio. I had missed my yoga routine back in the states and I wanted to check this place out. The next day while I was walking on the Sunabe Seawall I stopped in at The Shanbio, located along the seawall in the same building as Bella Napoli pizza. The staff there was very friendly and spoke English (always a plus), I signed up for the next yoga class. The yoga studio is located on the fifth floor of the building with the most amazing view of the China Sea.

Shanbio Yoga Room
My first class was awesome; I was hooked and will definitely be returning. The class consisted mostly of local Japanese and myself. The instructor taught in Japanese and in English and made every effort to make me feel confortable. The classes are about 75 minutes. The final savasana is my favorite; you are lying on your mat with a scented towel over your eyes listening to the sounds of the ocean. All I can say is AMAZING!

Shanbio Massage

Shanbio Facial
The Shanbio offers many other spa services. I have had one of their traditional massages and it was great. My husband and I have had a couples massage, he had the hot stone massage and I had a facial. It was amazing. The whole process is wonderful. First you have a mini consultation where they ask a few questions about your health. Then they let you smell several scented oils that they will use during your massage. You are then taken back to a small room that has a wonderful view of the ocean. For the couples massage they had a special room they call the VIP room. They are very concerned with your satisfaction during the massage. After the massage you are taken back out into the lobby area and served some tea or flavored water. I will definitely be going back for another facial. Every month they have a new special on one of their spa services, so during your time here you will be able to enjoy them and probably get a discount.
Prices are comparable to the States, even with this Yen rate. I feel pretty spoiled and will have a hard time finding a yoga studio back in the States to compare to the Shanbio.
Website:  www.shanbio.com
For Questions:  okinawa@shanbio.com
Hours:
Spa: Open daily from 10:00 a.m.-8:00 p.m. Closed Wednesdays.
Yoga: Shanbio studio offers daily yoga classes. Class schedule are update on our Facbook page. Please visit https://www.facebook.com/TheShanbio?fref=nf for most updated schedule information.
Payment: Yen, USD, and all major credit cards
Phone: 098-983-7778 (Reservations can be made for both yoga and spa services)
Directions: From Kadena Gate 1, turn left onto 58. Take the first right at Family Mart. Drive straight until you come to the seawall. The Shanbio Spa is on the 4th floor in the first pink building on your right. We are in the same building as Bella Napoli Pizza.
Parking: The Shanbio Spa has 4 parking spaces available for spa customers. Please give us a call when you arrive, and we will show you to the spot. Phone: 098-983-7778
(For our yoga studio customers, please find parking along the seawall. Street in between CoCok nail salon and the park is subject to ticketing. Please do not park there.)