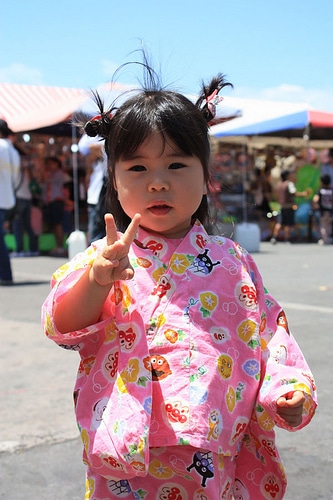 CONTRIBUTED BY PAMELA OLIVERAS
Like everywhere, Okinawa is full of it. Fashion that is. From the kitschy little key chains dangling from clothes to the knee high socks with a mini skirt to top it off. From full coverage armbands and massive head visors to the traditional round straw hats. That's just some of it that comes to mind.
This week, I am featuring 3 photos, just to give some ideas for how the themes manifest. One theme, three photographers = three visions…so whatever your take on a theme, bring it to the table, everything counts!
BrookeEpp captured these two fashion forward ladies at the equally fashionable Transit Cafe on the Sunabe seawall (actually her kids pointed the ladies out to her!)…
Katrina Ellis found this "cutie in a Kimono" at the Naha dragon boat races, showing us some toddler fashion…
My own image came from American Village. Skinny jeans and elmo-y key chain = Okinawa kitschy fashion…