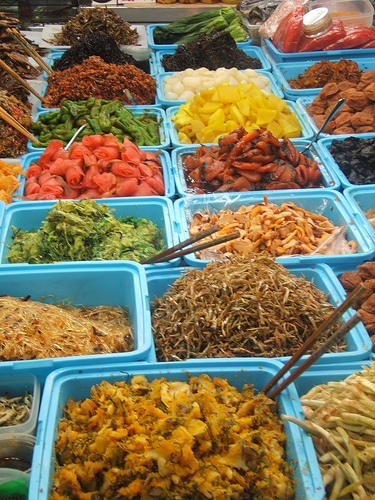 CONTRIBUTED BY PAMELA OLIVERAS
OK, Mariann and I couldn't really decide on the food shots this week, they are all so yummy looking. I even enlisted my kids to help chose a photo. But, there's something about food, that you just have to have it all! So, since food seems to be Okihai readers favorite subject too (judging by the comments on food posts) I will post the whole lot…how about that for great customer service?!!!
First up is this colorful array of veggie's from Staci Hawley. My eye was instantly drawn to all the wonderful colors. The blue trays certainly make these foods pop! This was taken in Naha's Kokuksai St. market. My son loved it because it "looks like a rainbow". Great shot, Staci!
Next up we have some Umibudou (sea grapes). This was my daughter's favorite shot because "it is cool". "Anything else?" I probed. "It is just cool," came the reply and off she went! That's 'tweens' for you!
Annya
is even kind enough to show us a close up of this Okinawan delicacy. This great shot was taken at the Papaya Restaurant and Cafe. Motobu, Okinawa Japan.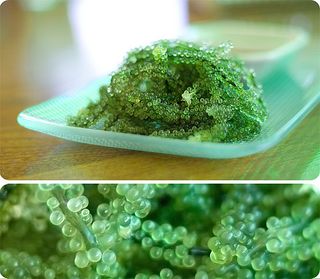 Then comes desert courtesy of
Aviva
. This was another of my sons favorites because "it looks like yummy ice cream". Hmmm, I am not sure he would say that after trying it! I tried this once and wasn't feeling the beans part, but like everything in this life, it's not for everyone! People love it, I am sure.