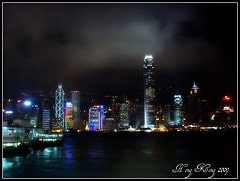 CONTRIBUTED BY PAMELA OLIVERAS
Thank you, thank you, thank you Okinawa Hai readers: lovers of photos and travel. I was happy to see submissions this week for the local off island travel. We have spots from Kyoto, Taipei, Guam and…featured today….Hong Kong…
This weeks chosen submission comes from ehdyomie and was taken on Harbor Drive in Hong Kong. You just have to love a night skyline shot with a moody sky and a rainbow of colors! Please forgive the small image size, the next size up is too big for the page. Click the link to go to the actual image on the flickr site.
I have always loved to travel, and would love to see Hong Kong for myself, but for now will just have to travel there through another persons images. I just re-found this well written and interesting little article about traveling by Jen Preston right here in the Oki Hai archives. You can also find out more info on traveling to Hong Kong HERE. I guess Harbor Drive is a photography hot spot!
There are so many interesting things hiding in the nooks and crannies of Okinawa's streets. So get out there and show us your Okinawan windows and doors. From a peeling windowsill to a cat in a window to a rusted old door knocker, Okinawa has some interesting images awaiting. For this theme you can submit two images. A door and a window will be featured next week.