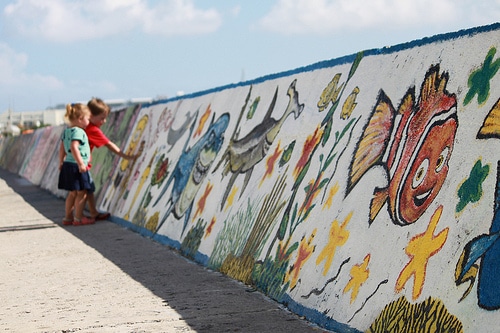 CONTRIBUTED BY PAMELA OLIVERAS
Happy Labor day everyone! This weeks seawall comes courtesy of Robin. Last weeks window photographer, Kristi and I decided that this image really captured the essence of the seawalls here. Robin's son and a friend enjoyed some time at dolphin park before checking out the local artwork of the seawall. Robin has been on island for 2 years and loves it. She loves art and recently received the Canon RebelT1i as a birthday present from her husband. Robin is currently building up her photography portfolio for a photography business website. She can be reached at heartfelt_photo@yahoo.com.
There are lots of other great images featuring the seawall this week, go and check them out. Thanks, everyone, for joining in.
While we are on the subject of the seawall, what's the history of the graffiti here? Does anyone know what the deal is with creating art here. Is it a commissioned thing or can anyone just go and dust off their spray-cans and get to work? I have had a few conversations about this and would love to know.