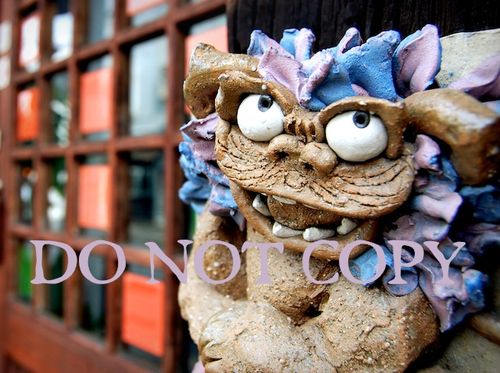 Many of you ordered the 2011 Okinawa Hai Calendar for yourself and friends and family.  But for those who were not so lucky, we wanted to give you the chance to see the photographs and stories that currently grace the our kitchen walls!
We'll feature these throughout this year, and as we get closer to the end of the summer, we'll begin asking you to contribute your favorite stories and photographs for NEXT year's calendar.  So keep your eyes peeled for experiences to capture!
Featured on the March 2011 page:

Photo by Kyle Nickels
"Takako lived high atop a red tile roof with her brother, Nobu. Every morning, she would wake up… and gaze down upon the sleepy world waking before her.… 'Oh, Nobu… How I wish I could get off this roof!…' Nobu responded to his sister with his nose in the air, 'We are shisas, not little girls and boys….We can't run around the streets or play in the village.  Our job is to stand by this house together to keep it safe in case something bad happens.  That's been the Shisa Rule forever: Shisas must be watchful. Shisas must stand guard. We must work together. To keep the house from harm."   -excerpt with permission from Takako and the Great Typhoon by Kelly Garcia
Featured on the April 2011 page:

Photo by Elizabeth Dearborn

Photo by Tomi Erin Garrison
The sun neither lingers nor sprints toward the finish at this latitude.  It keeps a businesslike pace, ensuring it's done its duty and deposited the fullness of its daily blanket of heat on the islands.  It pauses for a moment, giving you time enough to put down your fork and step outside as it slips, dripping yellow and white gold, into the East China Sea.  Blue rock thrushes and delicate white clouds flit home; flying foxes rush out for breakfast as the cricket chorus hums a tune.  A gecko gecks just outside your window. Breezes drift uphill, growing stronger than you expected and bringing the longing for epic adventure. The transparent day is displaced by the opaque forest, rustles in the bushes, the reign of the habu.       Vignette by Martha Hepler
To see the features from January & February click HERE.