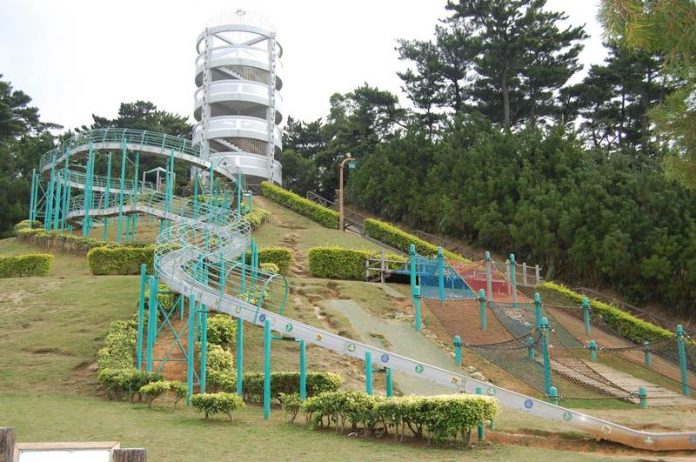 CONTRIBUTED BY JULIA CHEN
Editor's Note: We published a new post on this park in October 2013. Click here to read the newer post on Tobaru Koen Park.
Tobaru Koen is home to the largest rollerslide that I've been to on-island so far. My kids love it! The last time we went I had to check the back of my pants to make sure they weren't on fire. I'm not kidding when I say that there was a slow burn back there from all of the friction. A good piece of cardboard is highly recommended for this activity. I was smart enough to have a piece in my car but of course I didn't bring it with me to the slide. We must have gone up and down about 5 times before I had to put my foot down and call it quits. I got quite the workout climbing the steps to get back to the top each time.
There's also a fun little toddler playground that has a slide and several teeter totters. Bring your sand toys as there's plenty of sand here for the kids to frolic in!
Directions from Kadena:
-Take a LEFT out of Kadena Gate 1 to head South on Hwy 58.
-Take your 1st LEFT to get onto Route 23.
-Take a RIGHT at the 3rd traffic signal. You'll see a Lawson's on the right hand side of this intersection.
-The parking lot for the toddler playground is on your right hand side just after the 2nd traffic signal. If this lot is full, there are about 6 additional parking spaces further up the road on your right hand side.