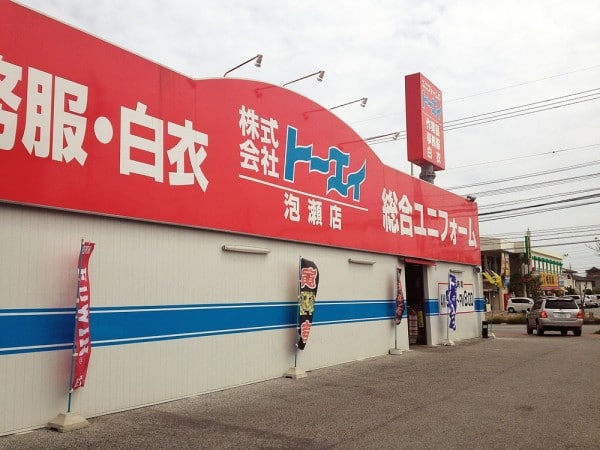 CONTRIBUTED BY SHELL BURGER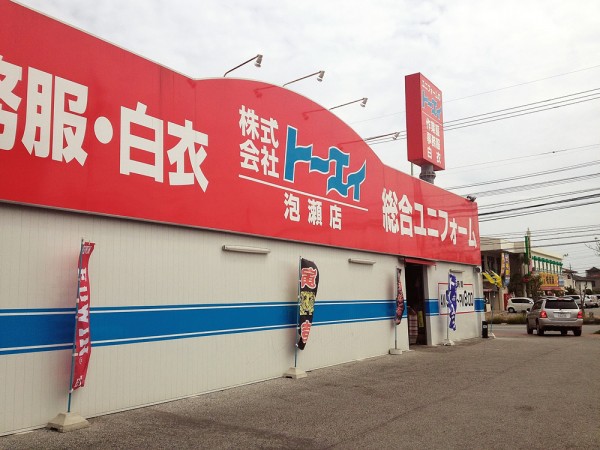 So I drive past a store that names is completely in kanji (トーエイ泡瀬店) almost every day and have always wanted to know what they sell. I mainly see only Japanese people going in there, but the parking lot is normally pretty full. So this past weekend I put on my adventure pants and decided to stop in. Worse case I turn around and leave. However, to my surprise inside I found a store jam-packed with what my husband called "work wear" and athletic items all VERY reasonably priced.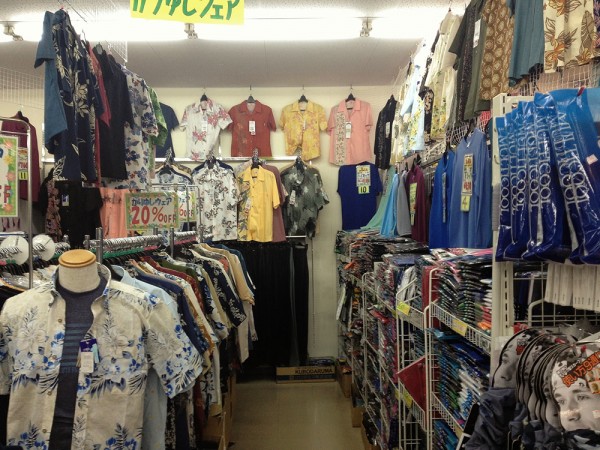 They had everything from construction worker jumpsuits and jackets, to Hawaiian style button down shirts, raincoats, tracksuits, and tons of shirts and shorts. The t-shirts they offered were very reasonably priced at only 900 yen each, especially since some of them were Okinawa themed. Can we say gifts for friends and family back home?
In addition to all the clothing, they also offered a variety of work boots, tennis shoes, and sandals.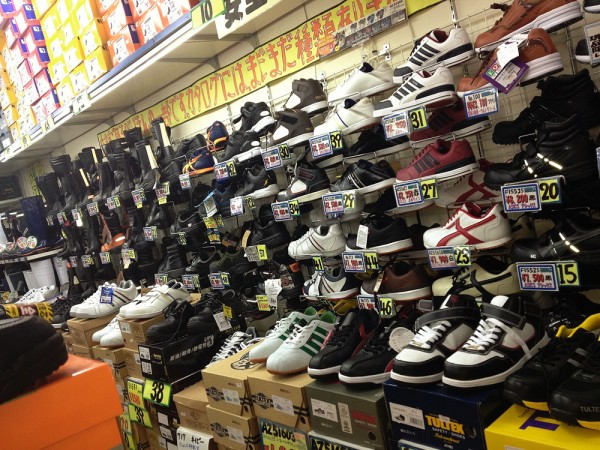 The sizing is all Japanese, so make sure you know your converted size when going in. They also offered a ton of nice bags from duffels to book bags.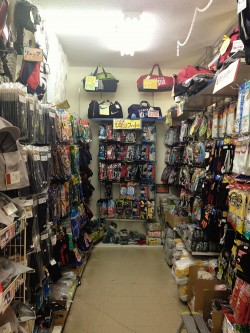 Some of them were priced under 1,000 yen, and appeared to be well made. If you have children in school or just need a new bag for hiking or the beach, these would be a great deal. There also was a "sale" section as you first walk into the store where you can find lots of really good deals. The store had tons of other items as well, from tool belts and tools, to small children toys, but the majority of the store was clothes and shoes.  
The shop personnel were very friendly, but did not speak any English, at least that we encountered. If you are feeling adventurous, or need some work wear or athletic items, I encourage you to stop by this store and give it a try. 
Hours: 9:00 a.m. – 8:00 p.m. (We went on a Sunday, so I would say they are open these hours Monday through Sunday.)
Payment: Yen
Directions: From Kadena Gate 2 go straight on route 20, you will go through the 330/20 intersection. When you get to the 329 intersection, turn Right onto 329. Take that to 85 (McDonalds is on the left corner.) Turn left onto 85. Go down about 1-2 blocks and the store will be on your left side. If you get to the old Shoppers Awase you have gone too far. Look for this kanji for the store: トーエイ泡瀬店
Address: Japan, Okinawa-ken, Okinawa-shi, Takahara, 7丁目22−12