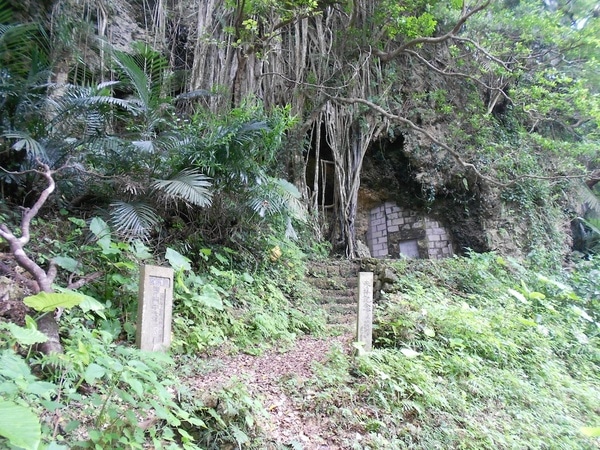 CONTRIBUTED BY AMY MADDOCKS

Tomb
The tomb of the first king of the Ryukyu Kingdom is located in Yomitan, a fact not known by many. It was moved from Shuri when the first Sho Dynasty was taken over and the second Sho Dynasty began. During a coup d'etat, survivors of the royal family were forced to flee, so they took with them their ancestors' remains as they escaped and placed them in Yomitan.

Tomb Dirt Road
I find it intriguing that the tomb of what many consider to be Okinawa's greatest king sits tucked back at the end of a farm road, far away from his former throne in Shuri. However, it is so peaceful and serene in this area that I can understand why they choose this place so long ago.

Tomb Path
If you are squeamish about spiders and all things creepy, this may not be the location for you! I had a mild panic attack after I had to trek through several spider webs. The beauty is worth it, but come prepared by wearing long pants, good shoes, bug spray, and bring a big stick for clearing the way. You can tell this area isn't frequented because of the overgrowth in the path, but it is visited enough that you can still tell the way. Once there, we didn't travel all the way up the short steps to the main tomb because to do so would have destroyed a humongous spider web that was like unto a work of art. Call me a geek, but it just felt wrong. ☺

Tomb Springs

Tomb First Left
Directions:  To get there, travel on the 58 heading north past Kadena. Right after the Iramina Intersection take the first right (not a street light; just the first right after the street light). Make the first left and follow the dirt road for about 1 kilometer. You'll see several newly posted signs telling you to stay on the main road and that no off-roading is allowed. At the end of this road is a natural spring that's enjoyable to see and you can park your car here, too. After parking, walk back down the road about 30 meters and you'll see a path on your right with a marker showing the way to the tomb. It is only a 2 or 3 minute walk through the jungle area, which is a visual treat. The path follows a stream that comes from a small waterfall just across from the tomb. Enjoy!