CONTRIBUTED BY KIMBERLY
My friends told me last week that they wanted to take us to a new restaurant. "The Barrel, have you heard of it?" Nope. Never heard of it. Apparently haven't spent enough time on that side of town because had I ever driven by this gigantic barrel I'm certain I would have noticed!
As we pulled up, I was amused by the building, but then thought that maybe the hype was about the fun of eating in a barrel and that the food might be secondary. Turns out I was wrong! It was delish! It's an izakaya so they have an extensive drink menu but also a huge food menu. There are pages and pages of things to try (and it's all in English). We had huge salads, lots of sushi, yakitori, fried rice, and shrimp tempura before we got too full for more. I've already started my list for next time– I'm trying some of the pastas, pizzas, and beef teriyaki to start. They brought a complimentary appetizers to start and once they saw the kids they appeared with special little plates for them– strawberries and cream, bananas drizzled with chocolate, and persimmon. It looked so good I was a little jealous myself!
We sat downstairs in one of the semi-private back rooms which was great. The funny thing, that I hadn't experienced anywhere else, was the phone in our little room that was a hotline to the wait staff. Pick it up, ask for whatever you want and things just appeared! It was all tatami mat seating downstairs, but it was the kind with a hole in the floor for your feet below the table. There is also an upstairs that I didn't see.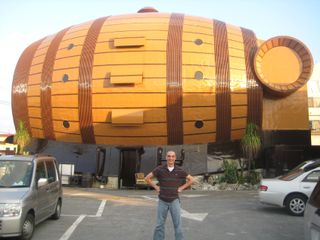 Photo by Mandy
---
Tonneau
Hours: Tonneau is open for dinner starting at 5pm every day.
Address: 886 Koja, Okinawa
Google Maps Coordinates: 26.3353893, 127.83701080000003
Directions: Come out of Kadena gate 2 and take a left on 330. Continue on 330 past 329 where the name changes to 75. Look for the blue signs showing you crossing 224. At the first light after 224 you will take a right between an A&W and Daikon no Hana. Continue down this street for about 1/2 a kilometer. You'll go through one stop light and then you'll see the giant barrel off to your right. You can't miss it