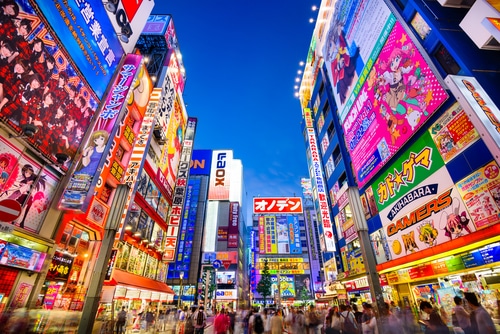 Top 3 Travel Destinations in Japan
Japan is known to be one of the most desirable places to travel worldwide and is known for many things such as its trendsetting fashion, beautiful culture, history and its appeal to business and leisure travellers alike. This year, instead of going on a caravan holiday in the UK, why not go abroad? Although there is nothing quite like a caravan getaway with your loved ones, if you wish to venture out further, then Japan should most definitely be the go-to place on your bucket list.
Don't just take my word for it, though. Here are three of the top three travel destinations in Japan; take your pick and see for yourself…

Okinawa
Okinawa is one of Japan's numerous divisions and is home to several small islands and endures extreme heat most of the year. Lush, blue, clear waters surround Okinawa and its well-developed beach resorts. It is an ideal setting for those who want to kick back, relax and just enjoy their surroundings.  Culinary specialties this side of Japan consist of pork and seafood. For the best caught fresh tuna, Okinawa is the place for travelers!
Facts:
Okinawa is said to be the birthplace of martial arts such as karate and judo and the 25

th

October is annually celebrated as Karate Day

Okinawa is said to be the ideal place for diving and snorkelling; boasting beautiful coral reefs and captivating fish; it is almost like a paradise for divers around the world  

Another one of Okinawa's staples is its cherry trees, which begin to bloom in January – making for idealistic scenery in the spring. Not only this, the cherry tree also has its very own festival!
Kyoto
Kyoto is the seventh largest city and has a current population of around 1.4 million people.  Home to many museums, shrines and historical temples; it is steeped in endless mystery and culture.  
Facts:
The word Kyoto means Capital; originally the city was called Heiankyo which means Capital of Peace

Kyoto is home to hundreds of shrines and Buddhist temples, palaces, museums, parks and ornate castles galore

Kyoto is known to be one of the most attractive cities in the world, steeped in history and culture

Some of the Buddhist temples based in Kyoto are considered amongst the finest temples in Japan
Tokyo
Tokyo has been Japan's capital ever since 1603 and holds a population of approximately 13 million residents. Famous for its hustle and bustle and also known (alongside New York) as the city that never sleeps, Tokyo is renowned for its nightlife, shopping, entertainment arts and its modern appeal to many industries and business travellers.
Facts:
Popular local dishes in Tokyo consist of Sushi, Soba, Chanko Nabe and Shima Zushi. There is no end to the various dishes you can try in Tokyo. For a touch of class,

visit the branded restaurants

such as the Armani Restaurant, Bulgari Restaurant or the remarkable Gucci Café

From fragrance to cosmetics, suits to handbags, Tokyo boasts a shopping experience like no other. Head to Isetan Shinjuku's Beauty Apothecary for a range of diverse cosmetic brands or to the Harajuku District to check out the latest in fashion trends
Japan consists of two primary religions; Buddhism and Shinto. The Buddhist' place of worship is the temple and the Shinto's place of worship is the shrine; sometimes it can be difficult to decipher between the two. Whist the two religions are incredibly similar, they also vary massively.  The Shinto shrines have a unique entrance, which can consist of two pillars and two horizontal spans – this is called a tori, and, of course, the Buddhist temple will consist of the Buddha statue, whereas the Shinto shrine will not.
If you do wish to travel to Japan, however, bear in mind that the summer lasts much longer there than you would think; always pack the necessary essentials such as sunglasses, sun cream and lightweight clothes if travelling in the summer months.