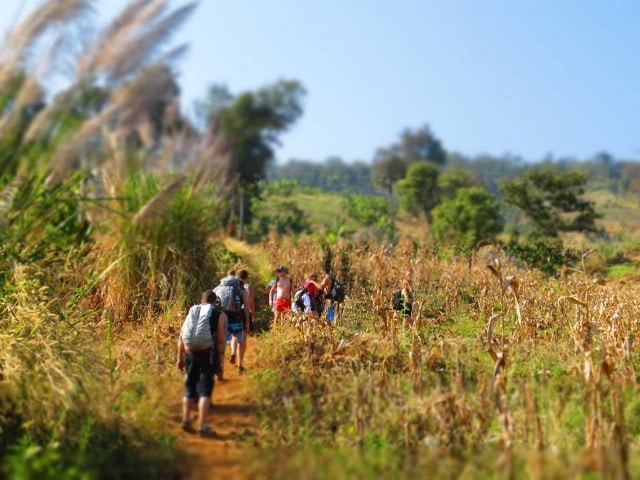 CONTRIBUTED BY MINDY MORRIS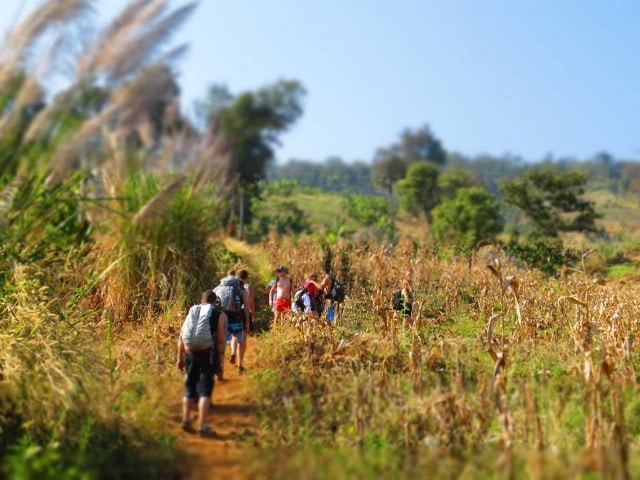 Trekking is one of the most popular tourist attractions in Thailand. Here is a play-by-play of one of the best (and most difficult) treks that we went on in Chiang Mai, Thailand. We booked our three day/two night "elephant trek" through Family Travel, but of the eleven people on our trek, everyone had booked through a different agency. The trek itself was operated through a company called Jumbo Trekker, so it's possible you could do your research beforehand to make sure you are getting the best price available. However, given that most packages range between 1200-1800 baht ($40-$65) for three days, including lodging and meals, my advice is to wait until you get over there to find which trek fits your schedule best. The most popular trek packages are the one, two and three-day treks, though we did hear about some people booking up to six days.
We lucked out with our group. Agencies usually promise that no more than 12 people will be in a group, and our group had eleven. It turned out to be the perfect number. We were from all over the world (America, France, Spain, Holland, Austria and Poland) but all spoke just enough English to communicate with one another.
They advertise this as a "tourist trek," which made all of us think that the hiking would be in the beginner to intermediate range, however, I would NOT recommend this particular trek for anyone who was not already in shape. The mountains presented a challenge to even the best hikers in our group, and we often had to slow down to allow people (including me on a couple of occasions) to catch up.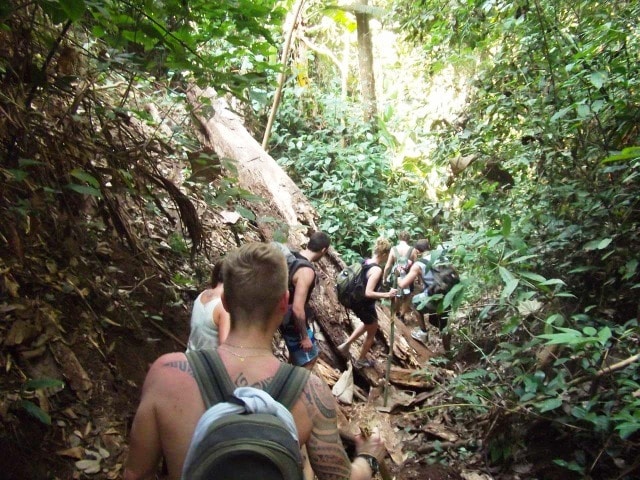 The first day's hike included a stop for lunch: fried rice wrapped in leaves that our guide had been carrying in his backpack and a banana. We ended the day early at the elephant camp that was home base for the night.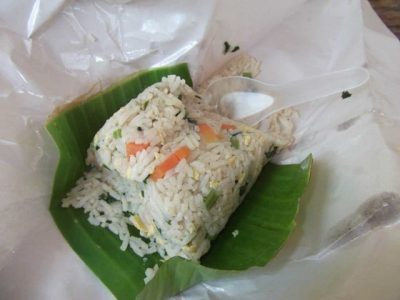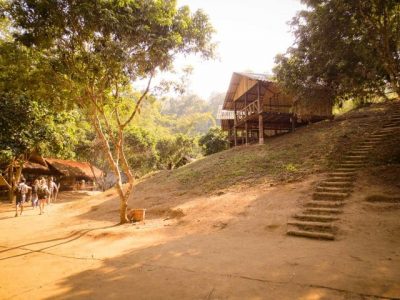 There was still plenty of daylight for the elephant rides, which were the biggest draw to this particular trek for me. All four of the girls in the group were beyond excited to arrive, and we quickly made our way over to where the elephants were eating bamboo. I was insistent that I wanted to ride ON the elephant, not on the bench seat that they strap to its back, and it took about five minutes to regret my decision to wear shorts. Imagine a very, very big horse with very, very rough skin and long prickly hairs that feel more like spines. But I still say go big or go home. Maybe just throw on some pants first!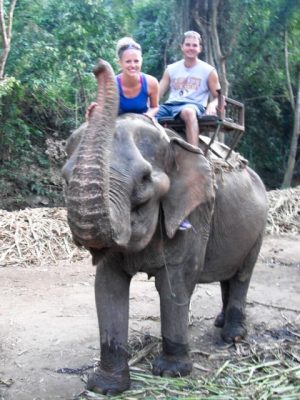 That evening we cooked dinner together under a small hut about 100 yards away from the elephant camp. We slept in a shelter almost completely constructed out of bamboo. And let me tell you, the first guy who decided to make a floor of bamboo must have had brave friends to come over and test it out! If I hadn't seen 20 people sleeping on it, I wouldn't have trusted that it could hold even my own weight alone.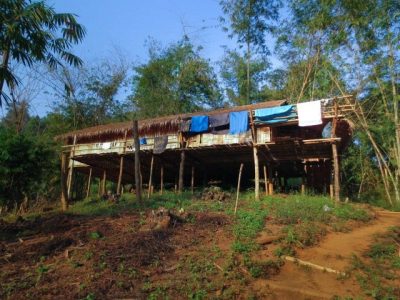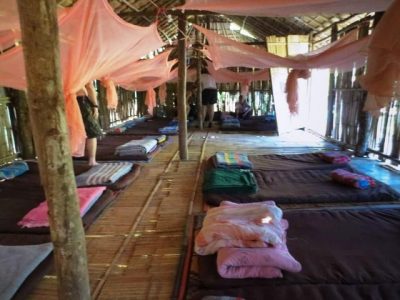 Day two began with my favorite line from the brochure that read: "have fun bathing your elephant." We all jumped into the river and brushed the elephants down with giant scrub brushes while they filled their trunks and splashed us. It was exactly the way you would imagine a movie scene, albeit with more mud than soap.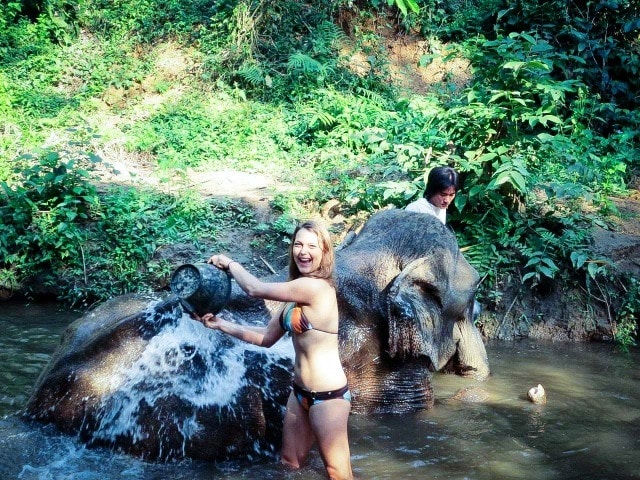 After bath time we started the trek toward a couple of gorgeous waterfalls where we had the opportunity to slide down the slippery rocks, and then on to a mountain village called Lahu. Our guide's name was "Yo" which made asking him any kind of question fun. "Yo, How much farther?" or my favorite, "Yo, I really think I might fall down this mountain!" He kept telling us today would be the hard part. After the previous day's challenges we didn't believe it could be harder. "Up, up, up," he told us, smiling. We all hoped he was kidding… but he was not.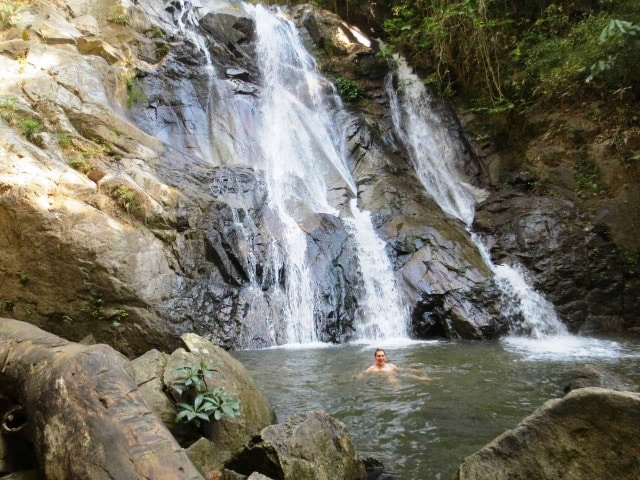 I remember having a conversation with one of the girls on the trek that when we booked the trek they did not ask us about any pre-existing medical conditions or really even inquire into our physical fitness levels. They had told us it was a "tourist trek" and to "bring good shoes." It seemed lucky that our group was all in pretty decent shape, but we couldn't help but wonder what happens to the groups who are not. It's not exactly like you can get a ride back. "Do you think they ever make it?" She asked me while we were leaning on the bamboo walking sticks Yo had cut for us. I said I was sure they did, but for the rest of the trek, I couldn't help but be on the lookout for the bodies of people who may have misstepped along the way and plunged to their inevitable deaths.  By the time we arrived in the village we were all ready to collapse onto our bamboo mats.
The Lahu village kids were thrilled to see us crest the hill. They danced along beside us, rubbing it in that they still had a spring in their step while we limped on. The women followed us to the hut, knowing exactly what we really wanted and that we would all be happy to pay for it. A one-hour Thai massage for 150 baht was the best $5.50 I had ever spent. That night all of the village kids came to sing for us… for tips.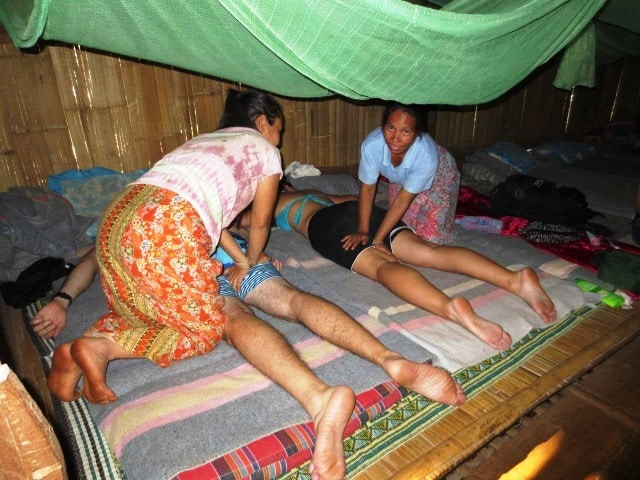 We survived icy showers and took in the sunset, while Yo made curry and sticky rice in bamboo shoots. Similar to our first night together, we huddled around the fire and stayed up late into the night telling riddles and brainteasers, only some of which translated well enough for the whole group to understand, which made the whole thing even more fun.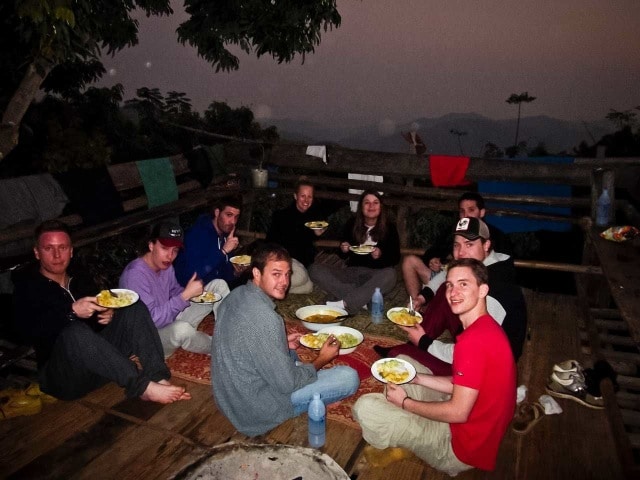 The next morning Yo made us eggs and toast and we started our descent. After several hours we got to the river for the "white water rafting" portion of our trek. Always looking for ways to give paying tourists the "authentic experience", they docked our rafts alongside several bamboo rafts and instructed us to climb out and over. Let's just say that if I had been the original inventor of the bamboo raft, and it had worked as well as these did, I would have dismissed the idea as a failure. We immediately sank about a foot in the water before we felt any buoyancy at all. We ended up putting our air raft on top of the bamboo raft and sitting in it. The absolute epitome of tourists.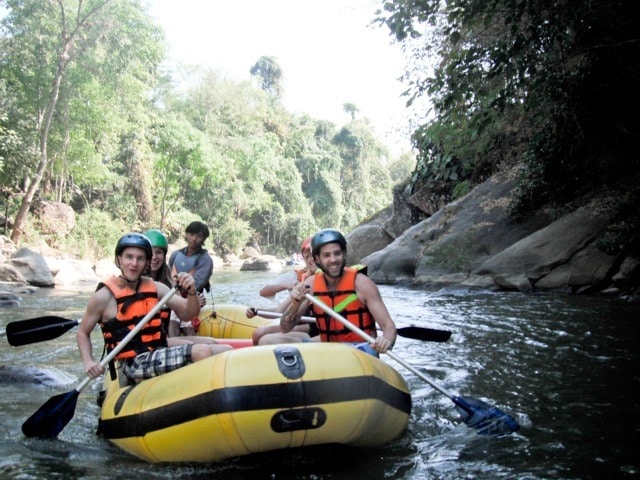 After three days of strenuous hiking and very little sleep it would have been natural to want to go our separate ways when we got done with the trek, but the whole thing had been such a bonding experience, we didn't want to say goodbye! Before we parted ways we all exchanged information and decided we should do one last lunch together. We walked a couple of blocks before we found a place that met our qualifications: could seat eleven and had something other than rice on the menu!