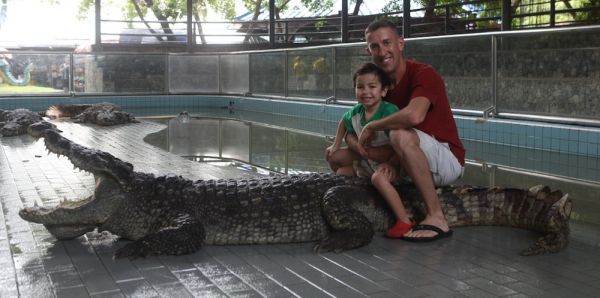 CONTRIBUTED BY MONETTE EAMES

Pattaya Croc
Another port call, another request by our wonderful deployed Marine for the family to visit. My whole life, I've always loved Thai things: Thai food, Thai jewelry, Thai décor, Thai clothes—in fact, the first child I ever sponsored almost 15 years ago was a child from Thailand. However, from what I heard about Pattaya Beach from friends and some research on the internet, the wonderful things that usually come to mind when thinking of Thailand didn't seem to be there. In fact, the main things you'll find in Google when typing in Pattaya Beach, Thailand are go-go bars, nightlife, and escorts. Basically, an online search is very misleading because it only shows the stuff that wouldn't make a mother run to the nearest travel agency to book a flight.

Pattaya Elephant Boy
However, my dear hubby assured me that as is the case with every major city around the world there are always some bad areas that you'd avoid anyway. So off I went, being the obedient wife, looking for the best airfare. Thanks to a friend who did all airfare research for me, instead of buying tickets from base and some off base travel agencies, I booked a flight on China Air's website that flew to Taipei then to Bangkok's Suvarnabhumi Airport. There are direct flights that you can take to Bangkok, but we found this schedule worked better for us. I then went to agoda.com and booked a room at the Woodland's Resort. Before booking your hotel, call them first to see if someone can pick you up at the Bangkok airport since Pattaya Beach is about an hour-and-a-half away. We did that, and had a driver pick us up from the airport and drop us off at the hotel lobby – and it came with our hotel stay at no extra charge!
After getting your luggage from Bangkok's airport, your driver will be in the sea of people holding signs with people's names on them. If you can't find your name in the first group, walk a little more, say a little prayer, and go to the next group. If I remember correctly, there were three groups. After getting in the luxury van and driving for a while, we finally got to our hotel and the people there were so helpful. I was starving, had two sleeping boys, our luggage, and a stroller. After dinner, we went back to the hotel and the Lord had more than answered my prayers as my 'Knight in Shining Armor" emerged from the jungles and arrived at our hotel. I can go on and on about that reunion and how awesome that time was, but this post is about Pattaya Beach.
Although some may consider Thailand a third-world country, there are many beautiful cities here and Pattaya Beach is one of them. There was so much to see and do here, especially with kids. We made the mistake of booking some tickets through MWR when our driver could have gotten us discount tickets way lower than what MWR was offering. Oh, well. A lesson learned for next time.

Pattaya Water
We had the time of our lives, and since the exchange rate was so awesome, a complete meal for six at night markets and floating restaurants usually came up to $12 or less. Fish Doctor, where little fish nibble on your feet to remove dead skin was $3 for 15 minutes. And there were elephant rides all over the place, plus photo opportunities with animals you would never be able to take pictures with in America. Bears, crocodiles, orangutangs, and tigers were just a few of the many animals waiting patiently for our family to take pictures with them.

Pattaya Feeding
Some amazing places that you do not want to miss are the Million Years Stone Park and Pattaya Crocodile Farm, The Elephant Village, and the World's Largest Gem Factory Shop, Museum, and Tour. Nong Nooch Garden is a renowned adventure park, where there was an Elephant Show with over 20 elephants performing and sharing their talents from painting to riding a bike, playing soccer, and playing darts. They had a Thai Cultural and Dance Show, beautiful gardens, and a museum full of things from way back when. Then there were the beaches. The beaches were always crowded. Who wouldn't want to go to the beach with such perfect weather?

Pattaya Elephant
We experienced how the locals lived and ate at the very un-American night street markets. Of course, we had no idea what some things were, but we did eat to our heart's content. We even dined on some grasshoppers, scorpions, and larvae after dinner one night at the Floating Market. It helped tremendously to have a local driver with us the entire time, as he translated and helped us through a great many situations.
Yes, there was one specific bad area, called Walking Street, where there are basically bars and clubs, and lots and lots of girls. We made this trip a family-friendly affair and avoided that area. This is not hard to do because it is only one street in a big city. The rest of the city is wonderful. Our family even found a great Christian church to attend on a Sunday where they had English translation. In addition to that, they invited us to a huge feast with lots of Thai food for lunch. While we were having lunch, an ice-cream peddler came around selling freshly made coconut ice-cream for 15 cents a cone!
Don't forget to check the weather for whatever month you plan on going. We went in February and the weather was absolutely perfect. After this trip, my husband and I are praying the Lord leads us back to Pattaya Beach when we retire.
Other info:
Our driver's name was Nit and he was awesome! A man of a few words, but he spoke English and knew everything about Pattaya Beach since he was born and raised there, and is a police officer. His number is: 089-993-8776 – you won't regret contacting him!
Your hotel will also be able to hire drivers for you. If getting a driver isn't your thing, there are Tuk-tuks (designed more like a rickshaw) everywhere, but don't forget to bargain before you get on. We also saw some trucks transporting people. I'm sure these trucks worked just like the Tuk-tuks.
Woodland Resort Pattaya Beach: http://www.woodland-resort.com/home.php