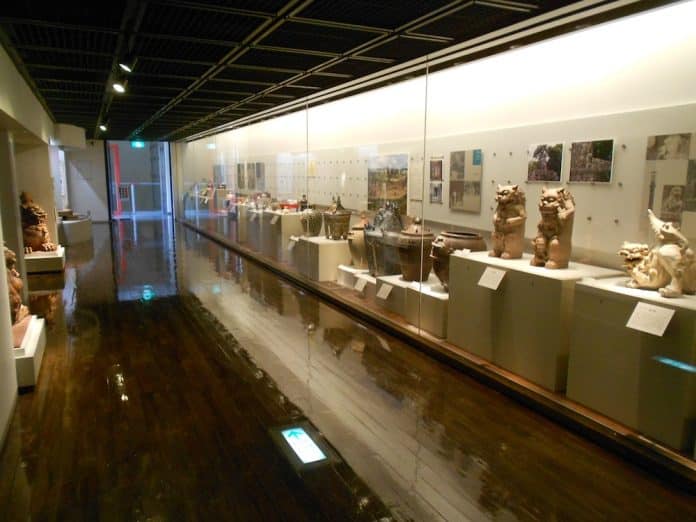 Tsuboya Museum Front
CONTRIBUTED BY AMY MADDOCKS
Naha's Tsuboya District has been the center of Okinawan pottery since 1682, but they say the earthenware first began being made about 6,600 years ago. The most famous Okinawan pottery is tsuboya-yaki, and it is still being made after being passed down from generation to generation. These are just a sampling of the facts and information to be found at the Tsuboya Pottery Museum.
Okinawans, as we learned at the museum, have cultivated a unique culture of pottery through their interaction with nature and exchanging with neighboring countries. The main purpose of the museum is to display Tsuboya-yaki (Tsuboya ware) and to show the background of Tsuboya, which also played a significant role in the development of all Okinawan pottery.
We learned all about the different forms of pottery, both glazed and non-glazed. We also learned how WWII took its toll on Tsuboya's craftsmen. After the war, kilns were deemed an annoyance in the Naha area and most were destroyed. Others resisted, and Tsuboya district is thriving today (although they now use electric kilns that don't pollute the air with smoke).

Tsuboya Hall
The museum has three levels: the first floor shows pottery displayed in chronological order, and includes a replica of a traditional Okinawan home and how pottery was used all throughout.

Tsuboya Traditional Home
It also has a screening room that shows a twenty minute video showing local artists working at their trade. Even though we didn't understand the language of the movie, it was worth watching how they create their pieces of art!

Tsuboya Theater Room
The second floor displays the process of pottery making, showcasing more pottery and the different tools used. The third floor is a temporary exhibition room that has projects open to the public as a rental gallery. The pieces here were our favorite, as they were unique and creative.

Tsuboya S Kiln Entrance
Right next to the museum are the remains of Fenu Kama (south kiln) and Nishinume Pagoda. We would not have noticed all there was to see if it wasn't for the security guard in the museum. He spoke a little English and helped us discover all there was to see. He even offered to take pictures of us throughout the museum, and made sure we saw the displays outside that are harder to locate.

Tsuboya Nishinume Pagoda
The museum is a beautiful sight to behold, and even my husband (who cringes when I say "museum") enjoyed his visit. I ended up having to drag him out after two hours of exploring! The entire place is family friendly, and the people working there went out of their way to guide us and make us comfortable. We were even given a free gift—a poster showing pottery and the Japanese calendar. I also felt like they didn't see Americans very often (I could be wrong about this). We felt slightly like a novelty and didn't see another American the entire time we were there. I hope this isn't true, as this is truly one museum on Okinawa you don't want to miss!
Keep your eye out for different Commemorative stamping stations situated on the 1st and 2nd floor. They also give you a brochure in English along with a guide book showcasing all there is to see (the guidebook must be returned, but the brochure you get to keep).

Tsuboya Pottery Outside
Also, when you are finished with the museum plan on spending another hour or so touring the village, also called Yachimun Alley. In the brochure you will get a map of the village and the different wells and kilns you can explore.

Tsuboya SK Pottery
Hours: Tuesday through Sunday, 10:00 a.m. to 6:00 p.m. (closed Monday's and New Year holidays)
Fee: Adult-315 Yen, Students-210 Yen, Child-105 Yen (they also have group rates)
Directions: There are several ways to get there. We took 58 heading south, then took the Ginowan By-pass to the 330. When the route changed to 330, after about 4 kilometers start looking for a McDonalds on your left. Take a right at the first light after this (not the one right next to McDonalds—it's a one way street). Follow that road until it splits and go right. At the end of this street is the Museum. Parking is limited and you must pay to park. Another way to get there is to park close to Kokusai Street. Toward the north end of Kokusai is the Heiwadori Arcade. Walk through the arcade and you'll see the Museum. You could also take the expressway to downtown Naha and follow the signs to Kokusai Street.