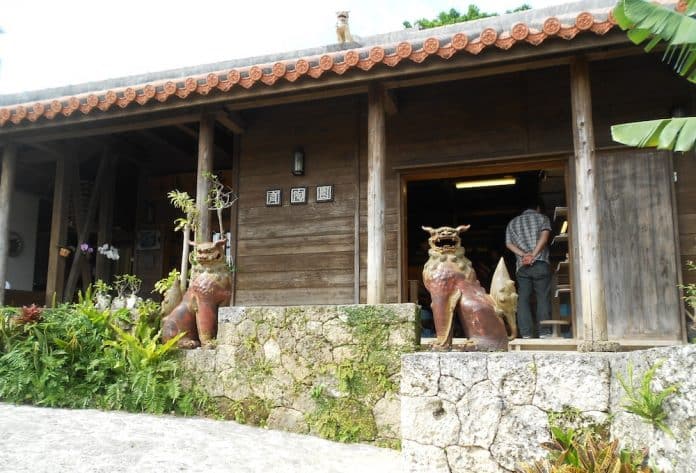 CONTRIBUTED BY AMY MADDOCKS

Tsuboya Vill Map

Tsuboya Vill Street
After visiting the Tsuboya Pottery Museum, don't miss taking a walk down Yachimun Alley. Plan on spending at least an hour discovering adorable little shops, cafes, and watch skilled artisans work their creations. You can even create some pottery of your own!
Naha's Tsuboya District is the center of Okinawan pottery, and has been for many years. Even though WWII took its toll on Tsuboya's craftsmen, they bounced back from the ravages of war and it is alive and thriving. Dozens of workshops are still operating after being passed down through generations. Two forms of pottery are produced here; Arayachi, which is unglazed pottery, and Joyachi, which is glazed pottery.
Arayachi was typically used for large storage vessels for awamori, water, or bean paste. Some smaller items were created for measuring devices. Joyachi is more colorful, and usually made into vases, teapots, bowls, plates, and flasks for carrying awamori.
This entire district flourished many years ago because of the Ryukyuan Empire's increased trading with China and Southeast Asia. Then after WWII there was a shortage of necessary items for everyday life, so Tsuboya District produced many needed items.
As you travel along the main road, notice the street is made with limestone cobblestones. It's a one-way street that you will find many people walking along. Several shops are on the main road, but the treasures we found were on the side roads that branch off of the main alley. At the museum you are given a map that shows where to find ancient wells, pagodas, and kilns. Some of the areas were under renovation when we were there, but they post many pictures along the fences so you can see what they are restoring. Also on the side streets were hidden cafes and workshops. Walking along the street is a treat in and of itself—you feel as though you've been transported to a beautiful village instead of in the middle of a large city!

Tsuboya Vill Workshop
At a few places you can actually create your own pottery. For around 3000 Yen you can create a Shisa, bowl, plate, or hanging Shisa. Plan on about one hour to spend creating—they have posted times for when the classes start.

Tsuboya Vill DIY
We were lucky enough to come upon a craftsman working on creating a Shisa. He smiled and waved at us, and we realized he had been featured in the movie they show at the museum down the street! Watching him work was fascinating. Another thing we noticed was how friendly everyone was. Not much English was spoken, but everybody went out of their way to try and explain things, and almost everyone on the street stopped to say "Konnichiwa!" as they passed on by. We were truly overwhelmed with the kindness and positive atmosphere all around us as we continued to discover a treasure around every corner. You will, too!

Tsuboya Vill Shop

Tsuboya Vill Cafe
April 3rd each year marks the start of a festival paying homage to the Shisa. April is "shi" in Japanese and 3 is "san" which makes the 3rd the anniversary day of Shisa. The festival at Tsuboya Village includes Taiko drum performances, exhibitions, tours of factories, and discounts on pottery at different shops. There is a great article here that tells more about the festival and surrounding area. I realize this article is too late for this year, but put it on your calendar for next year!
Advice: Go to the Tsuboya Pottery Museum first! It is well worth your time and you learn about everything going on in the village. The museum charges a small fee, but touring the village is free.
Directions: Parking is very limited, and you must pay to park. It's easiest to park at the museum, or park along Kokusai Street and walk to the village. Travel south on 58 to Naha City and follow the signs for Kokusai Street. Parking is cheaper if you park a block or two off of the main street. Then, walk to the north end of the street until you see the Heiwadori Arcade. Walk through the arcade and you'll see the museum and district at the end of the street. To park at the museum, we took 58 heading south, then took the Ginowan By-pass to the 330. When the route changed to 330, after about 4 kilometers start looking for a McDonalds on your left. Take a right at the first light after this (not the one right next to McDonalds—it's a one way street). Follow that road until it splits and go right. At the end of this street is the Museum.