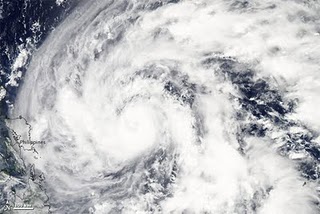 CONTRIBUTED BY SARAH FILLMAN

Songda View

Typhoon Before
These are before and after shots that I captured of Typhoon Songda that swept over Okinawa on May 28, 2011. A day or two before the storm, I was on a walk and thought this vine-covered building would make a neat photo. We passed the same building the day after Songda and I had to do a double take.

Typhoon After
A typhoon and a hurricane are the same thing. In the western Pacific they call them typhoons. In the Eastern Pacific to the Atlantic they call them hurricanes. In the South Pacific and Indian Ocean they are called cyclones. Go figure. Australians call them willy-willy's or something like that…either way, they are scary! And never to be underestimated.
We totally underestimated Songda, the typhoon that swept over Okinawa with winds reaching 150mph. It was our first time to experience a typhoon — we'd only been on Okinawa for 2 months. So we thought of this as an initiation, right? WRONG! This thing was intense. We watched it progress. Winds picked up, the rain was sideways, and we thought it looked pretty cool from our 3rd floor balcony in Yomitan.
By 8pm, night was upon us and we could no longer watch the winds progress, we could only hear it. We went outside at one point and could barely keep our balance. That was around 7:30pm. By 11pm, I was terrified. The winds were so strong, I thought our windows would shatter at any moment. All night long, they got louder, stronger and harder. My husband was snoozing through the entire thing (of course) and I crawled down to the floor and covered myself with a blanket, debating on whether or not to get in the shower. I was awake all night long. When we woke up the next morning…around 5am, we took our dog out and the farmlands of Yomitan were blown sideways. Debris was everywhere, gates down, powerlines out (we didn't have power for a day and a half.) However, all of Okinawa's structures are built with reinforced concrete and shatterproof glass. There is a reason for this! No buildings, that we know of, were demolished, no one was killed.
Here is what we read about the storm:
"This storm was no joke, that's for sure," said Technical Sgt. Robert Fournier of the 18th Weather Flight on Kadena Air Base.
Fournier said Typhoon Songda was one of the most powerful storms he has seen in his four years on Okinawa. The Okinawa Meteorological Observatory said it was the strongest storm to hit Okinawa since it began keeping records in 1972, the year the United States returned the island prefecture to Japan.
What saved the island from worse wind damage was the nature of the storm itself, Fournier said. "Fortunately for the island, the 135 knot (155 mph) winds were a thousand feet or so up," he said. "The strong winds were not at the surface, where they could have caused some serious damage."
Typhoon Muifa was next…
We thought Songda was bad…lasting through the night with gusts so loud and strong I could feel the apartment moving. We didn't realize how much one typhoon can differ from another. That is until we met Muifa.
Typhoon Muifa slowly made her way north heading towards Okinawa. And it was a big one.  When I say it was moving slowly…I mean really taking its time. I could have outrun on my bike…but obviously not here on Okinawa. It reached the island on August 3, 2011, a Wednesday night starting as what seemed to be a mild thunderstorm. It gradually intensified and by Thursday it was over us. It didn't clear out until Saturday, taking down trees with category 3 winds, injuring many throughout the island and dumping 41 inches of monsoon rains on the island. That's over a meter of rain! Many homes were damaged and some had up to 4 inches of rain flooding their homes. Many of the street drainage systems became clogged with debris causing flooding along the roadways.

Muifa Flooding

Out here in Yomitan, our neighborhood lost power for over 24 hours. The farmlands didn't have as much wind damage the second time around. When the lights suddenly came on in our apartment, you could hear people cheering throughout the neighborhood. My husband always asks…what did people do before electricity?
The differences were evident between these two typhoons. Songda sustained greater winds for a shorter period of time; while Muifa lasted 3 days and the rain did more damage than anything else.
It's amazing to me how quickly the people here can bounce back from these natural disasters. Within hours the streets are clean, damage is cleaned up and people are going about their business.
Thankfully, we knew well in advance that it was on the way. They have a warning system in place: Current Tropical Cyclone Condition of Readiness. We don't live on base, but we know the procedures in preparing for typhoons. These systems can be very strong and very dangerous. Without taking the proper precautions, there is more damage than there should be. Such as: trampolines wrapped around telephone poles or cars, lawnmowers blowing through windshields, or any loose debris injuring someone's home or worse, injuring a person. These precautions are necessary, and there is usually plenty of time to prepare!
For more info on typhoon preparedness:
https://okinawahai.com/2011/08/typhoon-preparedness-for-okinawa.html
We are back to sunny summer days, humid and hot. I'd rather be outside sweating on a hot day than stuck inside while a typhoon is blowing over…