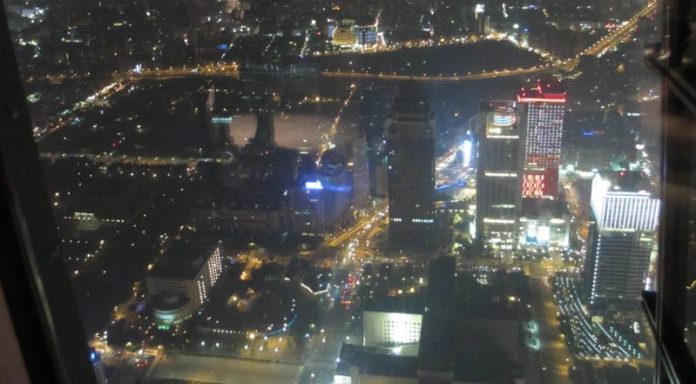 CONTRIBUTED BY MONETTE EAMES
This is Monette's second post about her family's adventures in Taiwan. Click HERE to read Part 1.
So our family adventure continues in Taiwan! Since we discussed the natural wonders in the first part, for this part we will check out the man-made wonders that amazed us.
Taipei 101 – The most obvious, popular attraction, and also the tallest building in the capital city is Taipei 101. Taipei 101 is an architectural wonder, and currently the third tallest building in the world. What an amazing creation. Our family has been to many of the "tallest" building types of structures, but this one tops them all. Although it is no longer the tallest building in the world as of 2010, there was just so much substance in this whole building. When I say substance, I'm talking about educational, artistic, dining, shopping and even playing!
Artistically, the building is designed as almost an art object, with green tinted glass for the bamboo look and eight tiers of pagoda-like design, each with eight floors slanting outward. The shopping, dining and eating areas inside are like a huge gallery. The exterior of the building and the shape of the roof structures lend to beautiful photography. At different times of the day and night, the building appears differently because of the way the light falls on the green tinted glass. And in the lower gallery area there is a huge art display of building photography, which was very impressive. There were many dining opportunities and if you're into shopping at very high-end stores, this is definitely the place for you. And playing was even something to be appreciated, because right outside Taipei 101 is a huge ground-level water fountain area. The fountain is timed to certain patterns, with artistic bursts of water everywhere. The kids can play in the water, so bring some swim shorts along on the trip and let them cool off after a long day in the city.
The double-decker elevators in Taipei 101 are the fastest ascending elevators in the world, and got us up in about 37 seconds. It was as if they wanted the best of the best while they were making this structure, and they certainly succeeded. The structural design is not only beautiful but it is designed to withstand the strongest typhoons and earthquakes. The central portion of this design is the damper, an architectural marvel which in Taipei 101 is not only open to the public to view, but is a central part of the Taipei 101 experience and even is a cartoon figure! The damper is a 700-ton suspended weight, tuned to the mass of the building, which acts as a counterweight. The building can survive over 200 mph typhoon force winds and large earthquakes because of this design. The building also catches and uses rainwater and is energy efficient, making it the tallest green building in the world.
Once you get to the Taipei 101 observatory, you are in for a treat. Imagine being in the sky with the whole world laid out below. But while you are in the sky, you are also visiting all kids of places in Taiwan at the same time, because there are many displays and mini-museums on different regions, including places to visit, what the regions are known for, and the local delicacies. I really felt as if I was walking through Taiwan all in one place. If you take two more flights of stairs up, you can walk out onto the 1,285 foot high outdoor observatory, the world's second-highest observation deck. And if all that wasn't enough, there is also a huge jade and coral museum/store as you depart the observation floors, which contains amazing works of art all made of jade or natural deep-water coral. If you aren't into that stuff, I'm sure you'll breeze by, but if you are into that, be prepared for some time to take it all in!
Maokong Gondola Ride – Another man-made feature which you do not want to miss is the incredible Maokong Gondola Ride, which runs from the Taipei Zoo to the little mountain town of Maokong. We would have done this attraction on the same day as we visited the zoo, but the zoo was an all-day affair and by the time we were done, the Gondola was already closed because of high winds. If I remember correctly there are four main stations where the gondola stops. Two stops are at the zoo and two are at mountain temples. The last stop is in the scenic mountain town of Maokong. The gondola ride is beautiful with some of the most spectacular views you'll ever see. As the gondolas travel up the course, you reach peak after peak, and are rewarded with sweeping views of amazing mountain valleys, complete with temples perched precariously on cliff edges along the way. Bring your zoom lenses to get some good photos! The gondola operators also have special Crystal Cabins, which are gondolas with glass bottoms, for an extra fee. We didn't go the extra mile to get a glass bottomed cabin, but it seemed it would have been nice.
Upon leaving the gondola ride in Maokong, you may hop on a bus to take you around the Maokong area. The lines were long for the bus, but unless you want to walk the whole way, we recommend you take the bus. There are cafes, shops, temples, tea centers and museums along the circular route. We went to a tea center where we participated in a tea ceremony for free while the kids fed fish and explored the tea gardens. We saw a local man carrying tea leaves across his shoulders walking down the hill, headed to make tea. The bus will also take you to the main Taipei Zoo MRT station. Since a typhoon had just passed when we were there, it was rainy, and still a bit windy. We made it back to the Maokong gondola station, but it was stopped due to high winds, meaning we had to attempt to take the bus back to the Taipei Zoo MRT station. I say 'attempt' because each bus that we tried to take was always full and kept passing us, as many people were on the mountain and were headed down like us but couldn't take the gondola. It was indeed frustrating, so we kept walking and walking to the next bus stop until another would pass us again. Although we discovered many things that we otherwise would have just passed, the weather made it frustrating and our kids started getting tired. Just when I thought I wanted to find a hotel and just stay overnight, an elderly couple and their grandson offered to give us a ride to the bottom of the mountain. We never got their names and we may never meet again, but they were our angels on this trip.
Baby Boss – On another day, we went to a Taipei mall to visit 'Baby Boss.' Baby Boss City is an unbelievably cool simulation city made for children, which takes up almost a complete floor of the mall. The city is designed to create an environment for children to play and learn at the same time, and there are dozens and dozens of shops, stores and government offices, all staffed by Baby Boss employees who guide the children through their experiences. There are 50 professions and over 70 different occupations for kids to explore, and each takes from 30 minutes to 2 hours, so there is no way to do everything in one day. This is a place you wish you could come to regularly over a period of weeks. The settings allow games and role-playing scenarios to stimulate children's learning and understanding of the physical world around them and also allow them to act in adult capabilities in a safe and supervised manner. Our kids had an awesome day of playing and doing things they would never have been able to do, and they did NOT want to leave at the end of the day.
One of our kids' favorite scenarios was being able to participate in a fire fighting exercise, where the kids put on fire helmets, coats, and rode a fire truck through the city to a 'burning' house. Once on the scene, kids took turns either directing traffic away from the fire or spraying real water onto the house fire. Another favorite was rescuing a little boy (a life-sized doll) who had gotten hurt, which involved riding in an ambulance to the scene of the accident, providing first aid and then taking him to the hospital. We almost changed our plans to return the next day, that's how much we enjoyed it. Our kids joined in with other children, and the groups of 10-15 kids all did the activity together. Another plus is that the kids learn the concept of making money and using it 'wisely.' For example, with each completed 'job' whether it's milking the cows or archeology or exploring on the moon, they got paid in 'Baby Bucks.' Then they could either deposit the play money into the bank or spend it in the city on food, special experiences, or other 'necessities.' Here's our tip for this place. Spend the money on experiences like making ice-cream, pizza, robots, etc. When you spend your money at the store, unless you have a lot of money all you can get are stickers. There are bigger prizes, but the bigger prizes are for kids who have been saving up for a while—meaning they probably have an annual pass. This place is certainly amazing, and we have never seen anything comparable in the U.S. or elsewhere.
Shopping, Ximending District – Shopping in Taipei was an experience all by itself, and even if you are not into buying tons of stuff, at the very least you should walk through these areas just to see the crowds, the culture and enjoy the food! We bought some souvenirs, but kept our purchases to a minimum. The district was crowded with thousands of teenagers, almost all of whom could not take their eyes off our two sons. Especially popular was our youngest son, with a full head of curly, wavy almost blond hair. He got waved and winked at so many times! As we walked through the huge caverns of shops and dining areas, we found plenty of unique and interesting places to grab our attention here and there. Although there is a lot of shopping to be done here, I felt the prices were a bit steep for many things, especially when comparing them to night markets. There were also many talented, awesome street performers around the pedestrian walkways between shopping centers and in the MRT areas.
Night Markets – There are over a hundred night markets all over Taiwan, and due to our limited time we only went to a few of the big night markets in Taipei. If there was one area we wish we had allotted more time for, it would be these amazing, bountiful night markets. The markets are a beautiful sensory overload of brightly colored shops and tents, vendors selling everything from artwork to trinkets to clothing to techno gadgets to candied apples and snacks. The market I really enjoyed was the Shilin Night Market which had two of my favorite things, awesome food and reasonably priced fashion! I spent several hours there and did not feel like I had enough time to see everything.