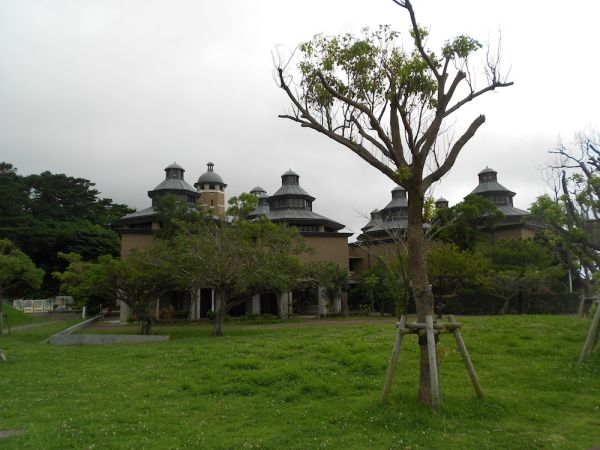 CONTRIBUTED BY AMY MADDOCKS

Urasoe Art Building
Want to see some of the most amazing cultural treasures of the Ryukyu kingdom? Head on over to the Urasoe Art Museum. This museum mainly focuses on laquerware and the cultural exchanges with neighboring countries that heavily influenced the development of Ryukyuan laquerware. There are both temporary and permanent exhibition rooms to enjoy.

Urasoe Art Entrance

Urasoe Artist
They do offer free audio guides in English to use throughout the permanent exhibition rooms. I highly recommend these, as they teach you a lot about the art pieces and how they are made. There is even a display of lacquerware beads that are woven together—the only one in the Ryukyu's known to exist. You'll see beautiful boxes, trays, paper boxes, bowls, pots, and many other treasures. No pictures are allowed in the display rooms. If you go throughout all of the display rooms and listen to the recordings, it takes around one to two hours. There is a café if you are hungry or thirsty and workshops for artists bordering the main display rooms.
At the end of our tour, we sat down and watched a thirty minute long movie showing an artist making different forms of lacquerware. Even though we didn't understand what was being said, it was still fascinating to watch such an amazing artist at work. When we went to leave, we realized the artist we had just been watching on the video had been standing behind us the whole time! He told us his name was Koin Maeda and he was very friendly. We were lucky enough to get a picture with him. His display was a temporary one, but he does display his work each year at the museum.
Hours: 9:30 a.m.-5:00 p.m. (admittance until 4:30 p.m.)
Fridays, 9:30 a.m.-7:00 p.m. (admittance until 6:30 p.m.)
Closed on Mondays (except national holidays) and December 28th-January 4th
Admission Fees: 150 Yen for adults, 100 Yen for students, free for students K-12

Urasoe Art Light
Directions:  To get there, take the 58 traveling south (coming from Kadena). Take the Ginowan Bypass and continue on that road—it will cross over the 58. Take a right onto the 330 and then you'll see signs for Urasoe. Right before the sign for highway 38 will be the turn for parking at the museum. It comes up quickly, so don't miss it! There are other ways to get there, but it requires traveling on several back-roads and I wouldn't recommend it. If you are traveling from the south, just get on the 330 and pass the museum in Urasoe(you can see it from the highway). Get off at the next off ramp, make a u-turn, get back on the 330 traveling south, and enter the parking lot from that side (there is a barrier in the middle preventing you from u-turning on the highway). Enjoy!!