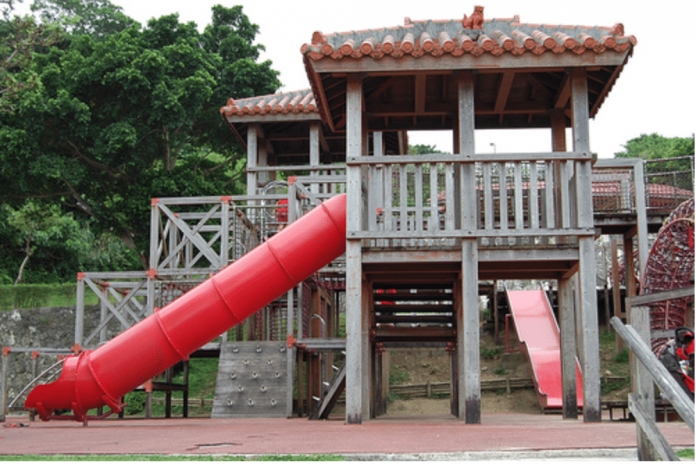 Urasoe Dai Park 2, originally uploaded by juliamagnolia. (Click on the photo above for more pictures.)
CONTRIBUTED BY JULIA
One of the things I love about Okinawa is the wonderful parks out here.  With the weather on its way to cooling down I'm looking forward to rediscovering these treasures.
One of those treasures is Urasoe Dai Park. It's a great park located between MCAS Futenma and Camp Kinser.  There's a large play structure suitable for older kids that has a few large slides and ladders to climb.  It can be quite challenging for a younger child and if you have one that needs more supervision you are guaranteed a good workout climbing and chasing after your monkeys.
There is also an area for smaller children with a play structure, slides, teeter totters, and swings.
Directions from Camp Lester:
Take a LEFT out of Lester's Main Gate to head South on Hwy 58.
Pass MCAS Futenma and McDonalds on your left side and make sure to stay in the left lane so that you DO NOT go over the overpass.
Pass A& W Drive-Thru Restaurant and Mos Burger.
Take a LEFT at the intersection of Arin Krin Garlic Restaurant (white building on your far left with garlic head people running around) and a McDonalds and Pachinko Parlor on your right.
Pass a red and white Meiji sign on your right and then take a LEFT at the 2nd light.  (You will see a tiled roof bus stop and a Coke sign on your right.)
Take a RIGHT at the next corner and go under the overpass.
There will be a parking lot on your right side and additional parking on your left.