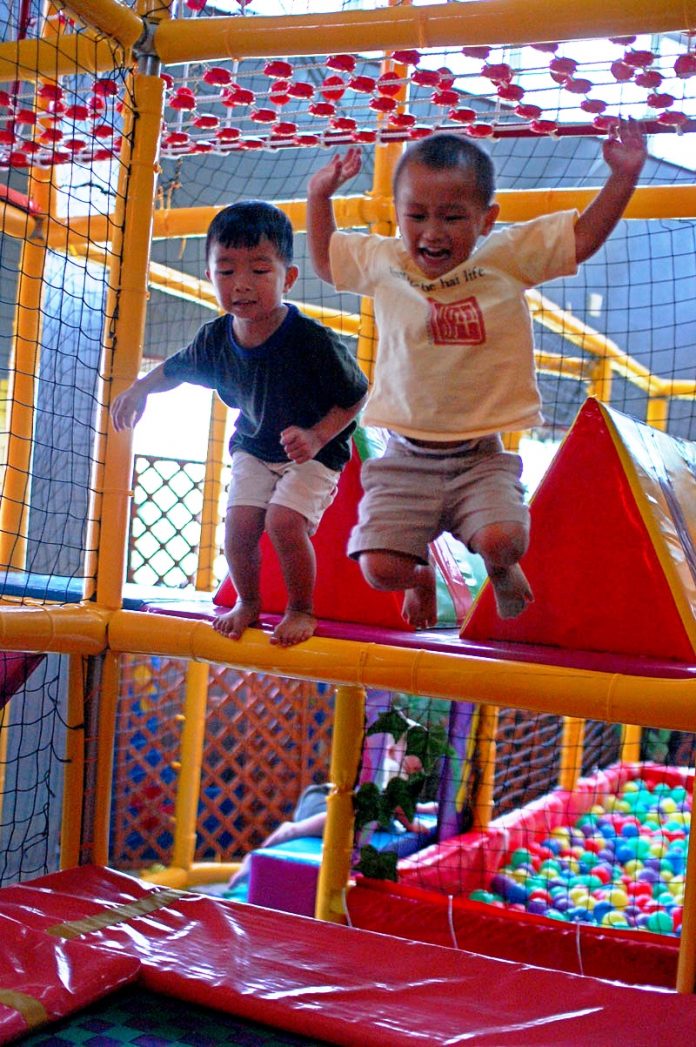 ***This business is closed******
Another great indoor option for the kids brought to you by Julia!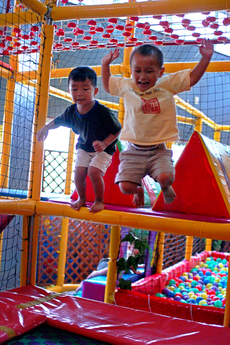 Last summer was brutal. We stayed on-island the entire time and by the end of the summer I was getting burnt out trying to keep the kids entertained while also trying to beat the heat.  It was already unbearably hot by 9 AM on most days so the parks and playgrounds we were used to frequenting were no longer viable options.  We spent the days rotating between the various beaches, water parks, and indoor play places like Wago Family Land  and Monakids. After a while it started to get tedious.  This summer has been blazing by quickly but I was still excited when my friend Amanda mentioned another indoor play place called US Land.  Thanks Amanda!
US Land is filled with fun activities for kids and adults.  The 1st floor includes batting cages, a couple of billiard tables, a ping pong table, and free play video games.  I actually got to play one of my old favorites, Dance Dance Revolution.  You step on designated arrows on the floor in time to music.  Sounds simple but it can be quite challenging and is a good cardio workout.  It's not pretty but this is about as close as I get to clubbing these days.  Bring your sneakers for this one!
If you head out the back door you'll see an area with murky water where you can try your hand at fishing, a bouncy castle that is showing some wear and tear, and several trampolines.  There is also a place for kids to get a train ride and a boat ride.  The fishing, train, and boat rides require an extra fee.  There were several kids fishing but I didn't see anyone manning the train and boat rides so I'm not sure how often they are in use.
The 2nd floor consists of karaoke rooms and a 4-level play structure for the kids.  The play area has tunnels, a small trampoline, and a winding slide that starts at the top level and shoots out into a ball pit. The kids really loved it here and it's easy to watch them as the whole structure is enclosed with only one entrance/exit.  It's great for older kids and toddlers who are good walkers and climbers but will be difficult for those who are still a little unsteady.  My 2 year-old manages quite well unless he's frustrated that he can't keep up with the big kids.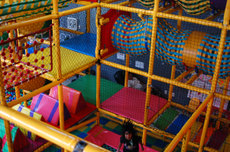 The 2nd floor also has a comfortable dining area, computers, and a large screen TV where they were showing Japanese baseball both times we were there.  Menu items include pasta, pizza, Okinawa soba, curry rice, sandwiches, American dogs (corn dogs), and yakitori.  A meal will run you about 400 to 700 yen.
Before the kids and I visited hubby scouted out this place and wasn't impressed.  I think it's great to have another indoor option to wile away the time though…especially one that's so close to Camps Foster and Futenma.  And there's no doubt that the kids had a blast here.
Here's their blog if you'd like to see more photos.
ADMISSION:
315 yen initial membership fee
105 yen for every 15 minutes you stay
3-hour option for 980 yen
6-hour option for 1480 yen
300 yen flat fee for children 3-6 years old
Payment for the 3-6 year olds and the 3 and 6-hour options are due upon entering the facility.
HOURS:
Monday –Thursday 11 AM – 2 AM
Friday 11AM – 2 AM (early Monday)
According to their flyer it appears that they are open the entire weekend from Friday 11 AM until early Monday mornings at 2 AM.
Extended hours for the rest of Japanese summer break (end of August) are 10 AM – 5 AM Monday-Thursday and opening at 10 AM on Fridays.
PHONE NUMBER: (098)892-6388
DIRECTIONS
From KAB Gate 2: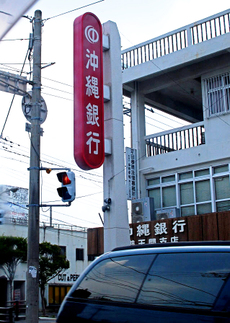 -Head straight out the gate and take a RIGHT onto 330.
-Pass through the intersection for Foster Legion Gate at route 81.
-Take a LEFT at the pedestrian bridge to continue on 330.
-Take a RIGHT at approximately the 4th traffic signal (Futenma South). There is a red and white kanji sign for Okinawa Bank on the right side of this intersection.
-Go through 3 traffic signals and you'll see a huge green net for US Land's driving range up ahead.
-US Land is located on the left just after the driving range.  If the front parking lot is full, head down the steep hill towards the entrance of the building for additional parking behind it.
From Foster Commissary Gate:
-Take a LEFT to head South on 58.
-Take a LEFT onto 81.
-Take a RIGHT at the 2nd traffic signal.
-Follow this road about 0.5 km as it goes through the flashing traffic signal, up the hill, and cur
ves sharply to the left.
-Look out for the huge green net for US Land's driving range.
-US Land is located on your right hand side just before the driving range.  If the front parking lot is full, head down the steep hill towards the entrance of the building for additional parking behind it.