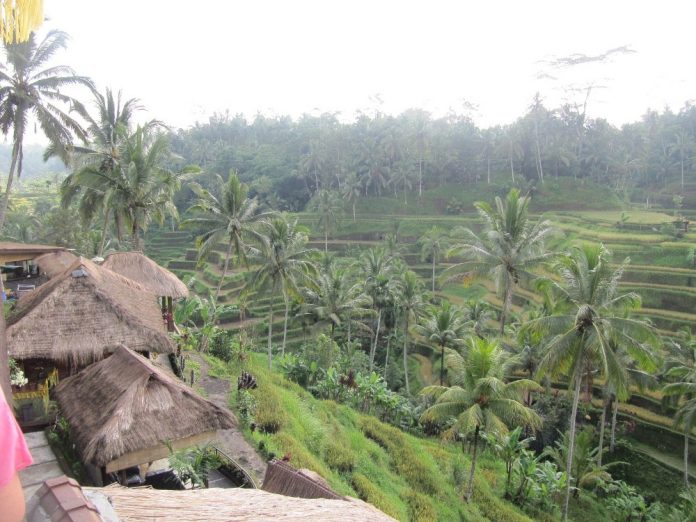 CONTRIBUTED BY JAIMIE TELSCHOW
I had my doubts before visiting Bali, wondering if it would be too touristy for my taste. I can't begin to describe just how wrong I was. My only regret about Bali is not spending more than four days there. We flew into the island on Air Asia late on a Wednesday night. We were able to get our visas on arrival ($25 per person), which we paid for first and then waited in an extremely long line to get checked and stamped through. Our 11-month-old son was pretty tired at this point and began crying, so we were luckily moved to a shorter line. From that point on, it was a breeze! We were met by a driver from our hotel we had arranged to pick us up. We stayed in the Ubud area which is about an hour and a half drive from the airport. Once at our hotel, we were checked in right away and brought to our room. We stayed at Green Field Hotel,which was extremely well-priced and clean. I can't say enough good things about it!
Thursday morning we didn't have any firm plans but decided to just explore the Ubud area. First on our list was Monkey Forest, which was just down the road from our hotel. We weren't entirely sure what to expect, but it ended up being one of the biggest attractions on the island and so close to us we figured we better see! As soon as we walked up we saw at least a dozen monkeys climbing through the trees and just hanging around the entrance. We paid our roughly $2.00 entry fee and went in to explore.
Despite its name, Monkey Forest is a sacred Balinese Hindu site and not just about the monkeys. You can read more about it here. Although it was extremely humid, we enjoyed watching the monkeys, especially the babies and looking at the different temples.
After about an hour we headed out to find some lunch. An entirely separate post could be made on the food choices in Bali, but just about everything is excellent and cheap in the Ubud area. We ate at a pizza place that was as good as places in Italy I've ate. Large pizzas ran about $4-5 and drinks/smoothies $1-2. Another favorite in our time there was a Mexican restaurant just down the road from our hotel. Balinese food is great as well and there is really no way to go wrong with the food it seems. We spent the rest of the day walking to the Ubud palace and looking in the little shops with breaks to swim in our salt water pool at our hotel.
Friday morning we had booked a cycling tour through Bali Eco Cycling and we were picked up from our hotel at about 7:30 a.m. to start our day.
First stop was breakfast in Penelokan which had a gorgeous view of the volcano, Mt. Batur.
Soon after breakfast we were ready to start bicycling through Ubud. Our son had a seat on the back of my husband's bike and a helmet which we were told is up to Australian standards. We cycled through beautiful rice fields and back roads winding through villages we never would've seen on our own.
We made a couple stops at local houses so we could get an idea of how Balinese live and we're told how the rice planting takes place. Our guide was great and quick to answer any questions our small group might've had. After cycling back we were provided an excellent Balinese lunch buffet. Overall it was a great day and we were able to see many aspects of the Balinese culture we normally wouldn't have as tourists.
Saturday was unfortunately the day we were scheduled to leave. We had an early lunch and were brought back to the airport by our hotel transportation once again. We were able to sneak in a quick American treat at Cold Stone Creamery at the airport which was a pleasant surprise to find before leaving. Overall Bali was a great trip and has so much to offer. We only had time to explore the Ubud area but the island offers much more from trekking to diving. Whether you are on a family vacation or going solo I wouldn't miss it!