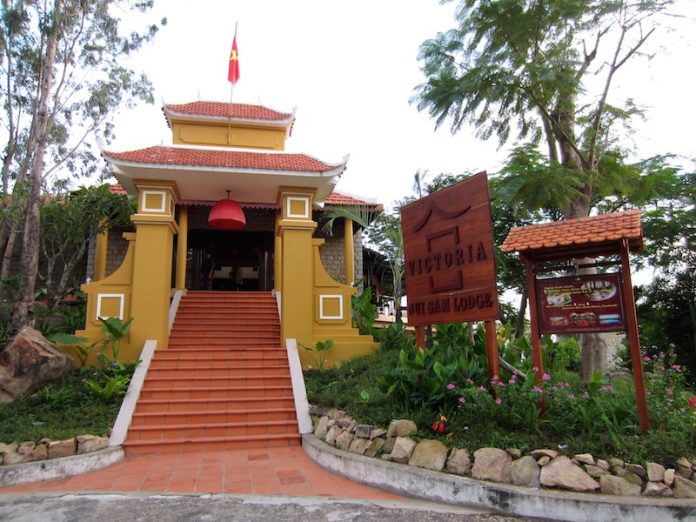 Editor's Note: This is one of several hotels/lodges Marie visited in Vietnam and Cambodia. Click here to read her full itinerary.
CONTRIBUTED BY MARIE LEWIS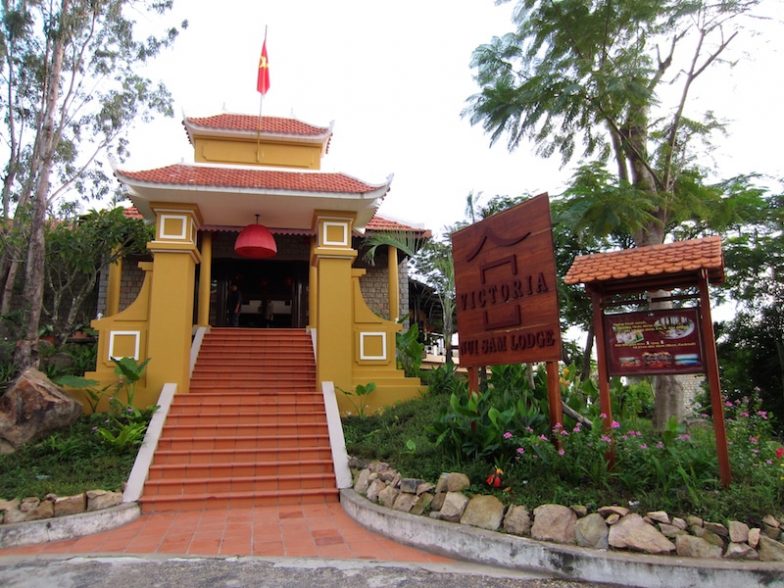 After leaving the Rex Hotel in Saigon, we took a bus to Chau Doc, Vietnam, a town close to the border with Cambodia. We checked into the Victoria Nui Sam Lodge for just one night. Our plan was to get up early the next morning to take the Victoria Speedboat into Cambodia, and this turned out to be the perfect place for a relaxing stopover. The major selling point for me was the view, and it did not disappoint!
Rooms: Small and basic, but immaculately clean and just my style. I loved the tile flooring. There was a small TV and shower only (no tub), but it was everything we needed. The property is on the top of a mountain, and the rooms each have a private terrace overlooking the lush grounds. It was so, so quiet! This was a welcome change from the hustle and bustle of Saigon.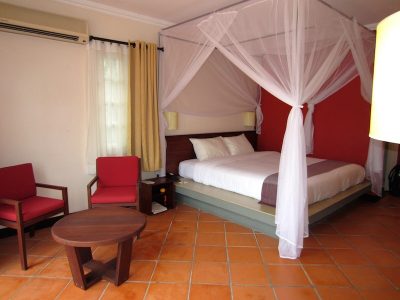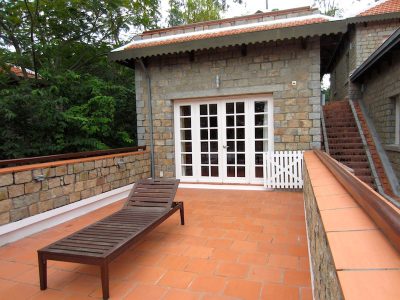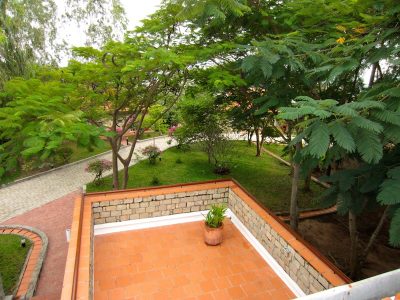 Location: The lodge is not really close to anything, and you have to ride up Sam Mountain to get there (we did it on the back of vespas, which was a little scary but memorable!) However, all we really wanted was a quiet night and an amazing view, and we got both. The property grounds reminded me of the buildings and roads we saw in Assisi, Italy. The restaurant and lounge open up to an outside area that is MADE for postcards!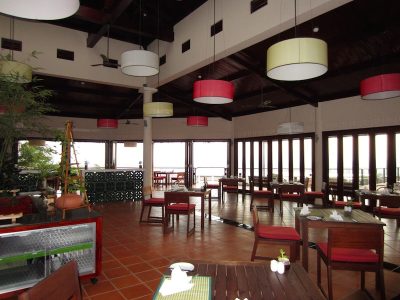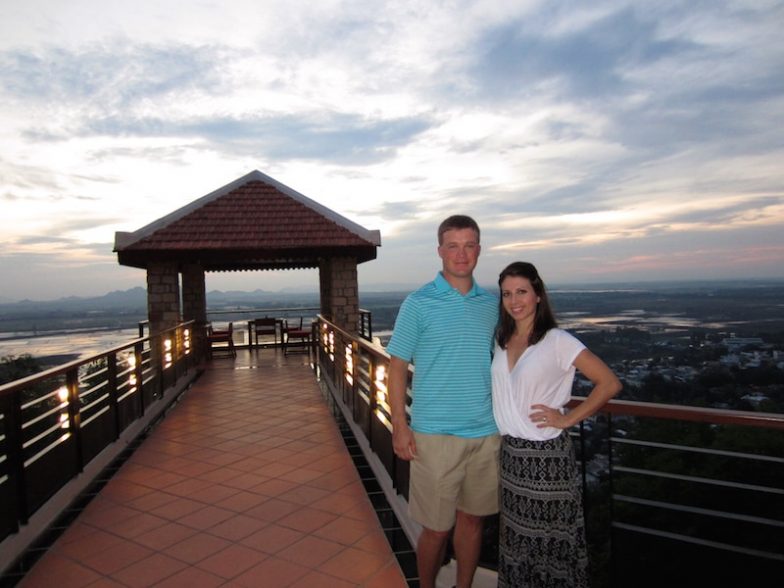 Service: You should know that this boutique hotel is a training ground for hospitality workers. That said, we were impressed by the level of care and courtesy we received at every turn. The front desk staff arranged our boat reservation and our transportation to the Victoria Chau Doc Hotel (a sister property, and much more expensive) upon checkout, where the boat to Cambodia would depart. They were all kind and wonderful.
Food & Drink: Mostly great, although the drinks were a little strong (but I'm not one to complain about a strong cocktail.) I ordered a fish dish which was fantastic! My husband ordered beef, which he liked but did not love. Dessert was simple and delicious, and I loved the cute little umbrellas.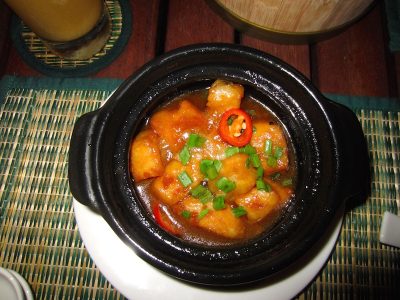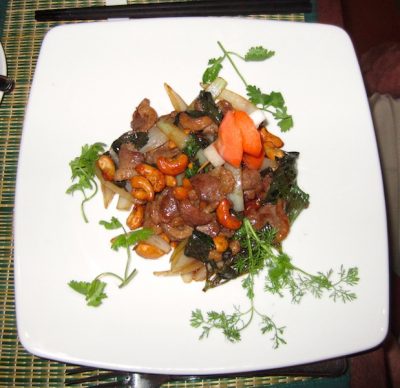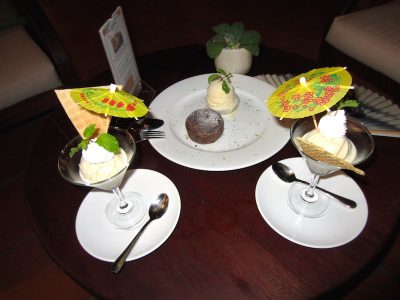 Pool: It is hard to put into words just how breathtaking the view is from the pool, and the photo below doesn't even do it justice. As we walked to the pool we literally stopped in our tracks just to take it all in. There were only two other couples there at the time, and they were silently reading in lounge chairs and just staring out at the rice paddies, like us. I felt like I should whisper, it was that peaceful and quiet. It was perfection.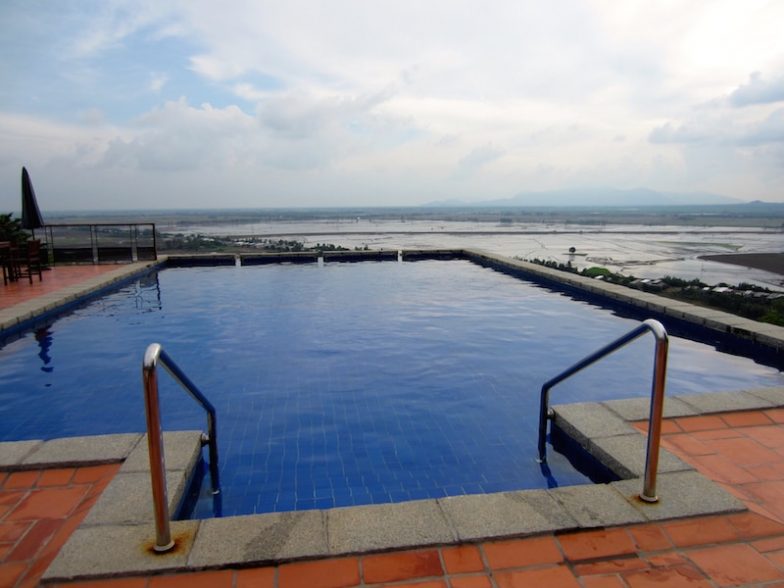 Spa: There isn't one here, but the whole place is relaxing, so we didn't miss it.
Other Amenities : There is a "health trail" around the property, and it is charming but short. There were also mountain bikes available to rent, although we didn't use them. Oh, and the WIFI was good!
Value: With a price tag of about $70 USD per night, we thought this was a great value. The view alone was worth it for us. A breakfast buffet was included, with standard Western and Asian fare. Our dinner, cocktails and dessert total came to around $40 USD, which we felt was reasonable.
Hotel Website: Victoria Nui Sam Lodge