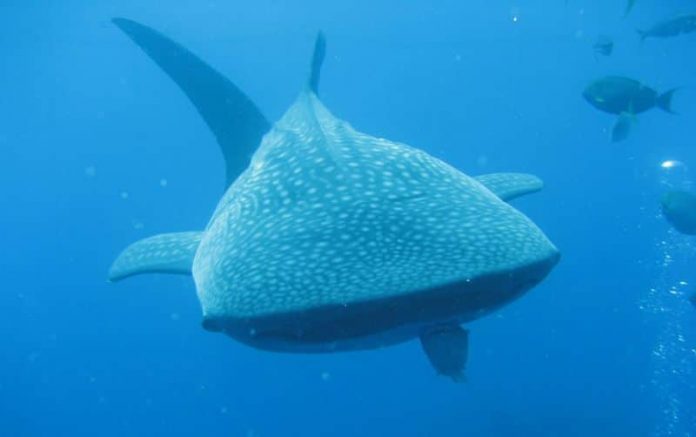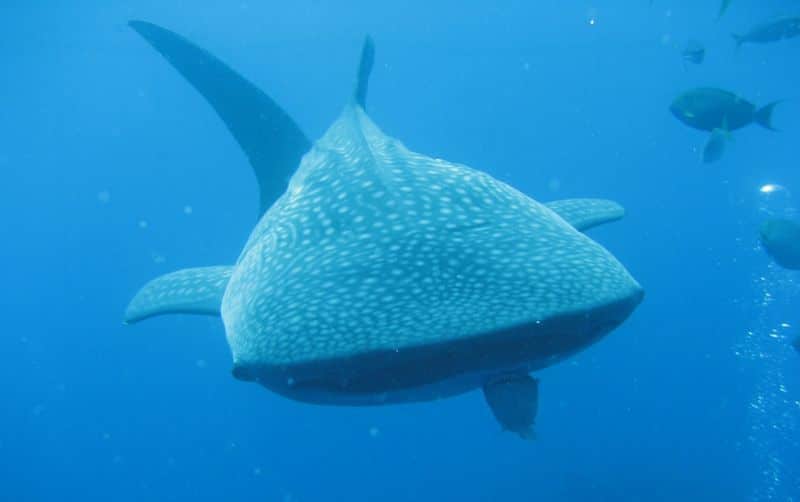 CONTRIBUTED BY SARAH FORTE
Whale sharks and Okinawa. Some things just go together.
If the Churaumi Aquarium's awe-inspiring tank of whale sharks left you wanting an even closer encounter with the world's largest fish, you are in luck! Torii Scuba Locker offers divers a chance to interact with these gentle giants.
Annually, approximately 40 whale sharks are caught accidentally by Okinawan fishing nets. Before they are released, the fishing company holds them in a net enclosure, feeds them well, and offers divers a once in a lifetime encounter with them. Some of these whale sharks may end up in the Churaumi Aquarium or the Ring of Fire Aquarium in Osaka, but most of them are released back into the ocean after they have recuperated.
Whale sharks are actually sharks but, like whales, are filter feeders and enjoy a diet of plankton and other small fish, so they do not pose a harm to humans.
Reservations through Torii Scuba Locker are required 24 hours in advance. (See note below.)  We were told to arrive there at noon for our Saturday dive. At that point we could have rented any gear we needed (tanks are not included). After filling out the standard medical disclosure form, we were told to come back at 12:30 for a group briefing. At that time we received a few instructions on what to expect and how to behave. At 1:00 the 13 of us that signed up for the dive returned to our personal vehicles and caravanned behind the Torii Scuba Locker van which led us to the Yomiton Port. At this time we joined up with Top Marine, a Japanese dive shop, and another small group. Our gear was loaded on to one of two boats and at 2:00 about 30 of us set off for a 5-minute boat ride to the netted whale shark enclosure.
It was pretty chaotic getting everyone in their gear and into the water. There wasn't much extra space, but everyone did what they needed to do and we were ready for a back-roll entry into the water. Individually, we swam down to the top of the cylinder-shaped net (which began at 10-15 feet below the surface) and waited for the group to rejoin. This was our first glimpse of the big guys! While the largest known whale shark was over 40 feet long, the two males in the enclosure that day were a "mere" 18- and 22-feet long. The net enclosure was so large we couldn't see the opposite side of the net or the whale sharks which kept swimming in and out of view. The number and size of the whale sharks changes; we've gone a different time and had three whale sharks in the enclosure.
The dive masters motioned us through a hole in the top of the net and we gathered along the sides for the first 10 minutes to watch the whale sharks being fed. This attracted quite an audience of other fish who were hoping for some left-overs! Once the whale sharks were fed the dive masters signaled that we could free-swim with the whale sharks, which were neither shy nor aggressive. It was an awesome experience to have them swim so close that their tails and fins would brush by us! It was incredible to have the whale sharks not only in front of you, but also underneath or overhead! I saw a few people watching the further whale shark only to have the other come over and nudge their arm!
The time went by too fast and after about 35 minutes we were ushered out of the net. Everyone did our required safety stop on the outside of the net and then it was time to get back on the boat for a return trip.
I realize there is controversy about the captivity of animals. It helps to remember that these animals are generally here for a short while and then released. While they are in captivity, scientists can learn about their behavior, diets and mating. This is our chance to see them up close.
Torii's Scuba Locker's phone number is 644-4290. Reservations should be made at least 24 hours in advance.  The price of our trip was $135 per person, but to swim with whale sharks was truly priceless! As mentioned earlier, this price does not include any equipment, including tanks. As a point of comparison, it costs $325 to dive with whale sharks in the Georgia Aquarium in Atlanta. For more information, including a video, click HERE.
Photos courtesy of Angela Edmondson