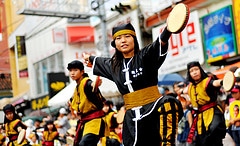 CONTRIBUTED BY JANNINE MYERS
Photos compliments of Pamela Oliveras
We've all seen the eisa dancers, or at least heard of them, but do we know why they dance and how it all started? For those of you who don't already know, eisa has its roots in a centuries-old Buddhist tradition whereby many of the priests would pay homage to the dead by offering prayers, in the form of chants, to deceased loved ones. The chants, which were typically accompanied by the rhythmical pounding of small drums, first evolved into popular Buddhist prayers, and much later into some of the folk songs that we now hear sung by eisa dancers.
Traditionally the eisa folk dance marked the end of Obon; dancers would march through village streets, singing and beating drums as a tribute to their dead ancestors. Nowadays eisa is performed at various times throughout the year but as we saw last week, it is still very much a major part of the Obon festivities.
Obon, by the way, is a Japanese Buddhist custom that celebrates the arrival of dead ancestors, or their spirits, and their consequent return to the spirit world two days later. In Okinawa the timing of Obon is determined by the lunar calendar, unlike the rest of Japan which celebrates it on a fixed date each year. Also unlike Japan, Obon customs are slightly different in Okinawa.
The eisa dance is one such mark of distinction; it's a dance that is unique to the Ryukyu kingdom, the islands of southern Japan. Large taiko drums are commonly seen in dance performances throughout Japan, but on Okinawa, eisa dancers use up to three types of taiko drums: the odaiko (the large barrel drum), the shimedaiko (a medium-sized drum), and the paranku (a small hand-held drum). My daughter Chantal enjoyed playing the paranku when she was part of her school eisa club several years ago.
Further distinctions of the eisa dance that set it apart from Japanese folk dances, include the brightly colored costumes with the Ryukyu-style knotted turbans, and the sanshin musicians who are often seen playing their stringed instruments in the background.
Although Obon ended last week, and with it most of the larger eisa festivals, you still have one more chance to see what is perhaps the most exciting eisa event of the year. To officially mark the end of Obon, eisa teams from all over the island are gathering together today and tomorrow to compete against one another and showcase what they have been practising for many, many weeks. Judges will determine the winning teams by comparing not only talent and creativity, but also each team's level of enthusiasm and their adherence to traditional guidelines. All in all, it's a fun day out and one not to be missed!
This weekend's Eisa festival is being held in conjunction with the Orion Beer Festival. To attend this double event, you will need to make your way to Koza Athletic Park in Okinawa City (located off highway 23 near Expressway Exit # 4). As parking can be quite chaotic, your best bet would probably be to walk from Kadena USO. The dancing will commence around mid-afternoon on both days,and the beer festival is set to start at 4pm on Saturday with an opening ceremony, followed by live music performances, and finally a gala fireworks display (on both evenings) at approximately 8:50pm. Hope to see you there!