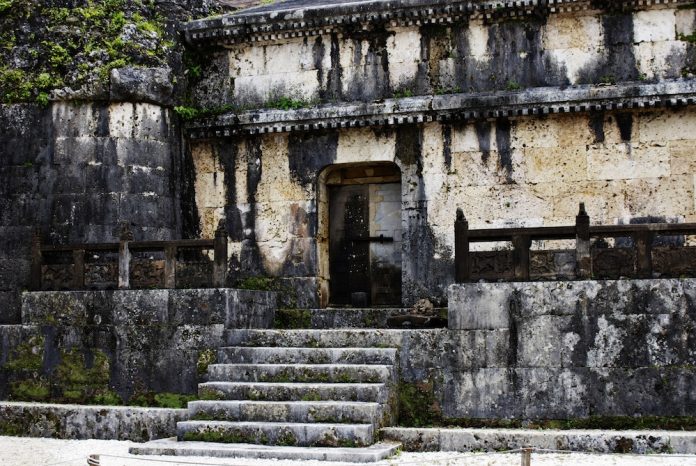 CONTRIBUTED BY JANNEL KETTENRING

Tamaudun Sign

Tamaudun Door
With the goal to see all nine World Heritage sites on Okinawa, while a friend was visiting, we headed off to find Tamaudun. We had a little difficulty finding this site at first. Most directions we found told us to go to Shuri Castle. After looking at the map we were able to head in the right direction. Turned out to be just a short walk down the small hill that is next to the Shuri Castle parking garage, and across the street. There were no signs until the bottom of the hill and even then they are easy to miss.  
But the search was worth it.
Tamaudun was built in the 1500s by King Sho Shin as the royal mausoleum for the Ryukyu Kingdom. There are three chambers each with their own special purpose. The chamber to the left was for kings and queens, the center chamber was where they held the body until it was readied and the chamber to the right was for the rest of the royal family.

Tamaudan Tree
After paying an entrance fee you may visit the small museum or head down the path. The museum has a few photos and artifacts. It is very small with almost no English translation. However, it is still worth checking out.
There is a lovely path to the mausoleum and gatehouse. To the right is the great stone walls around mausoleum with a door to enter the courtyard containing the three chambers. You are unable to enter the chambers, however they are a sight to behold.
Outside the walls and on the path is the gatehouse. You may enter the gatehouse if you remove your shoes, the wood floor is very soft and smooth. They have several old photos displayed inside.

Tamaudun Gatehouse

Tamaudun Left Chamber

Tamaudun Center Right
Hours: 9am-6pm
Phone: 098-885-2861
Cost: 300 yen for adults, 150 yen for children, children preschool and under are free
Directions: Head to Naha on the 58. Follow the signs for Shuri-Jo castle ruins. Cross the street behind the parking garage Tamaudun is just a short walk straight ahead. It will be on the left side of road.