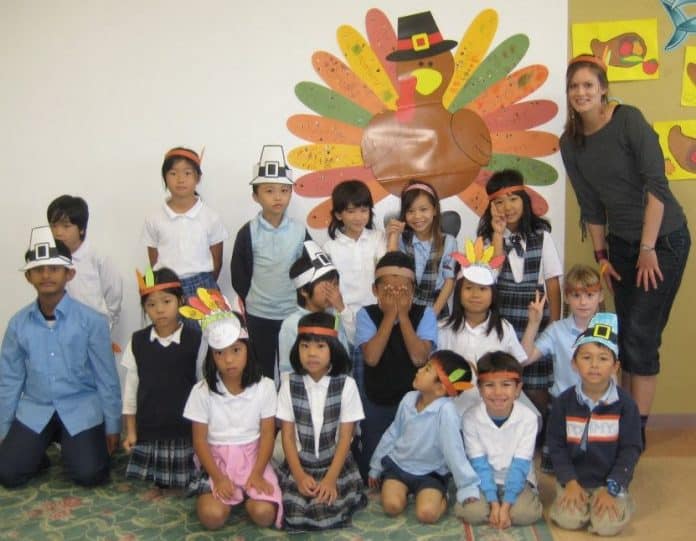 For all you parents looking for a preschool that suits your kids, we're hoping to add a little something to aid in your search. Parents of children who attend various preschools on island have filled out a series of questions about the schools for the benefit of the rest of us. We welcome more than one voice on each school since everyone has a different experience, so please feel free to add in your two cents in the comments.
If your child attends a school that has not been reviewed on this site, please contact our Submissions Manager for the template.
CONTRIBUTED BY AUBREY CORCORAN
Name of School: World Mission Christian School
Address: 568 Minami-Uebaru Nakagusuku-son, Okinawa
Phone: 098-895-6670
Email: school@owmcs.com
Website: www.worldmissionschool.com OR www.school.owmcs.com/index.html (Japanese site)
Ages Accepted: 6 weeks to 12th grade
Ages of your kids in this school: 11 and 7 years.

WMCS Program
Admissions/Enrollment:
What is the maximum number of students that your school has? Varies, year 2011 had about 100 students in pre-K to 12.
Is enrollment open/year-round enrollment or per semester? Year round if space is available. We started in September but there are families that joined in March.
Does my child have to be potty trained to attend? Not for the Aijien (preschool) which is ages 1-5.
Can I bring my child in for a pre-enrollment visit? Yes, you must interview with the principal first.

WMCS Classroom
Days and Hours:
School's Hours: 8:30 A.M. – 4:00 P.M. After school care is available for a fee.
Is the school on a Japanese or American schedule? Japanese holidays and Christian holidays are no school days, but it follows a "modified" American schedule – follows September to July, year round schedule. They use trimesters and you will receive three report cards each school year.
How flexible is the school with pickup and drop off times? Not flexible. Children must not be tardy in the morning.
Costs:
Uniforms: Students wear uniforms and the cost will be less if you order online (I use French Toast). The principal will tell you what colors to buy at the interview. You must also buy a PE uniform from the school. The total cost of uniforms is about $200 per child.
Registration fees: 10,000 yen per child. Books, insurance, supply, library, and maintanence fees total an additional 52,000 yen per child.
Tuition fees: Preschool fees are about 27,000 per month. School tuition is 35,000 per month.
Assessment and school supplies fees? Each month parents must pay 5000 yen for maintanence costs. Students also provide paper products three times per year. Students must also purchase a musical instrument (depends on the grade level) at the beginning of the year. Melodica or recorder.
Are any discounts offered for referrals, siblings, volunteering, working there, etc? Yes. You can get a discount for siblings but it is up to the principal to determine your family's needs and discount. It is on a case by case basis. You must discuss this in your interview.
Is there a late pick up fee? No.
How and when does the school require payment? In yen, at the first of the month. You can also make a direct deposit (the school has the banking information).

WMCS 1st Grade
Parent involvement and interaction:
Does the school encourage spontaneous visits from the parents? Not really, but parents are welcome to visit with an appointment. Parents are also welcome to volunteer, and parents will be asked to participate quite a bit with various programs and activities at the school.
How do you communicate with parents? Is there a regular newsletter, or a notice board? I get a communications notebook from my child's teacher. Also, the principal sends home letters about twice a month in your child's bookbag. They also have a website but it is not updated very frequently.
Are there parent/teacher conferences? Yes, it is mandatory to attend the PTC in order to receive the report card three times per year.
Classroom structure and size:
How are the kids grouped? There is a large room for preschool on the second floor. On the third floor, there are large panels separating the school aged kids. This year, 1st – 3rd grade were together, 4th – 6th grades were together, and middle school, and high school were separate.
What is the teacher-child ratio? My son's class had 15 students total. My daughter's class has about 20 students.
How many full time teachers? About 20. This includes subject teachers and preschool teachers and other staff.
What is the school's educational philosophy? It is a bilingual school and half the subjects are taught in English with the other taught in Japanese. Children receive language arts instruction for both Japanese and English. It is a Christian school and uses A Beka curriculum. The manual states: "Education and character development for children based on biblical principles; International education to prepare students for serving the world; Providing a vision for the international mission of Christian education; WMCS will place students according to their individual academic level." Students at the school have been accelerated for giftedness and placed in a lower level to help them catch up – all the while staying in the same age based grade. It truly is a flexible system.
Is the school program developmentally based or academic focus? School aged children receive academic focused instruction. Aijien students receive a developmentally based program.
Is there a playground? Yes, and a soccer field and a basketball court. Students have access to indoor play during the rain, as the first floor has a large, open room with ping pong table, riding toys, books, etc.
What do the children do on any given day? What is the general schedule/routine? Chapel twice a week, praise and worship on other mornings. Every day has a set of 7 periods. Children rotate to different classes: PE, art, music, recess, Japanese language arts, English Language arts, science, social studies, and mathematics. Students receive "specials" (art, PE, music) a once or twice per week. They eat lunch (school or home made) and also have a classroom clean up time at the end of the day. They also have library time.
Are there extracurricular activities or field trips? The school offers after school music lessons, after school tutoring (gakken), a one week overnight camp ("Changing Life Camp"), Sports Fun Day (Field day – held on a Saturday), Nations Walk (an international banquet), Bible Bowl, Speech contest, and several other events during the year.
How does the school discipline children? The school will take away recess and can add chores to students. I am not sure how the Aijien disciplines the little children. The school has a strict anti-bullying policy and will expell students if they are caught bullying other students.
How does the school comfort children? Teachers are very compassionate and caring with the kids. The teachers love the children and have a very kind disposition. For sick students they have a "sick room" where the child can rest while waiting for parents.

WMCS Class
Final comments or observations about the school:
We chose this school because of its international, bilingual focus and the Christian atmosphere. The school is warm, friendly and has a very cooperative environment. My children did not speak much Japanese at the beginning of the year, yet were accomodated (my fifth grader was given JSL classes with 2nd grade Japanese textbooks for language arts). They made great improvements in speaking and writing Japanese. The teachers are perceptive and communicate regularly regarding my children's social situations in the classroom, behavior, academic performance, etc. All in all there have been few surprises throughout the school year.
Directions: World Mission Christian School is just 15 minutes from Camp Foster, 15 minutes from Kinser and 20 minutes from Kadena. From the Kitanakagusuku exit (#3) on the Okinawa expressway, take a left onto highway 29. Continue until you see a sign that 32 intersects 29. There is a Lawsons at this intersection. Bear left on 32. Follow this road until you see a mauve colored apartment building and then turn left. (If you reach the San Ei, you have gone too far). You will see the white WMCS church and the yellow school behind it. Park in the gravel parking lot.  (The pin below is dropped at the Lawson's intersection — there is no street view after that, so hard to place in the exact spot.)