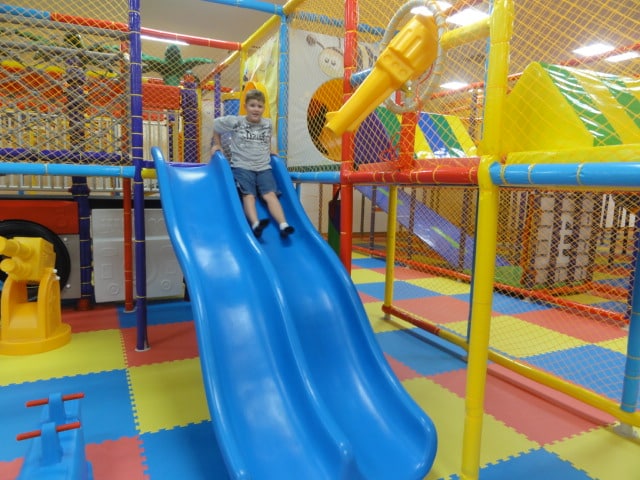 Xystus Front
CONTRIBUTED BY IVETTE TRUE
The kiddos and I had been exploring Okinawa during their summer vacation.  Beaches, caves, parks, etc…. We love going to Wago Land, US Land, Monakids…  They're all fun… but, my friend showed me this new place called Xystus Kids Land that had just opened on July 1st, 2011.

Xystus Play Area 2
My four year old loved it; he had a blast and wants to go over and over again.  His favorite was mini golf.

Xystus Play Area 1
They have a nice relaxing room where you can see the kids through a small glass window or watch them on a flat screen TV, and a Café space where you can order food (everything from corn dogs to Okinawa Soba).

Xystus Cafe
They also have a Birthday Party Room (though you can not bring your own food — food/cake can be purchased there).

Xystus Bday Room
There is rock climbing, mini golf, a kids play park, and plenty of space to run around.  The Jungle Gym is divided in sections with lots of things for the children to do! Slides, trampolines, ball pits and zip lines.

Xystus Mothers Room
They have a spot for you to park your stroller, a locker room to rent a box for your personal goodies or just drop off your shoes, a very cute baby room, private room for women that need to nurse their baby, and girl's and boy's bathroom.  Everything is so clean, the toys are brand new and totally safe!
This place is awesome for lil ones on very hot summer days, rainy days.
Open year round!

Xystus Bldg
Prices:
Weekdays (3 hrs)   Saturday, Sunday & Holidays (2 hrs)
Baby (0-18 months)               300 Yen                          300 Yen
Kids (18months-12 yrs. old)  750 Yen                         950Yen
Junior (13-19 yrs. old)            400 Yen                        400 Yen
Guardian                                   300 Yen                        300 Yen
Group Rate (10 or more)      650 Yen                         850 Yen
Xystus membership rate     650 Yen                         850 Yen
Payment:  Yen only and you will purchase your tickets from the machine when you first come in and take them up to the counter and the same for the café, the vending machine will have the menu items on it.  Don't worry, they have everything translated in English, so you know what to order : )

Xystus Massage
Hours:   10:00 A.M to 19:00 P.M
Phone:  098-973-4105
Details:  You must wear socks or room shoes.  Also, my kids think this place is fun but, but I don't think there is a lot for teenagers to do besides eating pretty good snacks from the café and enjoying the massage couches in the relax room.
Directions:  From McTureous, turn right out of the gate and take a right at the 2nd stop light.  Continue on this road and Xystus is on the left just before getting to San-A/Main Place.  There is a light blue sign on the big plaza. You can park in the spots available or you can also continue driving around the building and park on the big basement that is under the plaza. The Xystus Kids Place is on the 2nd floor.

Xystus Map

Xystus Cafe Menu