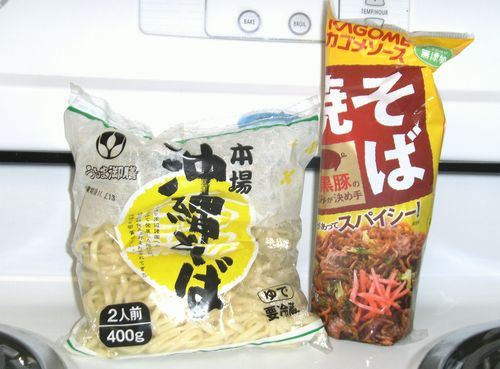 CONTRIBUTED BY MEGAN PARKER
One of my very favorite Japanese foods is yakisoba.  For one, it's just a fun word to say.  Yakisoba, yakisoba, yakisoba!  Two, what's not to love about it? It's quick, easy, and tasty.  Choose your favorite meat, some yummy, fresh veggies, add some noodles and you're good to go!  It's also versatile in that, if you are a vegetarian you can alter it so that you have no trouble with this meal.
I learned how to make yakisoba when my friend Yvonne hosted our monthly spouse get-together for my husband's squadron at her house.  She had recently learned how to make yakisoba when she took one of the cooking classes offered through MCCS, and had decided to pass on her newfound culinary skills to us!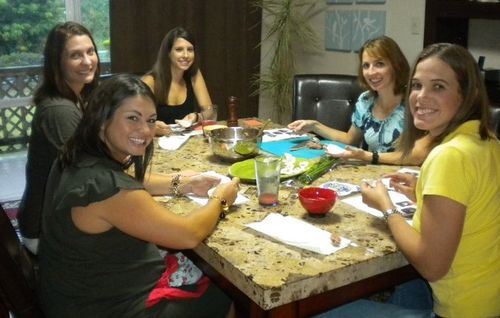 She gave us each a handout from the class, but there were no measurements for the recipe.  This is how I like to cook anyway, but for those of you who have a hard time with that, I added some approximates for you in the recipe below. You can usually find all of the ingredients at the Foster or Kadena commissaries.  At the Foster commissary, there are Soba noodles and Yakisoba sauce at the end of the produce aisle on the right-hand side.  They are in the black refrigerator unit that is right after the pre-packaged lettuce.  It makes a large meal, so invite some friends over and have fun with it!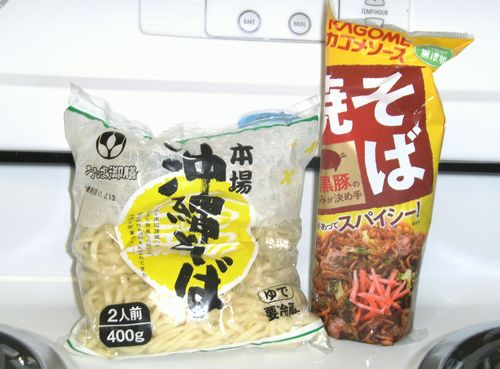 Yakisoba Recipe:
1 lb. meat (chicken, pork, beef, or shrimp), cut in strips
Chopped veggies about 2 cups total — Carrots, Cabbage, Bean sprouts, Green/red pepper (choose as many or as few as you'd like, or add new ones! I love sugar snap peas) –
Soba noodles (pre-cooked in the package)
Yakisoba sauce – to taste; I use a little less than half a bottle
1 Tbsp. Garlic
2 Tbsp. Vegetable oil
Dash of Pepper
1. Heat oil in wok/large skillet.
2. Add meat and saute' over high heat until cooked through, about 4 minutes.
3. Add veggies and stir-fry (turning continuously) over medium-high heat to desired preference of doneness.  I like mine with a little crunch to the veggies! Add more oil if they start to stick.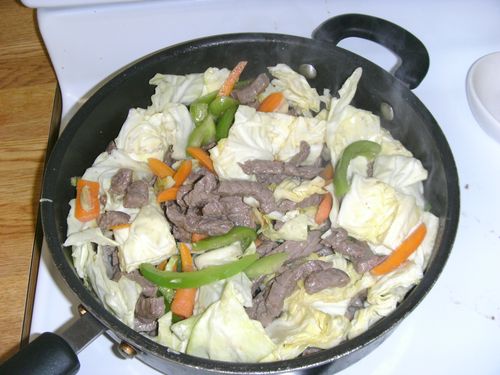 4. Add noodles and cook until heated through, stirring every 30 seconds or so.
5. Add a dash of pepper, the garlic and Yakisoba sauce.  Toss to coat in the sauce and heat through for another minute.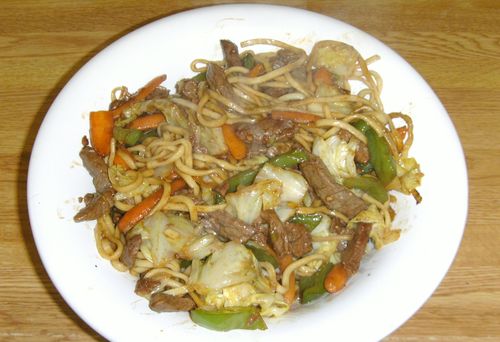 6. Enjoy!