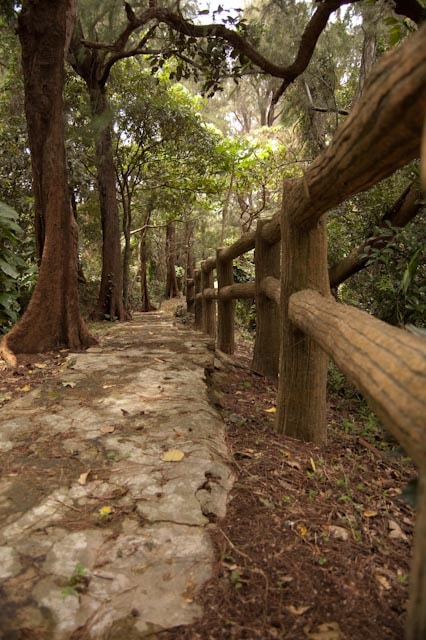 CONTRIBUTED BY JENNIFER MARTINEZ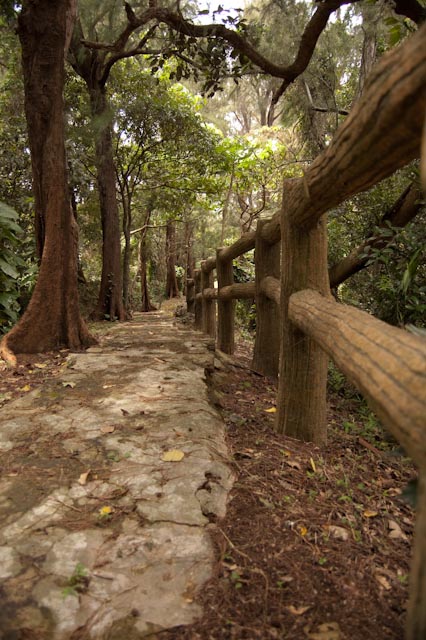 Okinawa is full of amazing tourist spots.  For some, the places that are pin pointed on the map will be the only places they visit while here on The Rock. Yara Castle Ruins (Okawa-Jo) may be a bit more for those looking to get off the beaten path.  Not to worry, this remote location is not found out in some virgin jungle or a dangerously hidden cave. For the most part, it's well maintained by groundsmen, but is little known to Americans. Found just minutes away from Kadena this is a great place for a relaxing walk through nature and sightseeing without all the tourists.
Last year I drove by a sign that said Yara Castle Ruins.  On two random occasions I drove down the same road searching for a castle and found nothing but a school and a baseball diamond.
A few weeks ago my friend Jen and I ventured out for a photo shoot.  We planned to go to some new locations but had no ideas as to where. As we were driving around aimlessly, I noticed the sign again.
Why not? A very helpful Japanese taxi driver pointed us in the right direction. He laughed at us a good deal since it was literally right next to where we stood!
The parking is free, no traffic congestion, and no entrance fees.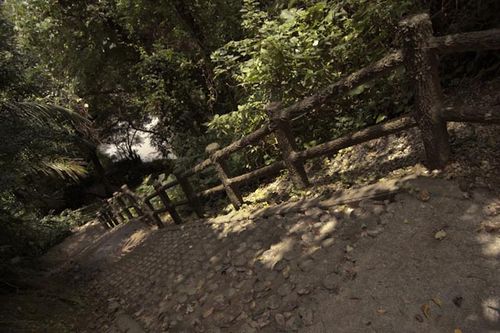 Navigation is by pure gut-instinct. There are upper and lower walking trails to choose from. Before we headed down the steep staircase we stopped to see two of the ruins' most sacred spots — one of which held a cup of noodles and fresh cut flowers in vases.
First, we went below to find the Yara Castle Ruins (Okawa-Jo). Be careful going down the stairs. When it's muddy, it's as slick as ice. The mud on our pants proved it! The lower trail runs alongside the Hija River.  We walked across a tiny stone bridge to find the ruins. Not much is left of the Castle — it is just a portion of rock wall mostly covered by vines. Still amazing nonetheless. It was such a natural environment, almost untouched providing us an overall serene experience.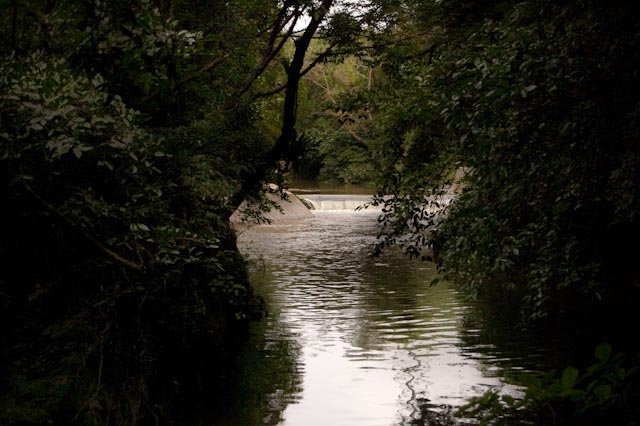 After so much time spent near the ocean I'd forgotten how beautiful a slow moving river can be. It reminded me of a rain forest; the way the trees were like a tall canopy above us. Not much sunshine reaches this damp area. It stays fairly dark even in the brightest sunlight.
The further you walk, the tougher the terrain. My toddler came along and I was a bit worried to take her any further in the rock and mud, so we turned back. She is quite the dare devil; exactly what I was afraid of.
The Playground is at the top of an old log staircase resting near the parking lot entrance.  My recommendation is to visit this area on your way out. Much more room for relaxation here in the warm sun.  It's quaint with a single slide and a small play area. It has one of the most gigantic trees I have seen on the island to date.  There are a few different paths to choose from.   All leading to the same destination.  It is truly a great walk through the Okinawan nature with a wonderful view of Asian wilderness.  There is an old empty baseball field, a pillar or monument of some sort, and clean bathrooms with Japanese-style toilets.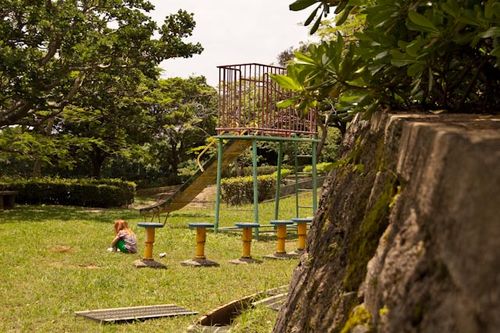 Directions from Gate 1: (The easier way, but a longer drive)
Coming out Gate 1 Turn RIGHT.  Stay on Hwy 58. Turn RIGHT at the circle. Just before the first stoplight there will be a sign pointing left to Yara Castle Ruins. Turn LEFT at the stoplight.  Continue all the way down this curvy street until you see a power plant on the left.  Turn LEFT. Take an immediate RIGHT into the parking lot.
Directions from Gate 3: (Shorter drive, but harder to see the sign from this direction)
Coming out Gate 3 Turn LEFT onto Hwy 74.  Stay alongside the perimeter fence.  Keep driving on Hwy 74 until you see a sign on the right hand side that says Yara Castle Ruins. (the sign is posted just beyond the stoplight, but you must turn before passing the sign) Turn RIGHT at the stoplight (There is a Water Store on the corner). Follow the curvy street until you see a power plant on the left hand side. Turn LEFT. Immediately Turn RIGHT into the parking lot. (If you pass the circle onto Hwy 58 you've gone too far)
Extra Notes:
For Nature Lovers only; Not for the Bug Squeamish!  There are insects and creatures galore! While trying to take a shot of the river, a lovely spider dropped on Jen's camera and freaked her out a bit. We did not see any snakes, but I can guarantee they are down there, so be cautious.
Take a buddy or two. I would not venture here at night or alone for safety reasons. As there was not a single person in sight the entire trip.
Sakura blossoms are abundant at Yara Castle Ruins during January/February.
The Kadena Town website has some interesting facts on this location including a map and photos from the early 1900s compared to after the war.