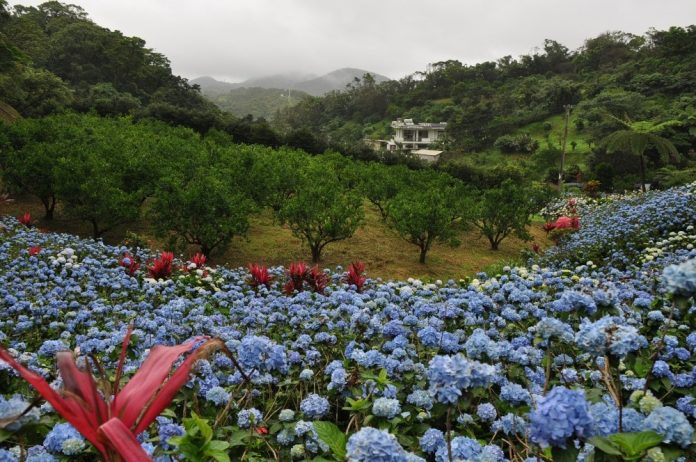 CONTRIBUTED BY CALYN PAQUIN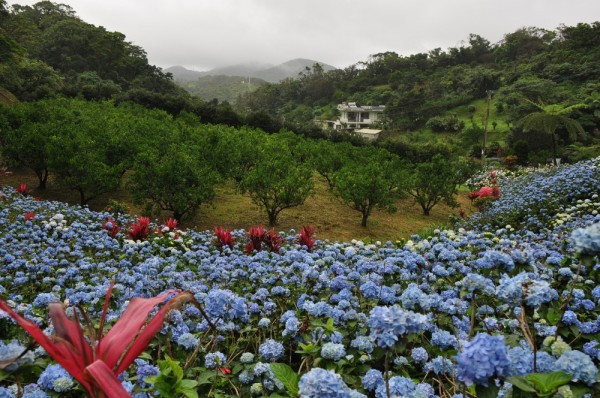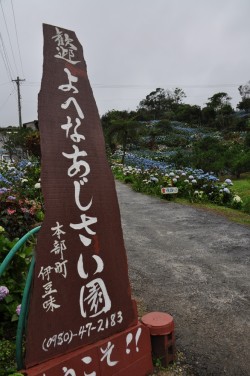 There is no doubt Okinawa has beautiful and gorgeous flowers. Even if flower is not your thing, there is something about being around landscapes and landscapes of them to take your breath away. Every year, you can line up the blooming seasons of Sakura (cherry blossoms) around early February, sunflowers towards the end of February, azaleas in March and lilies at the end of April – early May, to name the few that I know. I have been to all except for the Azalea festivals but when I foud out from a friend that there is a Hydrangea Garden in Okinawa that blooms around May/June, I was thrilled because those are one of my favorite flowers! I have been on this island for almost three years and have never heard of the place. 
That brings me to Yohena Ajisai (hydrangea) in Izumi of Motobu Town. Yohena is named after the owner, Mrs. Uto Yohena, an elderly woman who turned 96 this year. According to Japan Update, she said her garden was actually a tangerine field until 31 years ago when she started planting hydrangeas and eventually, the garden grew. I am not sure if her tangerine field is one of the mikan (orange) picking fields during orange picking season (October – February) but you can see tangerine trees lined side-by-side to the hydrangea garden.
The hydrangea garden was opened to public in 2001. The flowers are in bloom from mid-May until the end of June. Since typhoon season starts June 1, I would recommend visiting as soon as you can or pray there will be no typhoon coming this way which would be awesome! 
It was raining on and off the day I went, but I vowed to go again when it's sunny. If you have taken route 84 to Churaumi Aquarium or Motobu town, this is on the way after you pass Pineapple Park. They have a huge parking area right at the entrance with about 28 parking spots but I'm sure the men directing cars can get more lined up when it's busy. There is a little booth at the entrance where you would pay 300 yen for adults and 100 yen for children 7 – 18 years old. Admission is free for children 6 and under.
Then you will look up the path to see hydrangeas blooming all over the garden, mainly purple and blue with pink and white ones scattered amongst them.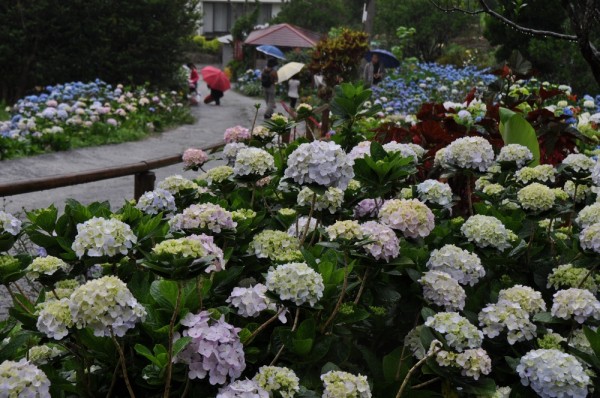 The fun part was to spot the many other exotic flowers planted all over the garden. With an umbrella in one hand and my camera in the other, I couldn't stop taking pictures of the gorgeous flowers.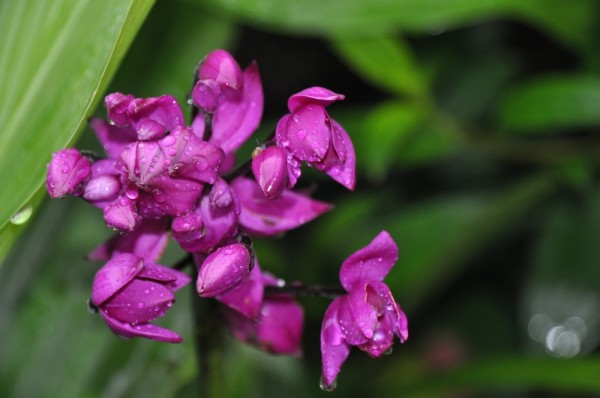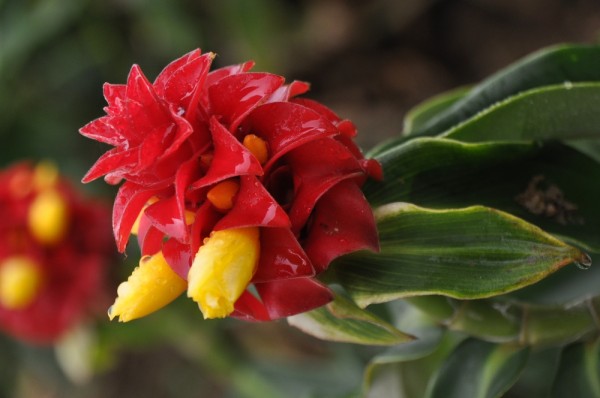 You could take a stroller along some paths but there will be some narrow steps as well if you want to keep going up the area to look down at the beautiful scenery.
I was approached by a man named Tomotaka-san who asked me how I found out about the garden. I said Japan Update. He said he has a home page and asked me to search for Hydrangea Garden. I did and this is the link. Turns out he is the son of Mrs. Yohena and he took all the beautiful pictures on the page to keep the public updated on the flowers that had bloomed. He speaks some English but the other 2 elderly ladies I met at the entrance and at the resting area do not. They have a vending machine for drinks and tables with postcards and pictures that Tomotaka-san took for sale there. Mrs. Yohena was not out and about at the time I was there but there are a few houses on the land and I can only imagine waking up to such beauty every day! Sigh…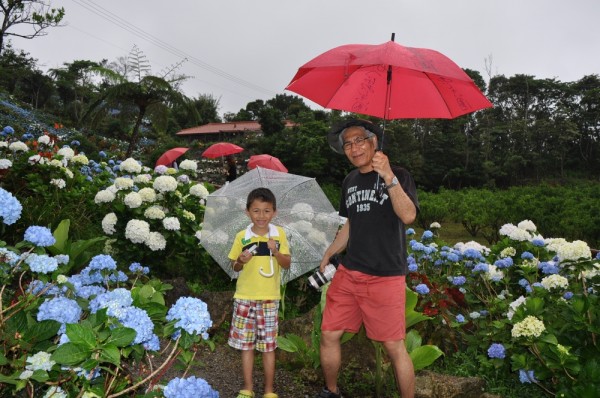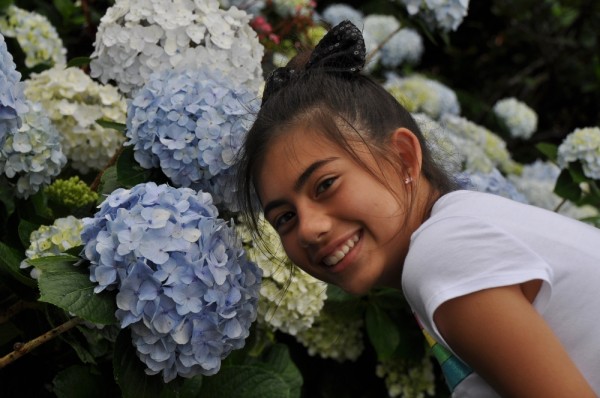 Directions: Take Hwy 58 or Expressway towards Nago. Continue heading north towards Ocean Park. Turn left onto Hwy 84 towards Ocean Park. (There will be signs turning to route 449 towards Ocean Park before that but do not take any of those). Once on 84, stay on the route, pass the Pineapple Park on your right, Jungle Park on your left and Izumi Pineapple Garden on your right. Keep going until you come to the traffic light that says Izumi. After that, you'll pass ENEOS gas station then turn left at the next traffic light. You will see a sign that says Hydrangea Garden Yohena on it with the flowers. Drive approximately 100m, you will see a white sign with blue Japanese words よへなあじさい園 to turn right. Shortly after that, you'll turn left into the parking lot.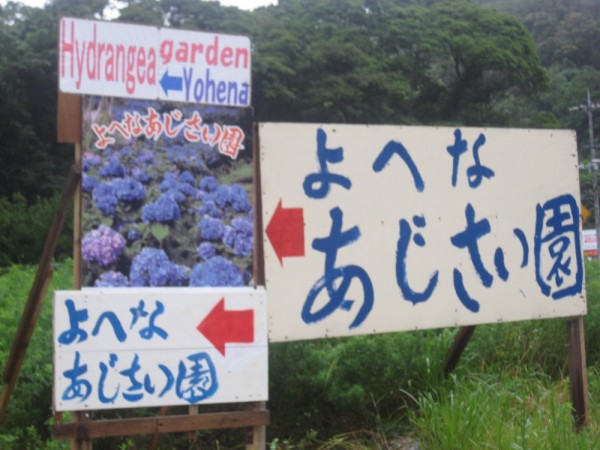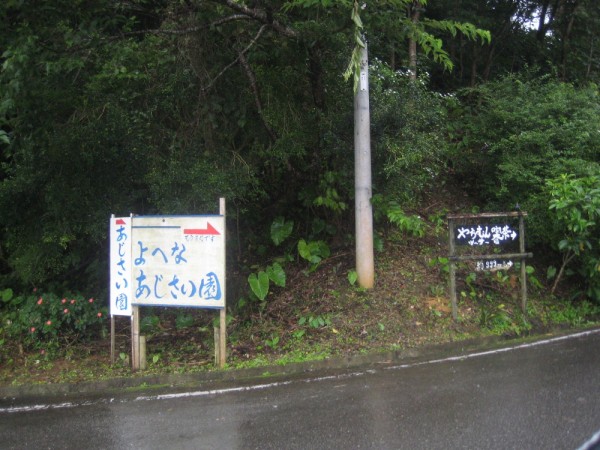 Hours: 9:00 a.m. – 6:00 p.m. daily
Phone: 098 047 2183
Payment: Yen only