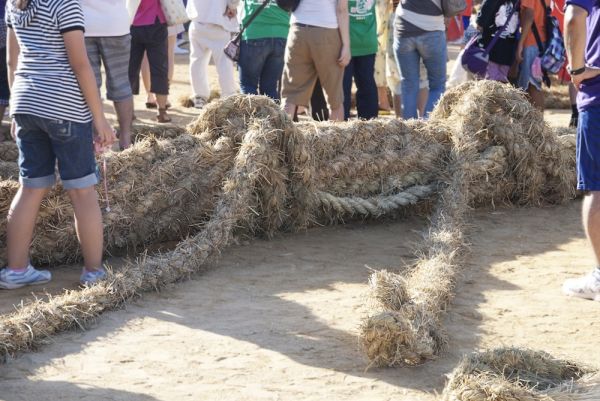 CONTRIBUTED BY JANNEL KETTENRING

Yonbaru The Rope

Yonbaru Parade
Almost all of us have heard of the amazing tug of war that happens each October in Naha, but did you know there are many other tug of war festivals? They happen in several smaller towns and villages. The one that takes place in Yonabaru, I've had the pleasure of attending two years in a row.
The Yonabaru Tug of War Festival is two days long with the tug of war taking place on Sunday evening about 4:30pm. Prior to the tug of war there are dance and eisa performances, children's tug of wars and all the vendors with food and games.
At about 4 pm on Sunday Highway 329 closes while they parade the beautifully decorated banner poles and the two halves of the great rope. The rope is approximately 9 meters and weighs about 5 tons according to an article in the Japan Update paper.

Yonbaru Rope Loop
The rope is carried in by hundreds of people, several people dressed in traditional costume standing on top of each half, one for the east and one for the west side. They parade into the Udun-yama Youth Square, where the tug of war takes place.
Smaller ropes are unravelled from the giant rope and people can grab on. Once everyone is in place it is time to join the two halves and start pulling. Each half of rope has a large loop on the end. These loops are held together by a large stick called a Kanachi stick. The second the Kanachi stick gets into place, it is time to start pulling.

Yonbaru Other End
It is a must see to go to one of these Tug of War Festivals. I found the dates for some of them in the Japan Update paper as well as the online webpage Okinawa Story: https://www.okinawastory.jp/en/event/event-list.html . The dates for each festival change each year. It is a free event for all ages. Just be aware that things get crazy during the tug of war and keep children close. Also wear shoes that stay on as many lost flip flops.

Yonbaru On Rope
Be sure to bring a small razor blade to cut off a piece of rope. It is said that if you bring a piece home from the winning side it will bring you good health and prosperity through out the next year.