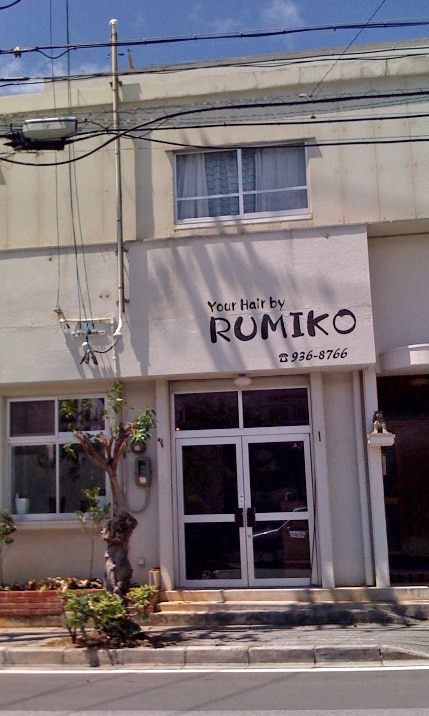 CONTRIBUTED BY AVIVA
Your Hair By Rumiko is run by Rumiko who used to work at Cocok's on Route 23. She speaks great English, and is fantastic with kids. (Though I'd recommend you bring a kid old enough to follow directions like "look down" or "hold still".)
The salon is simple, upon entering you notice the white walls and a few nice plants and dark wood floors. There is a podium to the right where Rumiko greets you. There is a huge gargoyle-like interesting black & white painting on the wall straight ahead. (I think it's a very interesting piece.) And to the left there are two haircut stations.
I was there with my daughter, Mia, who is 6 1/2. Upon sitting in the chairs she quickly poured us some delicious iced lemon tea. Behind the wall with the mirrors at the haircut stations there is the hair-washing station. After consulting you on what you'd like done, she escorts you to the comfy black hair-washing chair. The chair leans back electronically and Rumiko puts netting over your face so that you close your eyes and enjoy the amazing head massage and citrusy smell of the shampoo and conditioner. Delicious! (Mia wanted me to buy the shampoo and conditioner because it smelled so good.)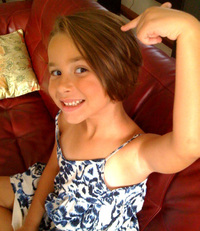 Then we headed over (one by one, Mia first) for an efficiently fast haircut. Mia was first and after a few minutes Rumiko dried her hair to cut it dry. She does a great job on the adorable angled bob, which is what Mia ended up with. It's so cute & sassy that other moms (and adults) ask all the time who cuts her hair! I cut mine much shorter and really love it.
As we sat for our haircuts we had delightful conversation with Rumiko about her 3 sons (16-year-old boy and 10-year-old TWIN boys). She's obviously a child-lover – as she finished my haircut she remembered Mia loved the smells and she pulled a tree off a counter so that we could smell the blossoms. Sweet and scrumptious! I promised her I'd go back to do my hair color (she noticed it was in need of updating) when Mia was back in school.
I don't know what hair color prices are, but will report on that when I make the appointment. The cuts were 3500¥ for adults and 2000¥ for children. While I was there a few people called for appointments and she grinned sheepishly and asked me to give the directions on the phone! haha!
Hours: I didn't find out the hours and they aren't on her business card, but I heard her say on the phone she'd cut hair in the evenings too (like a 7pm appointment).
Phone: 098-936-8766
Address: 1-470 Miyagi Chatan-chō, Nakagami-gun, Okinawa-ken 904-0113 Japan
GPS Coordinates: 26.3267628, 127.74735110000006
Directions: From 58 northbound turn LEFT just before gate 1 Kadena (there's a Family Mart, Pizza Inn, GI Bill Pay, etc.). At the last light before the sea wall, turn LEFT.
Your Hair by Rumiko is on the RIGHT side corner at the next traffic light. Park on the street where you can – I turned right at that light by the salon and parallel parked along the road there.