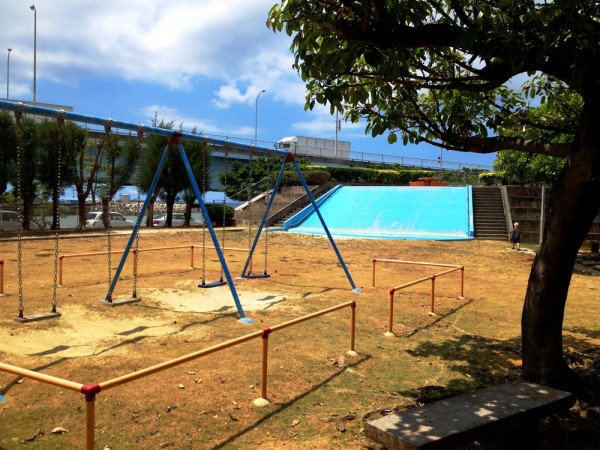 CONTRIBUTED BY HEATHER OLSEN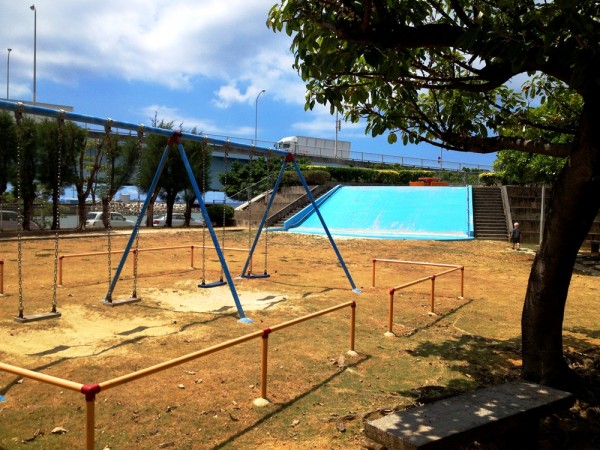 Nestled away from the noise of the 58 and next to the outlet of the Makiminato-gawa River is Yuhi Jido Park. This cute little park is perfect for enjoying the evening next to the ocean as the kids wind down for the night. The cement slide is even painted blue to match the water. While this park may not match others in extravagance or excitement, it still offers a fun place to play, plenty of shade, two pairs of swings, a large grass area to kick around a ball, a picnic table at the top of the slide to enjoy the view and the choice to walk over to the river outlet and along the ocean.
The slide seems to be smoother because of the paint so there will be less need to worry about ripped pants if you forgot your cardboard to slide on. While the slide appears to have stairs that wrap around in the front, it does not. They are actually flower beds that still may not have flowers in them yet. The only stairs are adjacent to the slide. My boys also made it a game to walk over and along the raised roots of the trees and the stepping blocks nearby. They had fun hopping from one to the next, while trying to not fall.
While there isn't an official walkway next to the water by the park, you can easily hop down onto the cement side and walk around. There is a picnic table near here as well. We have seen locals relaxing on this side of the park also.
Directions: Heading south on the 58 after passing MCAS Futenma, you will come to a bridge. Turn right at the light before the bridge. Take a left turn onto the next street. Gajumaru Jidou Park will be on the opposite side of the road. You will come to a T intersection. Go right and follow the road about two blocks until you see the park on the right.
If you are coming from Kinser, do not go over the bridge. There is no left turn at that light for the bridge lanes. You will need to take the road next to the bridge instead.
GPS Coordinates: 26.270708,127.726396